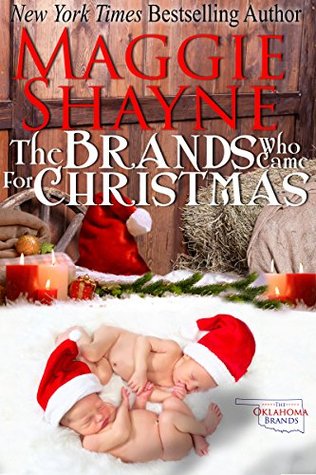 The Brands Who Came for Christmas
by
Maggie Shayne
Series:
The Oklahoma Brands #1
on November 1, 2001
Genres:
Contemporary Romance
Format:
eBook
Source:
Purchased
Goodreads
Amazon
, 
Audiobook
, 
Barnes & Noble




Caleb didn't know that one night of bliss last spring with small town beauty Maya Brand had resulted in a pregnancy, until the blackmail attempt arrived on his desk in an unmarked envelope, complete with photos of Maya with a belly out to there.

When he learns the truth, Caleb rushes back to Big Falls, determined to make it right despite what the scandal will do to his high profile career–the family legacy he had never truly wanted.

All he wants is Maya, and their child.

But can a girl whose father abandoned and betrayed her, ever truly believe in the goodness of a man who left town the morning after their one night stand? How can he convince her that he hasn't stopped thinking about her since then, much less, do so with the whole world watching? He has to prove himself to a woman he's not even sure he's worthy of. But he has no idea how.

Currently, it is free on Amazon, $0.99 on Nook and Kobo.
There is no real reason I should like this book. It's got a billionaire and a virgin; it's an older theme contemporary romance. So why did I pick it? (I have 100s of Kindle free books after all). Well, first because it is a Christmas story or, at least, Christmas is in the title. That seemed good for December. And I like to switch up genres and it was time for a straight human romance. It is written by a more well-known author who I've always wanted to try.
In spite of the clichéd billionaire and virgin, I liked it pretty well. However, it's truly fiction. The style and premise are unrealistic, so even though I called it a regular romance, it seems more like fantasy set in the currentish times.
Why did I like it? I found myself oddly relating to some things. I can understand wanting to be liked for yourself, not your name or job. I prefer strong, unique women who can manage to live independently. The ties of family are important and heartwarming. The small town and its quirky characters are like coming home for me. It doesn't hurt that it's a cowboy sort of setting and I keep hearing Keith Urban singing in my head.
Other than the delusional ideas they have at times, Caleb and Myra are basically good people. It's easy to like them and understand their fears and doubts. While the circumstances are mostly unbelievable, their journey is interesting and enjoyable. The people do feel authentic.
The Brands Who Came for Christmas is a fun, quick read with a holiday backdrop. It's also the start of a series (6 books) and I am actually interested to see what happens next with this family.
Giggle-worthy quote:
She held up two fingers, not even looking toward the bar.
"Think someone saw you? He asked.
She winked. "Believe me, they haven't taken their eyes off me since you walked in."
Latest posts by Anne - Books of My Heart
(see all)
Related Posts