Review copy was received from Publisher. This does not affect my opinion of the book or the content of my review.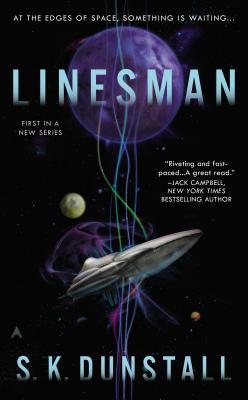 Linesman
by
S.K. Dunstall
Series:
Linesman #1
Published by
Ace
on June 30, 2015
Genres:
Science Fiction
,
Space Opera
Format:
Paperback
Source:
Publisher
Goodreads
Amazon





The lines. No ship can traverse the void without them. Only linesmen can work with them. But only Ean Lambert hears their song. And everyone thinks he's crazy…

Most slum kids never go far, certainly not becoming a level-ten linesman like Ean. Even if he's part of a small, and unethical, cartel, and the other linesmen disdain his self-taught methods, he's certified and working.

Then a mysterious alien ship is discovered at the edges of the galaxy. Each of the major galactic powers is desperate to be the first to uncover the ship's secrets, but all they've learned is that it has the familiar lines of energy—and a defense system that, once triggered, annihilates everything in a 200 kilometer radius.

The vessel threatens any linesman who dares to approach it, except Ean. His unique talents may be the key to understanding this alarming new force—and reconfiguring the relationship between humans and the ships that serve them, forever.


I wanted to read Linesman when I got it and every time I thought of it, and finally managed to read it earlier this month.  I've been very thrilled with many of my Ace Roc star gifts and especially seem to enjoy the space opera offerings.  
Linesman has space and technology and aliens and ships.  Military strategy and political manipulations are key facets of the relationships. The world is slowly built with a few viewpoints, of a different linesman.
The "star" for my nerd girl heart is Ean Lambert. He's a boy from the wrong place / social group, not exactly trained and yet his talents are extraordinary. He is humble, hard-working and kind.  Ean is sometimes ashamed, sometimes worried about his background.  Yes, I love him and I want to protect his tender heart and the rest of him from the various dangers to him.
Another linesman, Jordan Rossi, provides a contrast.  He is a typical linesman, trained since childhood from an appropriate family.  He is "on top," used to being treated well, expecting it.
The world has its perspectives tipped on end by Ean Lambert.   Highly recommended.  I went right on to read the second book,  Alliance, which was published on Tuesday.  
Latest posts by Anne - Books of My Heart
(see all)
Related Posts