Review copy was received from NetGalley. This does not affect my opinion of the book or the content of my review.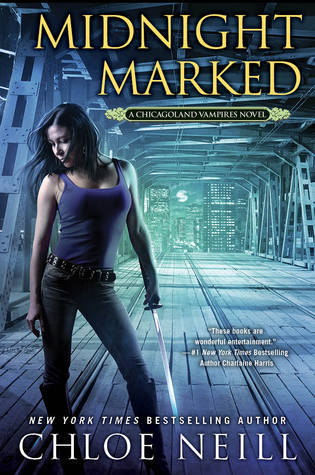 Midnight Marked
by
Chloe Neill
Series:
Chicagoland Vampires #12
on 03-01-2016
Goodreads
Amazon





A vampire's grudges don't stay dead long...

Merit is one of Chicago's most skilled vampire warriors; these days, she doesn't scare easily. But she and Master vampire Ethan have made a new and powerful enemy, and he won't give up until he owns the Windy City.

With his last plan thwarted, he's more determined than ever to watch Cadogan burn. Ethan has put the House's vampires on high alert, but their enemy will stop at nothing, including pitting vampire against vampire...

In this deadly game of cat-and-mouse, the stakes are life or death—and winning might mean sacrificing everything...
The Chicagoland Vampires has quickly become a favorite series with many 5 star reads.  Why? First, I love Merit.  She is so smart and funny.  I LOVE the quirky humor with its Midwest, Chicago, and cultural touches. And the food.  Who doesn't love food?  
I wish I had read this series sooner, but the wait between books might have killed me.  I appreciated having so many available.  I started with the first one on audio book while moving last summer and have just kept reading so I was ready for this new one. Please do read them all in order.
Ethan is hot. Blond hair and green eyes really work for me.  His imperious, business-like manner is hilarious and endearing.  He's smart enough to be adapting, which I love.  
This couple, Methan, with a few bumps and issues, got together and is staying TOGETHER, and working TOGETHER.  That alone makes this series awesome.  We get a relationship with adults instead of the off again on again crap in so many books.   
I do like how they are learning and growing.  Methan didn't feel as smart a few books back, but now they seem to be evolving. I just expected more initially of Ethan because of his age.  Now the world is changing and they are dealing.  I LOVE, LOVE how Merit is handling the RG in this book.  The group of friends and allies are expanding which is awesome.
The mysteries and evil villains keep coming.  Of course, there wouldn't be more books if there weren't more stories and problems. I sometimes wish we could have a "downtime" chapter, though.  We keep learning more about the world with its various supernaturals. Merit and Ethan keep adding to their connections.  
Midnight Marked is an amazing book with humor, romance, and mystery/ action plot. It's the comfort of old friends on a new adventure with snarky banter.  Sigh.  Highly recommended.
Giggle worthy quote:   
"They have the bureaucracy of a DMV office with one hundred percent less effectiveness."
Latest posts by Anne - Books of My Heart
(see all)
Related Posts