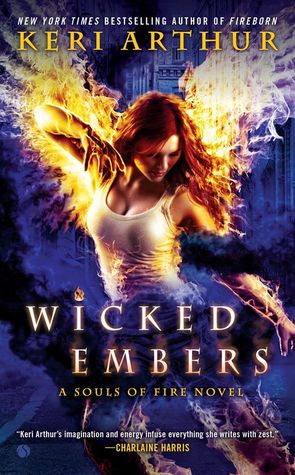 Wicked Embers
by
Keri Arthur
Series:
Souls of Fire #2
Published by
Signet
on July 7, 2015
Genres:
Urban Fantasy
Format:
eARC
Source:
NetGalley
Goodreads
Amazon
, 
Audiobook




Crimson Death, the plague like virus spawned from a failed government experiment to isolate the enzymes that make vampires immortal, continues to spread. Emberly and her partner, Jackson Miller, are desperately seeking the stolen research for a cure before the virus becomes a pandemic.

But their mission is jeopardized by another threat uncovered in Emberly's prophetic dreams. A creature of ash and shadow has been unleashed on a murdering spree. Now Emberly must summon all her gifts and investigative knowledge to put an end to this entity's brutal rampage—even if it means placing herself in harm's way....
I've read several series by Keri Arthur. The first was the Riley Jensen series and it was one of the first things I read in the "supernatural" type category of science fiction, really urban fantasy. I wasn't a huge fan of the large quantity of sex because it wasn't as relationship-oriented.  Overall, I loved that series though. The sex in this series may not all be in a monogamous relationship but at least the partners have real affection for each other.
Wicked Embers has a similar attitude but not as much of it.  The first third of the book is more sexy banter and I enjoyed that very much.  There is only one actual sex scene.
The supernaturals in the Souls of Fire series are not common and the ones that are common – vampires – are approached in a different way in this world.  I find the world building interesting.   I read and enjoyed the first book, Fireborn and knew I wanted to read this one.  Oddly,  I can barely remember anything about the first book now. I might have to go back and read it again at some point.
This story was bread and butter urban fantasy in my mind.  It focused primarily on the mystery and the action.  There was sexiness but it was limited.  What I liked most was the characters and their relationships had some depth.  There was some real camaraderie between those on Emberly's team of good vs. evil.  She is working with Jackson, a Fire fae, in a PI business and I like their relationship.
The mystery / action was continued from what happened in the first book. Wicked Embers ended at a good stopping point, maybe a bit abruptly for me, but at a place which made sense.  The mystery is far from ended, however.   I'm enjoying the series and would recommend it.
Latest posts by Anne - Books of My Heart
(see all)
Related Posts