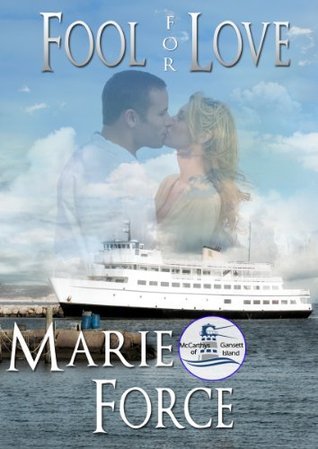 Fool for Love
by
Marie Force
Series:
The McCarthys of Gansett Island #2
on May 26, 2011
Genres:
Contemporary Romance
Pages:
182
Format:
eBook
Source:
Purchased
Goodreads
Amazon
, 
Audible
, 
Audiobook




Joe Cantrell, owner of the Gansett Island Ferry Company, has been in love with Janey McCarthy for as long as he can remember. At the same time, Janey has been dating or engaged to doctor-in-training David Lawrence. When things go horribly wrong between David and Janey, she calls her "fifth brother" Joe, one of the few people in her close circle who lives on the mainland. Janey decides a few days with Joe is just what she needs before she goes home to the island to face her parents and family with the news of her broken engagement. It was bad enough for Joe loving Janey from afar, but having her in his house is pure torture. Will he take advantage of this opportunity to show her what they could have together? And what will Joe's best friend and Janey's protective older brother Mac have to say about it?
the purpose of thrifty thursday is to pick a book which was free (at some point).
Kindle freebie on June 5, 2016
Overall rating 4.24 with 8,816 rating and 415 reviews
The first book, Maid for Love, in the Mcarthys of Gansett Island series, is also a freebie which I read 4 years ago.  The series has been released over the last 5 years and now has 15 books available.
The first book was a quick, easy read but while I enjoyed the characters it was just my least favorite troupe, rich guy meets girl with less than nothing. Some of it was just ridiculous, even for fiction.
So how did I end up reading book 2, Fool for Love?  First, it was a Kindle freebie earlier this month. Plus I have been reading lots and lots of sci-fi and fantasy and I needed a romance break.  But more importantly, I have been reading more Marie Force.
I have read and loved and reviewed every book in her Green Mountain series. It is a small town series about a family with TEN children, set in Vermont.  Then I started reading the Fatal series since romantic suspense is one of my favorite genres. This is a unique concept which I must praise the author for tackling. It features one couple throughout showing the growth of their professional and personal lives. I LOVE it so much.
Fool for Love took me back to the lovely setting and the characters I enjoyed from the beginning. It was much better than the first book. I enjoy a love triangle of sorts when the couple I ship gets together.  The series continues in its fast, easy and romantic way, but now I can see reading onward as much more likely.
Rating Breakdown
Narration (Audio)
Overall:
Latest posts by Anne - Books of My Heart
(see all)
Related Posts