Review copy was received from Publisher. This does not affect my opinion of the book or the content of my review.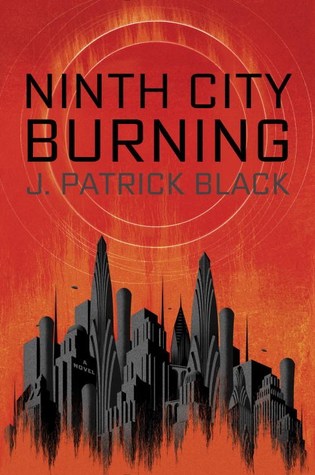 Ninth City Burning
by
J. Patrick Black
Published by
Ace
on September 6, 2016
Genres:
Science Fiction
Pages:
496
Format:
eARC
Source:
Publisher
Goodreads
Amazon
, 
Audible
, 
Libro.fm




Centuries of war with aliens threaten the future of human civilization on earth in this gripping, epic science fiction debut...

We never saw them coming.

Entire cities disappeared in the blink of an eye, leaving nothing but dust and rubble. When an alien race came to make Earth theirs, they brought with them a weapon we had no way to fight, a universe-altering force known as thelemity. It seemed nothing could stop it—until we discovered we could wield the power too.

Five hundred years later, the Earth is locked in a grinding war of attrition. The talented few capable of bending thelemity to their will are trained in elite military academies, destined for the front lines. Those who refused to support the war have been exiled to the wilds of a ruined Earth.

But the enemy's tactics are changing, and Earth's defenders are about to discover this centuries-old war has only just begun. As a terrible new onslaught looms, heroes will rise from unlikely quarters, and fight back.
Each chapter is from the point of view of a character. There are many, many shortish chapters. There are also a large number of different characters, all separate, then brought together through events to importance with each other and the story.
The author introduces us to the characters in a brilliant method. Beginning with Rae and Naomi, girls who are part of what feels somewhat like an native American Indian tribe. Their group of families travels and lives in a historical fashion without much technology, fighting with other groups sometimes. This straightforward life, with its strong, hardworking people, is where we start.
Next we meet more young people in a settlement. This is a very organized place where most are factory workers of a kind. Things are still somewhat simple with limited roles and choices for life and work here. There is some technology, used more by businesses than individuals, but it doesn't feel like many people have knowledge based jobs. They know peripherally about a war which the supplies they produce support this effort.
The final people we meet are in the city, training for the war. This is where technology comes fully into use. This is science fiction going into the future enough to feel like magic. The population here is primarily military and knows about the war with the aliens.
The only part of the Ninth City Burning where I felt quite disconnected was here as we get to know Kizabel. The concept of her is awesome but all the technical details about her inventions was a bore. And I like math and science! But this part is relatively short.
If meeting the characters had not come about in such a fashion building from a simple world to a very complex one, the development would have been more overwhelming. It was easy to care about them. Eventually, all these young people have to work together to survive and it's exciting. I'm thrilled since this is the start of a series. I want to know what happens next.
Latest posts by Anne - Books of My Heart
(see all)
Related Posts