Review copy was received from Author. This does not affect my opinion of the book or the content of my review.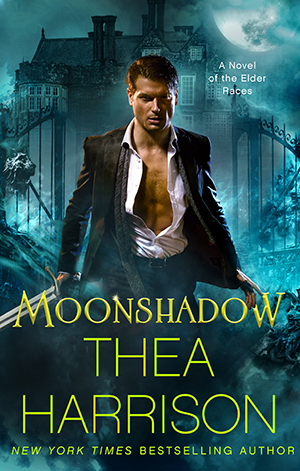 Moonshadow
by
Thea Harrison
Narrator:
Sophie Eastlake
Series:
Moonshadow #1
on December 13, 2016
Genres:
Paranormal Romance
Format:
eARC
Source:
Author
Goodreads
Amazon
, 
Audiobook






Her past is a blank, her future uncertain….

Recovering from a shooting, LAPD witch consultant Sophie Ross leaves her job and travels to the U.K. to search for answers about her childhood. When she encounters a Daoine Sidhe knight of the Dark Court, she becomes entangled in an ancient hatred between two arcane forces.

He has given his body and soul to fight for his people….

Barred from his homeland along with his surviving brother knights, Nikolas Sevigny is embroiled in a conflict that threatens everything he holds dear. Only by uniting his people's resources can they hope to prevail against Isabeau, the deadly Queen of the Light Court. He will do anything and use anyone to return home to Lyonesse.

When Nikolas encounters Sophie, he sees a tool to be used. The insouciant witch might be the key to unlocking every passageway that has been barred to the knights of the Dark Court, even as a fascination for her takes root in what's left of his soul.

Sophie has no intention of becoming anyone's pawn, yet the fierce Nikolas is so compelling, she can't deny the temptation that endangers her guarded heart.

As magic threatens Lyonesse, Queen Isabeau unleashes her merciless Hounds, and Nikolas and Sophie become embroiled in a race for survival. Meanwhile, the passion that ignites between them burns too hot to be denied and quickly turns into obsession.

Thank goodness they both know better than to fall in love…
I LOVE it!  I love the bits of humor, the mysteries, the world-building, the characters, totally 5 stars! The audio will release later and the narrator will be Sophie Eastlake.
I'm a big fan of the Elder Races series. It has many 5 star reads. This new Moonshadow trilogy is a bit of a spin-off utilizing the same world. Moonshadow is set in the UK, while the Elder Races are in the US.  The next two books are Spellbinder and Lionhearted. I'm so curious to see if any crossover happens. So far there are only mentions of things in the Elder Races world, so this could easily be read without reading the Elder Races. But why would anyone want to miss out on that amazing series?!?!?!
Sophie is a strong, smart and talented. Nik is a bit old-fashioned so he sometimes views her as crazy or TSTL. The reality is, she is capable. Their situations are certainly dangerous but she knows what she is doing. They both are such caring and compassionate about others which adds to their appeal. I like them. One can't help but root for them in solving their problems and fighting their enemies.
The feel of Moonshadow seems different than the Elder Races. Sophie brings a more modern, and relaxed feel to this magical fantasy world. She is young and lends a younger view. The writing, characters and world-building are excellent but somehow the feel is more straightforward, maybe with less formality of protocol? This made me feel and it made me laugh.  Highly recommended.
Giggle-worthy quote:
She jerked back from his touch.

"First, get out of my face.

Second, you didn't buy coffee.

Third, don't talk so loud – or better yet, don't talk at all.

Fourth, I didn't sleep well. I usually don't. Mornings are not my best time.

Fifth, did I mention the fact that you didn't buy coffee?"
Latest posts by Anne - Books of My Heart
(see all)
Related Posts