Review copy was received from Author. This does not affect my opinion of the book or the content of my review.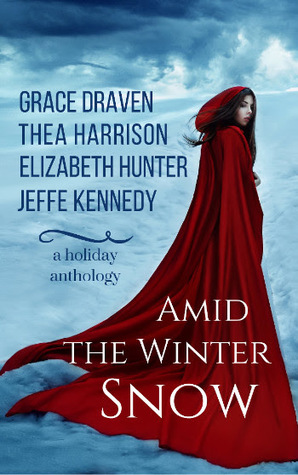 Amid the Winter Snow
by
Grace Draven
,
Thea Harrison
,
Elizabeth Hunter
,
Jeffe Kennedy
Series:
Irin Chronicles
,
Moonshadow
Published by
Brightlynx Publishing
on December 12, 2017
Genres:
Fantasy Romance
Pages:
454
Format:
eARC
Source:
Author
Goodreads
Amazon
, 
Barnes & Noble




As the snows fall and hearths burn, four stories of Midwinter beginnings prove that love can fight its way through the chillest night...

THE DARKEST MIDNIGHT, by Grace Draven
The mark Jahna Ulfrida was born with has made her a target of the cruel and idle all her life. During the long, crowded festivities of Deyalda, there's nowhere to escape. Until a handsome stranger promises to teach her to save herself…

THE CHOSEN, by Thea Harrison
In her visions, Lily sees two men fighting for her tiny country's allegiance: the wolf and the tiger, each deadly, each cunning. One will bring Ys chaos and death, one a gentler path—but she's destined to love whichever she chooses. The midwinter Masque is upon them, and the wolf is at her door…

THE STORM, by Elizabeth Hunter
When her soul mate died in a massacre of the half-angelic Irin people, Renata thought she'd never feel happiness again. She's retreated to the snowy Dolomites to remember her hurts—until determined, irrepressible Maxim arrives to insist on joy, too. And before she can throw him out, they discover a secret the Irin have to know…

THE SNOWS OF WINDROVEN, by Jeffe Kennedy
As a blizzard threatens their mountain keep, the new Queen Amelia of the Twelve Kingdoms and her unofficial consort Ash face their own storm. Ash knows a scarred, jumpy ex-convict isn't the companion his queen needs. But when a surprise attack confines them together in their isolated sanctuary, the feast of midwinter might tempt even Ash into childlike hope…
I was trying to figure out how I would get Amid the Winter Snow for review. And then Thea Harrison sent it to me!  I am so, so thrilled! This group of authors is outstanding. I had read almost everything by Thea Harrison and Elizabeth Hunter. I wanted to try Grace Draven and Jeffe Kennedy.
THE DARKEST MIDNIGHT, by Grace Draven             4.5 hearts
My first experience with Grace Draven is a standout. I read this with no knowledge of her other work, so I would say it totally works as a stand alone. The rich development of the world and characters engrossed me quickly. This is fantasy with a touch of romance, a coming-of-age story for the main character Jahna. While it is short, it covered a long time period in years so things happened in a comfortable amount of time. The characters had time to learn and grow. My head was filled with vivid images; my heart was full of feelings.
THE CHOSEN, by Thea Harrison                                3.5 hearts
Set in the same world as the Elder Races series but more closely to the Moonshadow series world, it could be easily read as a stand alone. I enjoyed learning more about this alternate dimension. Magic is one of my favorite things and I especially like the way it is implemented here. The world and characters were developed and gave me an emotional ride.  My only issue was how quickly the romance developed. Overall, a great read and interesting story.
THE STORM, by Elizabeth Hunter                               4 hearts
A colorful blend of locations in the world of The Irin Chronicles series, I would only read this in order with the series. Because the series is excellent, and having all of it for background and development of the characters make this novella all the more special. There was a bit of couple communication issue, but The Storm avoids my problems with insta-love by covering many years in the couple's life. The world and the plot here are a striking tapestry along with the romance evoking a wealth of feelings.
THE SNOWS OF WINDROVEN, by Jeffe Kennedy     4 hearts
I was happy to finally manage to read something by Jeffe Kennedy.  The problem of a novella relationship was solved by a couple with a history of years which we join at the end. I felt so much for Ash. He has suffered so much and for so long. I admire his strength and courage. Amelia feels more distant but I like how she developed. The children terrified me; and then they made me cry.  The Snows of Windroven held me throughout and made me feel so much.  I don't know if this is part of a world in a series but I want to know.
Amid the Winter Snow is the joy I expected with these authors contributing. The stories fit well together in their fantasy settings with plenty of kick-ass battles and heartwarming romance. Anthologies or books of short stories such as these, are always an important experience. They allow a taste of an author and often their series' world. They've introduced me to some favorites. Certainly, I am favorably drawn to the two authors here I had not read previously. Highly recommended.
Latest posts by Anne - Books of My Heart
(see all)
Reading this book contributed to these challenges:
Anne: 2017 New Release Challenge
Related Posts