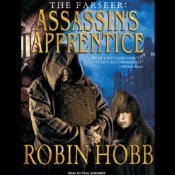 Assassin's Apprentice

by Robin Hobb
Narrator: Paul Boehmer
Series: Farseer Trilogy
Published by Tantor Audio on March 2, 2010
Genres: Science Fiction Fantasy
Length: 17 hours, 18 minutes
Source: Library
Goodreads
Amazon,  Audible,  Audiobook






With unforgettable characters, a sweeping backdrop, and passionate storytelling, this is a fantasy debut to rival that of Robert Jordan. Filled with adventure and bloodshed, pageantry and piracy, mystery and menace, Assassin's Apprentice is the story of a royal house and the young man who is destined to chart its course through tempests of change. Young Fitz is the bastard son of the noble Prince Chivalry, raised in the shadow of the royal household by his father's gruff stableman. An outcast whose existence has forced his father to abdicate his claim on the throne, Fitz is ignored by all royalty except the devious King Shrewd, who has him secretly tutored in the arts of the assassin. For in the young man's blood is a heritage of magic, the talent called the Skill, as well as another, even more mysterious ability.

As barbarous raiders ravage the coasts and leave behind the zombie-like husks of the townspeople to prowl the countryside, Fitz is growing toward manhood. Soon he will face his first dangerous, soul-shattering mission, a mission that poses as much a threat to himself as it does for his target---for Fitz is a threat to the throne...but he may also be the key to the survival of the kingdom.
I listened to this recommendation from an Ace Roc Star friend.  It's one of her favorites. It's also fantasy, which isn't always the easiest for me to assimilate, so I got the audio from the library. The tale goes from childhood to manhood of Fitz, the bastard son of the prince, who many wish to control or kill. He has special skills and works to learn more in support of the King, his grandfather.
The characters, the story are widely varying and memorable. It may be long but it kept me intensely engaged. I wanted to know more, know everything and I felt deeply. Fitz, even in his situation, and at a very young age,  has a moral integrity and such strength of character few others can match. There is a magic which is my favorite paranormal type and it is more accurately talents of the mind, my very absolute favorite.
The narrator did an excellent job, bringing forth my emotions. The sound of his voice suited the work and the time period very well. It was so seamless I can't tell you if he did very much with voices as I was completely lost in the Assassin's Apprentice.  That tells me it was the best.
I loved this so much I bought it on Kindle and audio. It is the first in the Farseer Trilogy, and the first of at least three trilogies. I'm hooked and will definitely continue. I've already bought some audio books in the other trilogies when Audible had a sale recently.
Listen to a clip here.
Rating Breakdown
Plot
Writing
Dialogue
Narration (Audio)
Overall:
I can't really remember any time when I wasn't reading. I LOVE books and what they give me. It's an opportunity to learn new things, see new places,live different emotions in a "safe" way. It lets me live in a new world.
I read all types of books but my favorites are urban fantasy and romantic suspense.I like some romance and some action / adventure / mystery in everything.I like sex in my books but please, only between TWO people.Intimate conversation is equally important to the sex in a book.It lets me see the characters.The other thing I enjoy is humor.
Friend me at Goodreads.
Reading this book contributed to these challenges:
Anne: 2017 Library Love Challenge
Related Posts