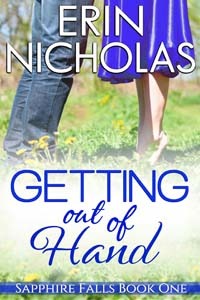 Getting Out of Hand
by
Erin Nicholas
Series:
Sapphire Falls #1
on July 13, 2014
Pages:
278
Format:
eBook
Source:
Purchased
Goodreads
Amazon
, 
Audiobook




Genius scientist Mason Riley can cure world hunger, impress the media and piss off the Vice President of the United States all before breakfast. But he's not sure he can get through his high school class reunion.

Then he meets the new girl in town.

Adrianne Scott loves Sapphire Falls. The sleepy little town has been the perfect place to escape her fast-paced, high stress lifestyle. Her only plans now include opening her candy shop and living a quiet, drama-free life.

Until Mason Riley bids four hundred dollars just to dance with her.

Mason sure doesn't look—or kiss—like a genius scientist geek. In fact, he makes Adrianne's heart pound like nothing she's ever experienced. Passion like this with a guy who travels the world and parties at the White House should probably be a red flag for a girl who wants a simple boring life.

Good thing no one falls in love in a weekend.
The purpose of Thrifty Thursday is to read a book which was free (at some point).
Kindle freebie on March 21 , 2016  (currently free as of writing this post)
Overall rating 3.85 with 3,265 ratings and 804 reviews
I started reading Erin Nicholas with her new geek romance series, Opposites Attract, and loved it.  Since I wanted to read more of her works, I signed up for her review team. They sent me a book, After You, which is in the world of the Sapphire Falls series.   Since the first in the series was available as a Kindle freebie (and I already had it), I decided to read Getting Out of Hand to introduce me to the world. I wanted to read all the series in order, but that isn't going to work in the time frame.
This was a fun, small town romance. The quirky characters and their manipulations are a standard ploy.  Some of the characters were a bit cliche rather than fully developed. I liked that Mason was a science geek, even though he has money. Adrianne's background seemed unrealistic. I just had to suspend disbelief a bit too often.
Nicholas has a great sense of humor, making it a very enjoyable read. I'll keep reading.  Look for my review next week of After You.
Giggle-worthy quotes:
"Do they make medication that will help me forget the past twelve hours?" she said.

"Yes, it's called alcohol," Dr. Carthan said.
Phoebe added lingerie.

"That's not even mine," Adrianne protested, grabbing for the black teddy Phoebe had apparently brought along.

"It is now." Phoebe grabbed it back and stuffed it under the boots.
Rating Breakdown
Narration (Audio)
Overall:
Latest posts by Anne - Books of My Heart
(see all)
Related Posts