Review copy was received from NetGalley. This does not affect my opinion of the book or the content of my review.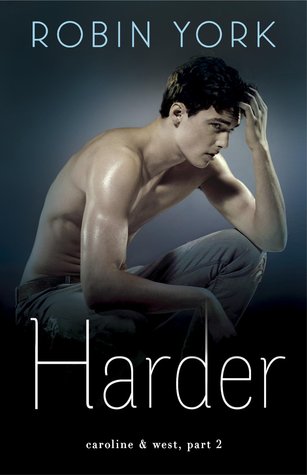 Harder
by
Robin York
Series:
Caroline & West #2
Published by
Bantam
on July 1, 2014
Genres:
Contemporary Romance
,
New Adult
Pages:
352
Format:
eARC
Source:
NetGalley
Goodreads
Amazon
, 
Audible
, 
Audiobook
, 
Barnes & Noble





Caroline still dreams about West. His warm skin, his taut muscles, his hand sliding down her stomach. Then she wakes up and she's back to reality: West is gone. And before he left, he broke her heart.

Then, out of the blue, West calls in crisis. A tragedy has hit his family—a family that's already a fractured mess. Caroline knows what she has to do. Without discussion, without stopping to think, she's on a plane, flying to his side to support him in any way he needs.

They're together again, but things are totally different. West looks edgy, angry at the world. Caroline doesn't fit in. She should be back in Iowa, finalizing her civil suit against the ex-boyfriend who posted their explicit pictures on a revenge porn website. But here she is. Deeply into West, wrapped up in him, in love with him. Still.

They fought the odds once. Losing each other was hard. But finding their way back to each other couldn't be harder.
ICYMI is a post from my early days of blogging at Yummy Men & KickAss Chicks.  Deeper was one of my favorite books in 2014 and Harder is part 2 of the story. I wouldn't miss it.  You can see the original review here
---
Harder is the sequel to Deeper, also by Robin York (Ruthie Knox). That is possibly my favorite book I've read this year and this is really a continuation of that book. It is real, raw and open. The feelings are front and center but all over the map. You need to read Deeper before you read this book, and if you need convincing, you can read my 5 star review of Deeper here. I loved Deeper so much, I reread it then started Harder, oh 2 seconds later.
Caroline was the target of an ex-boyfriend's revenge when he posted Internet "porn" pictures of her. The ex was the only boyfriend; her only sexual relationship ever. He was a "nice" boy favored by her family. She trusted him. Well, she was able to survive his betrayal and thrive with West. West is a "bad" boy, disliked by her dad at first sight.
West has been grown up forever. He lived with his mom who was weak and selfish. When he was ten, his younger sister was born. He became the parent, the caregiver making sure she was cared for and fed. Shortly after, he became a provider for the family as well. He has the chance to go to college due to the support of a benefactor who sees something in him.
As this book starts, West has had to drop out of college since his mom has gone back with his alcoholic, no-good father. He is worried, rightly so, about his sister. He is back in Oregon. He has pushed Caroline away since he sees no way now to escape his trailer trash life. Also, he can't leave his sister.
Caroline is busy with her lawsuits against her ex and continuing her education. She misses West. She loves him. Caroline is so strong. She manages the lawsuit, West's push and his issues and growth, helps with his sister, stands up to her dad and handles everything in her life. She has grown. She has realized other people can't ruin her and will choose how to live her life. She is amazing.
West has to deal with so much. He worries about his sister and his mom, with the dad causing nothing but trouble. He has to find work and pay for things. He misses Caroline but refuses to bring her into this disaster, no matter how much he wants a life with her. He is angry, trying to stuff down all emotions, so he doesn't fall apart. Things go from bad to worse.
Caroline, of course, comes to him and does everything she can to help. West does something horrific to try to keep her out of it. But Caroline knows exactly why he does it and stands up to him. How I love Caroline. The journey from there is hard, and harder, and beautiful. Now West is growing, learning how to not just survive, but thrive. Anything worth doing is messy and anything of value is worth effort.
This is the new kind of romance I enjoy so much. It's real; has ups and downs, and it's messy. I can't really recommend them any more highly. Read Deeper and Harder. They are worth it.
Latest posts by Anne - Books of My Heart
(see all)
Related Posts