Review copy was received from Publisher. This does not affect my opinion of the book or the content of my review.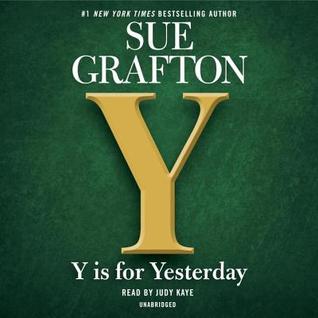 Y is for Yestterday
by
Sue Grafton
Narrator:
Judy Kaye
Series:
Kinsey Millhone #25
Published by
Random House Audio
on August 22, 2017
Genres:
Mystery
Length:
17 hours, 11 minutes
Format:
Audiobook
Source:
Publisher
Goodreads
Audible
, 
Libro.fm




The darkest and most disturbing case report from the files of Kinsey Millhone, Y is for Yesterday begins in 1979, when four teenage boys from an elite private school sexually assault a fourteen-year-old classmate—and film the attack. Not long after, the tape goes missing and the suspected thief, a fellow classmate, is murdered. In the investigation that follows, one boy turns state's evidence and two of his peers are convicted. But the ringleader escapes without a trace.

Now, it's 1989 and one of the perpetrators, Fritz McCabe, has been released from prison. Moody, unrepentant, and angry, he is a virtual prisoner of his ever-watchful parents—until a copy of the missing tape arrives with a ransom demand. That's when the McCabes call Kinsey Millhone for help. As she is drawn into their family drama, she keeps a watchful eye on Fritz. But he's not the only one being haunted by the past. A vicious sociopath with a grudge against Millhone may be leaving traces of himself for her to find…
I have read all the books in the Kinsey Millhone series   starting way back in the 1980s. Mystery is a favorite genre of mine, especially as a palate cleanser because of its action and facts. Of course, emotions get involved as well, but Kinsey is very straight forward. She leads an organized, simple life. Her relationships are few and somewhat limited. The only other audio I have listened to was the short stories, Kinsey & Me. So I decided to try this on audio, too.
I really love Kinsey and recommend you read  the books in order. The writing of characters and world is generally excellent, although since this series is set in the 1980s there was a slip-up with airport security here. There are three layers to the story and one of the layers has more than one story. Kinsey has various happenings in her personal life. She has fallout from her previous case, which means she has to watch her back.
Her new case has many aspects: extortion, an old murder, and people who are missing. The characters of this are not appealing. At all. The clients, the victims, the witness are all not very nice. It's true some of them had a bad situation dealt to them but that doesn't mean they have to treat others poorly. I enjoyed Kinsey's process and the various puzzle pieces working around to solutions.
Judy Kaye is the narrator for Y is for Yesterday and the short story anthology. I didn't feel like her voice was a fit to my inner voice for Kinsey, probably since I've had my own mindset for (gasp) 30+ years. She sounds too old to me. Of course, Kinsey is 39 in the books now and was 20s at the beginning. The narrative was clear and easy to understand. I just didn't like the tone. It was somewhat flat and didn't bring forth emotions, but then Kinsey is not highly emotional. I listened at 1.25 speed to keep it moving and it was fine at this speed.
I am curious to see what happens next with Z is for Zero. (2019) Will there be more Kinsey stories? Will Sue Grafton do something new or retire in her success? I highly recommend this series if you like an old school mystery with quirky characters and action. It is set in the 1980s so the cultural feel is different. Reading or listening is enjoyable.
Listen to a clip here:
Rating Breakdown
Writing
Dialogue
Narration (Audio)
Overall:
Latest posts by Anne - Books of My Heart
(see all)
Reading this book contributed to these challenges:
Anne: 2017 New Release Challenge
Related Posts