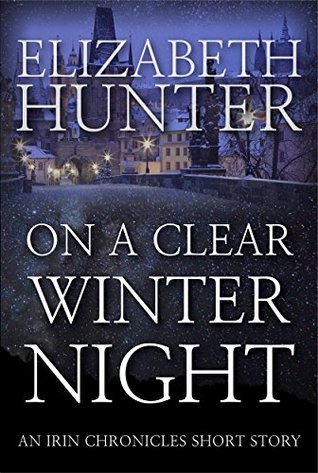 On A Clear Winter Night

by Elizabeth Hunter
Series: Irin Chronicles #3.5
on December 17, 2017
Genres: Urban Fantasy
Pages: 52
Format: eBook
Source: Library
Goodreads
Amazon,  Audiobook





Join Ava, Malachi, and their friends for Midwinter holidays in Prague. The Irin might not celebrate Christmas, but that doesn't mean Ava has to give up on the holidays. With her children on the way, nothing will stop the newest Irina from celebrating with her growing family. But will lingering doubts and worries about fatherhood let Malachi celebrate the way he wants?

On a Clear Winter Night is a short story set after the first three books of the Irin Chronicles.
This is a very brief, Read It Track It review. On A Clear Winter Night finds Ava and Malachi during the holidays, after the first three books in the Irin Chronicles series.  All the books in the series, to this point, feature this couple. I read this in preparation to go on with the series; I'm behind. This far, it is an urban fantasy. Going forward, it becomes paranormal romance where each book will feature a different couple.
This sweet, short story gives a happy holiday to catch us up with the couple, their friends and family. I really enjoyed it and it brought me back to this special world.  I'll read on with The Staff and the Blade. Then, The Silent will be available July 28, 2017.
I can't really remember any time when I wasn't reading. I LOVE books and what they give me. It's an opportunity to learn new things, see new places,live different emotions in a "safe" way. It lets me live in a new world.
I read all types of books but my favorites are urban fantasy and romantic suspense.I like some romance and some action / adventure / mystery in everything.I like sex in my books but please, only between TWO people.Intimate conversation is equally important to the sex in a book.It lets me see the characters.The other thing I enjoy is humor.
Friend me at Goodreads.
Reading this book contributed to these challenges:
Anne: 2017 Library Love Challenge
Related Posts