Review copy was received from NetGalley. This does not affect my opinion of the book or the content of my review.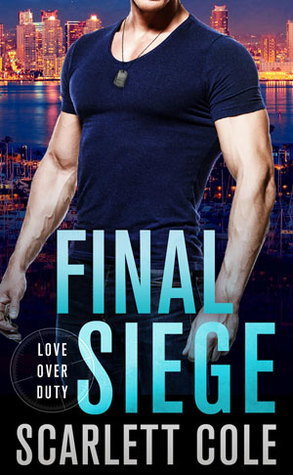 Final Siege
by
Scarlett Cole
Series:
Love Over Duty #2
Published by
St. Martin's Press
on January 30, 2018
Genres:
Romantic Suspense
Pages:
300
Format:
eARC
Source:
NetGalley
Goodreads
Amazon
, 
Barnes & Noble
, 
iTunes




IN THE LINE OF FIRE…

Former SEAL Malachai "Mac" MacCarrick is all about the future he's created with his Navy brothers in Eagle Securities, taking assignments in the most dangerous places, and doing things no one but ex-military would attempt. But when an urgent phone call brings his troubled past—and the woman he once loved—into the present, it's a chance to redeem himself that he can't refuse.

STRAIGHT TO THE HEART…

An investigative journalist researching an explosive story, Delaney Shapiro tells herself she got over Mac—and his role in her brother's death—a long time ago. But the first moment she sees him at her bedside in an overseas hospital, she knows it's not true. Every moment together rekindles the desire that once burned between them, and now that she's a target for an emerging Russian arms dealer, Mac won't let her out of his sight. To protect her, he'll risk it all—including his life



The Love Over Duty series  continues with more action as now Mac jumps in to save his high school sweetheart when she gets in trouble. The chivalry Mac showed with patience for Delaney was beyond belief. He seemed a bit too whipped. It's one thing to be certain and pursue a relationship with the confidence of being clear what you want. It's another to do that even when the other person is behaving badly. Mac worked really hard to let her make her own decisions, even when she risked herself and acted rather TSTL. Mac respected her work and helped her to get what she needed to succeed.
The fact they haven't seen each other for 14 years and now come together seemed a bit too quickly for me. Delaney could see Mac is a good guy but she refused to let him explain the past for too long. She seemed a bit selfish letting him support her and help her but still trying to shut him out. I understand she was injured and under misconceptions, but it felt unfair when she wouldn't spend any time with him except she needed his help with her career or protection from the bad guys.   We are told when time passes at various points at the hospital or at Mac's home but we aren't shown the interactions enough, the dialogue to progress their relationship. But perhaps there wouldn't be much as Delaney was unwilling to hear anything but her own opinion.
The mystery with identifying the bad guys was intelligently analyzed and I enjoyed the way everyone came together to solve it. They all had a part, not just the couple of the story. We are shown all the things happening, the action, the conversations and some thoughts involved. I really enjoyed this. Final Siege comes to explosive end in a showdown with the bad guys.  I loved the mystery and action, the guys of Eagle Securities including Mac and will continue to read this series.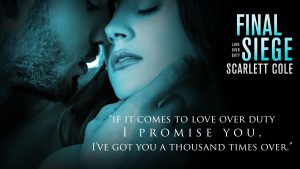 Excerpt:
Half asleep, unwilling to fully waken and face the day, Delaney snuggled deep into the covers and allowed the dreams that danced on the edge of her consciousness to enter. In it, she was naked, in a large white bed, with a man behind her. A hand spanned her stomach, pulling her back against a firm, warm chest. Spooning. Her favorite thing.

Lazily, the hand moved upward until it cupped her breast, and Delaney secretly urged it to squeeze gently, but it didn't. Whoever the hand belonged to was definitely aroused. She could feel the heavy erection pressing against her back. Teasingly, she wiggled her butt against him in the hope he'd get the message, but nothing. No response.

Sun shone in through large open windows with white billowing curtains as she reveled in feelings of being turned on.

She turned in the man's arms, grateful when he pulled her closer to him. His chest was wide, with a light smattering of hair, and she pressed her forehead to it as she slid her hand between them to the waistband of his shorts.

A hand gripped her wrist. "Don't," a voice said gruffly. Hard to get? That was a new one. She moved closely and pressed a series of soft kisses to his chest. But she could be that girl. The one who was confident enough to initiate. She licked his nipple and heard him gasp.

"Delaney, please. Fuck. Wake up!"

Suddenly the bed shook. Covers were dragged off her body, and her skin was cold. Then the realization hit her.

Shit. Shit. Shit.

It wasn't a dream.

Delaney forced one eye open and confirmed her worst nightmare. Mac stood naked, apart from a pair of basketball shorts and a huge erection. And if the tenting was to be believed, his chest and bicep dimensions weren't the only muscles that had grown. His hair was ruffled, standing up every which way as it always used to, and his eyes told her that she'd woken him up. By attempting to grab his dick.

Dear God. She was going to die.
Enter to win an UNDER FIRE & FINAL SIEGE Paperback + $20 Amazon Gift Card!
Latest posts by Anne - Books of My Heart
(see all)
Reading this book contributed to these challenges:
2018 New Release Challenge
COYER Winter Switch
Related Posts