Review copy was received from NetGalley. This does not affect my opinion of the book or the content of my review.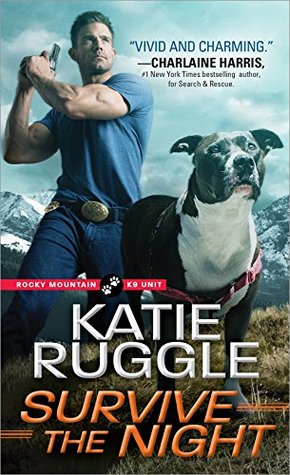 Survive the Night
by
Katie Ruggle
Series:
Rocky Mountain K9 Unit #3
Published by
Sourcebooks Casablanca
on February 6, 2018
Genres:
Romantic Suspense
Pages:
416
Format:
eARC
Source:
NetGalley
Goodreads
Amazon
, 
Barnes & Noble





K9 Officer Otto Gunnersen always had a soft spot for anyone in need. As Monroe's very own Dr. Doolittle, he dedicates himself to rehabilitating the injured souls that cross his path—but for all his big heart, he's never been in love.

Until he meets Sarah Clifton's haunted eyes. Until he realizes he'll do anything to save her.

All Sarah wants is to escape a life caught between ambitious crime families, but there's no outrunning her past. Her power-mad brother would hunt her to the ends of the earth...but he'd never expect Sarah to fight back. With Otto and the whole of Monroe, Colorado by her side, Sarah's finally ready to face whatever comes her way.

It's time to take a stand.
It was great to come back to the Rocky Mountain K9 Unit series.   I was happy to see the people in this small Colorado mountain town, the couples from the previous two books and especially, the kids. I LOVE those kids. They are real and important in a way nothing else is, well, the animals are the real deal, also.  I listened to the first book Run to Ground and have read the following books, including Survive the Night.
The beginning was slow going and parts didn't quite connect for me. Hugh was much less funny, and I missed his humor.  We learn about Sarah and why she comes to Monroe. We start to learn a bit about Otto. He has been a quiet mystery so far.  Things kind of jumped around until  the action began when Sarah was found. View Spoiler »But how the heck did they find Sarah so fast? This small town is remote. I kept thinking we would find out her brother had implanted a chip in her or something. « Hide Spoiler
Once things went into high gear, both Otto and Sarah showed how strong they were and how smart. I was so proud of Sarah. Otto is an awesome guy. Their relationship happens extremely fast, as often is the case in this genre, with the life and death situations. People realize what they want and could lose very fast. Of course, those amazing kids play their role in saving the day. The title is apt; I wasn't sure who would survive the night.
The horrifying setup for the next one, in August 2018,  Through The Fire, will definitely involve the kids.  Or will it? The ending here points to it, but the next blurb sounds like it will involve a couple of people we haven't met yet. I look forward to visiting Monroe with these people I now know and love.   Especially,  if there is more time with the kids.
Giggle-worthy quote:
Sarah stared at him, quiet as well, her neutral expression not giving him any clues about what she was thinking. The longer the silence continued, the more frantically Otto tried to come up with something to say and the blanker his mind became. He had the terrible thought that something completely inappropriate would pop out, something about how pretty she was or how scared or how he wanted to keep her safe.

Otto stopped worrying about not saying something and started worrying that he would say something mortally embarrassing that would make her hate him forever. The seconds ticked by, the faint chatter coming from the kitchen and the low hum of the wind outside pressing against the house the only sounds. Neither looked away.

"Wow. This is awkward," Grace said. "Otto, when I said you weren't allowed to interrogate her, I didn't mean to ban all polite conversation. You can, you know, tell her it's nice to meet her or make some comment about the weather."
I can't really remember any time when I wasn't reading. I LOVE books and what they give me. It's an opportunity to learn new things, see new places,live different emotions in a "safe" way. It lets me live in a new world.
I read all types of books but my favorites are urban fantasy and romantic suspense.I like some romance and some action / adventure / mystery in everything.I like sex in my books but please, only between TWO people.Intimate conversation is equally important to the sex in a book.It lets me see the characters.The other thing I enjoy is humor.
Friend me at Goodreads.
Latest posts by Anne - Books of My Heart (see all)
Reading this book contributed to these challenges:
2018 New Release Challenge
COYER Winter Switch
Related Posts