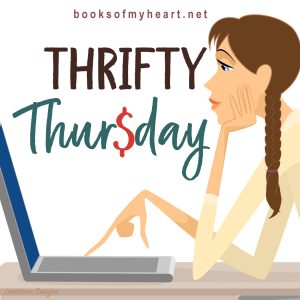 The purpose of Thrifty Thursday is to read a book which was free (at some point).
Kindle freebie on July 4, 2022  (currently free at Amazon and Barnes & Noble as of writing this post)
Overall rating 4.14 with 808 ratings and 45 reviews
Only Murder
by
Rylie Dark
Series:
Sadie Price FBI Suspense Thriller #1
on October 12, 2021
Genres:
Mystery
,
Thriller
Pages:
176
Format:
eBook
Source:
Purchased
Goodreads
Amazon
, 
Audible
, 
Audiobook
, 
Barnes & Noble
, 
Apple




Special Agent Sadie Price, a 29-year-old rising star in the FBI's BAU unit, stuns her colleagues by requesting reassignment to the FBI's remote Alaskan field office. Back in her home state, a place she vowed she would never return, Sadie, running from a secret in her recent past and back into her old one, finds herself facing her demons—including her sister's unsolved murder—while assigned to hunt down a new serial killer.

Two women are found dead in a remote area of Northern Alaska, near Sadie's hometown, floating under the ice, their bodies preserved, much the same way Sadie's own murdered sister was found—a memory that still plagues her. The case strikes way too close to home, blurring Sadie's judgment, stirring up memories of her estranged father and murdered sister, memories she's not ready to grapple with.

This part of Alaska—icy, rough, remote, populated by outcasts—proves impenetrable even for a seasoned FBI agent like Sadie. The killer, matching his landscape, is more sinister and smart than anyone Sadie has encountered. Amidst the perplexing clues, Sadie remains sure of only one thing: he will strike again.

Against her wishes, Sadie must team up with Sheriff Logan Cooper—single, begrudging, and with a dark past of his own. Together, they must enter the canals of this killer's twisted mind and seek help from the locals, however hostile, to solve the pattern of these murders before another girl turns up dead.
It's always a bit of a gamble with a freebie. They always sound good or I wouldn't get them and I have tried to be more selective but the blurb is not always a clear indicator of the book. I have a couple freebies from this author and this one was shorter, so I started with Only Murder.
The main character is Sadie Price, a Special Agent with the FBI.  She has spent the last 10 years in the BAU solving some high profile cases with smart, hard work.  Now she has come home to Alaska in an attempt to solve her sister's unsolved case from her teen years.
Sadie is highly competent and I enjoyed her skill and strategy as she investigates a murder on her first day at the Alaska FBI office.  A murder which has some similarities to her sister's case.  She has to work with the local sheriff and his team.  Locals aren't thrilled about the FBI getting into their case.
The sheriff isn't a bad guy but he is surprised by her personal familiarity with the witnesses they interview. But Sadie grew up here and went to high school with them.  The sheriff came from another area in Alaska.  Sadie's knowledge of the people and the landscape helps her onto promising leads and questioning as does her experience.
Sadie tracks down the killer and solves the case.  She also makes friends with the sheriff and even his deputy, who is his sister, by the end.  I really enjoyed how smart they were and the suspense of tracking down the killer. There was danger from the extreme weather and the killer. I look forward to reading more in this Sadie Price series.
---
These are only Kindle freebies I get, or ones through author newsletters which anyone can sign up and get for free. I don't include things like Kindle Unlimited or Prime Free Reading (I do have it). Both Tantor and Audible have occasional free audios (to anyone) and I do include those.  Since I one-click on 1-2 freebies a day or probably at least 5 a week, I came up with this feature to make sure I start reading them.
So I have thought about doing a Thrifty Thursday Challenge someday. For now,  what I think would be fun is if you have read and reviewed  a freebie, link up to your review (Goodreads, blog, facebook or wherever) below.
---
Add your review link here: 
Mister Linky's Magical Widgets — Easy-Linky widget will appear right here!
This preview will disappear when the widget is displayed on your site.
If this widget does not appear,
click here
to display it.
---
Kindle freebie on May 12, 2015  (currently free at Amazon and Barnes & Noble as of writing this post)
Overall rating 4.20 with 10,593 ratings and 988 reviews
A Cold Dark Place
by
Toni Anderson
Series:
Cold Justice #1
Published by
Self-Published
on March 25, 2014
Genres:
Romantic Suspense
Pages:
350
Format:
eBook
Source:
Purchased
Goodreads
Amazon
, 
Audible
, 
Audiobook
, 
Barnes & Noble
, 
Apple





Former CIA assassin Alex Parker works for a clandestine government organization hell-bent on taking out serial killers and pedophiles before they enter the justice system. Alex doesn't enjoy killing, but he's damn good at it.

FBI Special Agent Mallory Rooney has spent years hunting the lowlife who abducted her identical twin sister eighteen years ago. Now, during an on-going serial killer investigation, Mallory begins to suspect there's a vigilante operating outside the law.

When Mallory starts asking questions, Alex is ordered to watch her. As soon as they meet, the two begin to fall in love. But the lies and betrayals that define Alex's life threaten to destroy them both—especially when the man who stole her sister all those years ago makes Mallory his next target.
I knew the Cold Justice series has been highly rated by Jonetta @ The Blue Mood Cafe and she always knows the best books.  I have several books in the series as freebies too.   So I was happy to finally read the first book,  A Cold Dark Place.
We have the story of Mallory who is a newer FBI agent, with two influential parents.  Her twin was abducted when she was a child.  She has always pursued the case in all her free time.  Now she notices something odd about a serial killer case where the killer abducted and murdered children.  This puts her onto the idea there is a vigilante out there murdering serial killers.
Suddenly, she is moved to the BAU.  Mallory is told this is because she is on to the vigilantes but she can't tell anyone as she is there to basically investigate her co-workers.  Her co-workers old and new hate her because she is in a prized position and attribute it to her parents.
The killer who took her sister seems suddenly back after 18 years.  Mallory notices the similar aspects of a few cases. She runs into Alex Parker who is a private security consultant.  He is ordered to watch her because she has caught the killer's eye.
Mallory and Alex are attracted.  Neither one believes they have the time or ability to have a real relationship.  But they can't seem to stop their feelings and continue to spend time together. Plus Alex is unable to tell her about his confidential missions, so in a sense, he's lying to her.
The case here is twisty.  There are things which connect up and those which don't.  Mallory is often in danger but Alex does a good job of protecting her.  They both chase down leads on the killer as more girls are abducted and killed.   The killer is pretty smart and so finally Mallory figures out a way to catch him.
I enjoyed this and felt it was a reasonable fictional account of how things might work.  Mallory was smart and well-trained but inexperienced.  I'm glad she had people who cared about her as backup.   It looks like each book in the series features a new couple, or at least the next one.  I look forward to reading more.
---
Kindle freebie on November 1, 2020  (currently $4.99 at Amazon and Barnes & Noble as of writing this post)
Overall rating 4.21 with 3,591 ratings and 346 reviews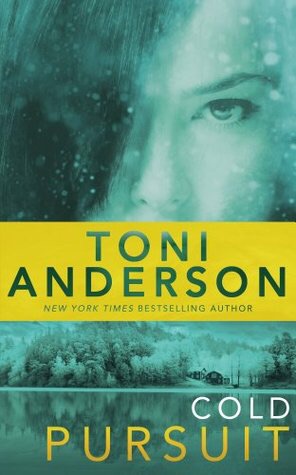 Cold Pursuit
by
Toni Anderson
Series:
Cold Justice #2
Published by
Self-Published
on May 30, 2014
Genres:
Romantic Suspense
Pages:
350
Format:
eBook
Source:
Purchased
Goodreads
Amazon
, 
Audible
, 
Audiobook
, 
Barnes & Noble
, 
Apple





Single mom Vivi Vincent is thrust into her worst nightmare when she and her eight-year-old son are trapped inside a mall during a terror attack. Jed Brennan, a dedicated FBI agent on enforced leave, helps Vivi and her son survive the assault. But the danger is just beginning...

Vivi's son may have witnessed critical details of the terrorists' future plans and is targeted for death, but he's mute, and he's traumatized. When someone launches a strike against the FBI's safe house, Jed fears the bad guys have an inside man. Not knowing who to trust, he hides mother and son in a log cabin deep in the heart of the Wisconsin Northwoods. There Jed and Vivi try to figure out how to unlock the information inside her son's head.

What they don't bargain for is the red-hot attraction that flares between them or the extent of the sinister plot that threatens to rip apart any chance of happiness they might have together.

Winner of National Excellence in Romance Fiction Award ~ for Romantic Suspense. Finalist in the National Readers' Choice Award, & the Gayle Wilson Award of Excellence.
So this is a little different, in addition to having A Cold, Dark Place as a freebie, I also got the box set of the first 3 books purchasing them free on Amazon.  Cold Pursuit, I also got the audio from the library to do a read-listen.
I just wanted to share that I enjoyed the second one as much as the first.  The stories seem to be centered around the BAU unit at the FBI.   Alex and Mallory from the first book are only mentioned, with the focus on Vivi and Jed.  Jed and Mallory are on the same BAU team and Alex does work for them.
There are aspects which strain credibility but overall the strategy and action is believable and it's a fun read.  It has the typical initial lust and forced proximity while in extreme danger to bring the couple together.  For me, the addition of children made it even better. I continue to really enjoy the characters and their development. In this Cold Justice series.
Latest posts by Anne - Books of My Heart
(see all)
Related Posts