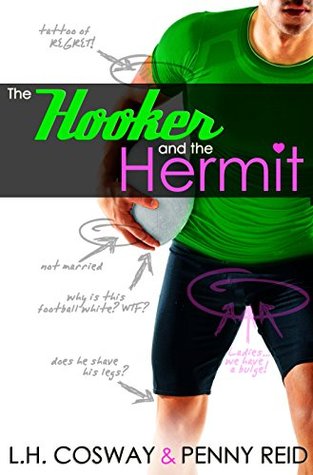 The Hooker and the Hermit
by
LH Cosway
,
Penny Reid
Series:
Rugby #1
Published by
Self-Published
on February 2, 2015
Genres:
Contemporary Romance
Pages:
339
Format:
eBook
Source:
Purchased
Goodreads
Amazon
, 
Audible
, 
Audiobook
, 
Barnes & Noble





Blogging as *The Socialmedialite*
April 22
LADIES AND GENTS! I have an announcement!

You know that guy I featured on my blog a few months ago? The really, really hot Irish rugby player who plays the position of 'hooker' in the RLI (Rugby League International)? The one with the anger management issues, the body of a gladiator and the face of a movie star? The one with the questionable fashion choices leading me to ask whether he was the lovechild of a leprechaun and a hobbit? Ronan Fitzpatrick? Yeah, that guy.

Well, I have a confession to make…

THE HERMIT

Annie Catrel, social media expert extraordinaire at Davidson & Croft Media and clandestine celebrity blogger, can make anyone shine in the court of public opinion. She is the Socialmedialite, anonymous creator of New York's Finest and the internet's darling. Virtual reality is Annie's forte, but actual reality? Not so much.

THE HOOKER

Ronan Fitzpatrick, aka the best hooker the world of rugby has seen in decades, despises the media—social or otherwise. The press has spun a web of lies depicting him as rugby's wild and reckless bad boy. Suspended from his team, Ronan has come to Manhattan to escape the drama, lay low, fly under the radar. Only, Ronan isn't easy to overlook, and he can't escape the notice of the Socialmedialite…

THE PLAN

When Ronan is sent to Davidson & Croft Media to reshape his public image, he never expects to cross paths with shy but beautiful Annie, nor does he expect his fierce attraction to her. He couldn't be happier when her boss suggests pairing them together.

What lengths will Annie take to keep her virtual identity concealed? And what happens when the hooker discovers who the hermit really is?
Penny Reid and L.H. Cosway pair up for some rom-com magic in The Hooker and the Hermit, the first book in the Rugby Series.  The LOL moments start right on the cover and continue throughout.  The story's quirky characters and offbeat humor are a hallmark of Penny Reid's writing.  The desire and struggle of the main characters to create deep, lasting connections is what I expect of L.H. Cosway.  The collaboration has resulted in an endearing and relatable love story.
Annie Catrel is the intelligent, shy, self-imposed hermit, whose personality comes to life as her online-ego "The Socialmedialite," a celebrity blogger.    Her super-power is brightening the tarnished images of celebrities and politicians, which is how she gets involved with Ronan Fitzpatrick.  He's a disgraced Irish rugby player, suspended from his team until he cleans up his image.  Annie is hired to help the handsome hooker (think quarterback in American football-speak) salvage his reputation as a bad-boy.  Shenanigans ensue.
The Hermit and The Hooker was entertaining and humorous.  It is full of witty interactions (online and in real life) and doesn't skimp on the sexy.  I think it was a little racier than I'd normally expect from either of the authors, not that I am complaining.  Perhaps it was because I could identify with Annie on so many levels (Introverts UNITE!), or perhaps it was the dirty-talking Ronan, 'toe' shoes, spandex and all; either way, I thoroughly enjoyed this book.  It's a great start to a fun series.  My final words aren't really words, but an infographic (which will make so much more sense once you read the book!):
Related Posts