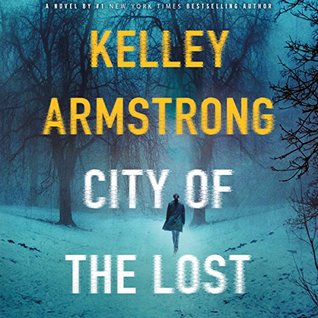 City of the Lost
by
Kelley Armstrong
Narrator:
Therese Plummer
Series:
Rockton #1
Published by
MacMillan
on May 3, 2016
Genres:
Mystery
Length:
13 hours, 47 minutes
Format:
Audiobook
Source:
Library
Goodreads
Amazon
, 
Audible
, 
Audiobook
, 
Barnes & Noble





Casey Duncan is a homicide detective with a secret: when she was in college, she killed a man. She was never caught, but he was the grandson of a mobster and she knows that someday this crime will catch up to her. Casey's best friend, Diana, is on the run from a violent, abusive ex-husband. When Diana's husband finds her, and Casey herself is attacked shortly after, Casey knows it's time for the two of them to disappear again.

Diana has heard of a town made for people like her, a town that takes in people on the run who want to shed their old lives. You must apply to live in Rockton and if you're accepted, it means walking away entirely from your old life, and living off the grid in the wilds of Canada: no cell phones, no Internet, no mail, no computers, very little electricity, and no way of getting in or out without the town council's approval. As a murderer, Casey isn't a good candidate, but she has something they want: She's a homicide detective, and Rockton has just had its first real murder. She and Diana are in. However, soon after arriving, Casey realizes that the identity of a murderer isn't the only secret Rockton is hiding—in fact, she starts to wonder if she and Diana might be in even more danger in Rockton than they were in their old lives.
There was no reason for me to get this audiobook except I had been wanting to try it for awhile. I was definitely in the mood for a mystery / action / thriller. If I had listened to City of the Lost before I met the author in September 2016 at NOLA Storycon I certainly would have been gushing, possibly babbling about how much I loved her work.
I was engrossed from the beginning, did not want to stop listening, AT ALL. This was dark, creepy, and puzzling. With a new series, it is a new world to build which was done expertly. There were many people to bring to life. With the murder, the details of a new place and people, it could have felt too heavy and grim. But it didn't – there was even a bit of humor and romance.
Casey was a lovable character. She takes responsibility for her mistakes. She is honest with herself. She works hard, cares about others with compassion. She is also smart, skilled and has integrity in her work as a homicide detective. I enjoyed this so much I couldn't wait to get the next one, A Darkness Absolute.
The narration by Therese Plummer was wonderful. I liked her tone and the personalities she infused in the characters.  I was able to listen at x1.25 which was a good pace.  I enjoyed her very much.
Listen to a clip:
---
This book may be unsuitable for people under 17 years of age due to its use of sexual content, drug and alcohol use, and/or violence.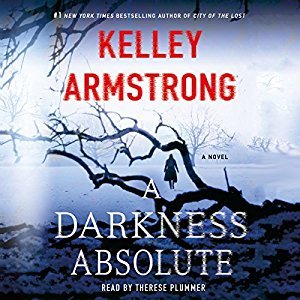 A Darkness Absolute
by
Kelley Armstrong
Narrator:
Therese Plummer
Series:
Rockton #2
Published by
MacMillan Audio
on February 7, 2017
Genres:
Mystery
Length:
13 hours, 39 minutes
Source:
Library
Goodreads
Amazon
, 
Audible
, 
Audiobook






When experienced homicide detective Casey Duncan first moved to the secret town of Rockton, she expected a safe haven for people like her, people running from their past misdeeds and past lives. She knew living in Rockton meant living off-the-grid completely: no cell phones, no Internet, no mail, very little electricity, and no way of getting in or out without the town council's approval. What she didn't expect is that Rockton comes with its own set of secrets and dangers.

Now, in A Darkness Absolute, Casey and her fellow Rockton sheriff's deputy Will chase a cabin-fevered resident into the woods, where they are stranded in a blizzard. Taking shelter in a cave, they discover a former resident who's been held captive for over a year. When the bodies of two other women turn up, Casey and her colleagues must find out if it's an outsider behind the killings or if the answer is more complicated than that...before another victim goes missing.
After debating about buying A Darkness Absolute the minute I finished City of the Lost, I barely managed to control myself. It's still likely I will end up buying these audiobooks. I just want to know I will like them first, which the library allows me to preview.  I was thrilled when I got it ( after checking multiple libraries, several times a day to see if it was available yet).
The world and characters are now familiar but we are getting more details, and the creep factor has gone WAY up.  There are much more disturbing happenings. The action just keeps coming.
Casey has settled into her life here and into her relationships with Eric and Will. The character development continues with more detail on their histories. The three develop good working skills as a team. They also support and accept each other. Trust is slowly building, but it is hard won in this hidden town because of the reasons people are here. The personal growth is a nice balance to the seriously icky crimes.
I LOVED this! I went right out to the publisher's website to find out how I could get the next one, This Fallen Prey, as soon as possible! Luckily, they were kind to me and I was able to get it the day after I requested it. I am so grateful. The review will be published later today.
Listen to a clip:
Rating Breakdown
Plot
Writing
Characters
Narration (Audio)
Overall:
Latest posts by Anne - Books of My Heart
(see all)
Reading this book contributed to these challenges:
2018 Audiobook Challenge
2018 Library-Love Challenge
Related Posts