Review copy was received from Publisher. This does not affect my opinion of the book or the content of my review.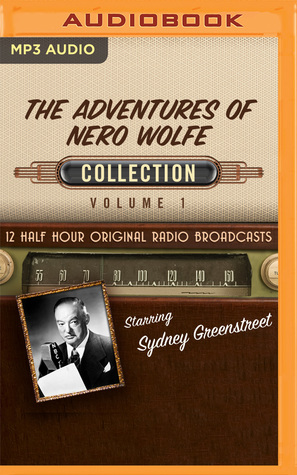 The Adventures of Nero Wolfe, Collection 1
by
Rex Stout
Published by
Black Eye Entertainment
on January 16, 2018
Genres:
Mystery
Length:
5 hours, 49 minutes
Format:
Audiobook
Source:
Publisher
Goodreads
Audible
, 
Audiobook
, 
Barnes & Noble




Nero Wolfe is a fictional detective, created in 1934 by the American mystery writer Rex Stout. Wolfe's confidential assistant Archie Goodwin narrates the cases of the overweight detective genius. In total, Stout wrote 33 novels and 39 short stories from 1934 to 1974, with most of them set in New York City. Wolfe's residence, a luxurious brownstone on West 35th Street, features prominently in the series.

Many radio, television and film adaptations were made from Stout's stories. Nero Wolfe first appeared on radio July 5, 1943 in a short-lived NBC series starring Santos Ortega as Wolfe with Luis Van Rooten as Archie. The second series aired during 1945 on the Mutual network starred Francis X. Bushman with Elliott Lewis as Archie. The third, and most successful incarnation came to radio in 1950. It starred Sydney Greenstreet as Wolfe with the part of Archie voiced by several actors including Lawrence Dobkin, Gerald Mohr and Harry Bartell.

Nero Wolfe was an armchair detective who rarely left the house. Archie Goodwin, would collect the facts and report back. Wolfe would probably not have taken on many cases had he not needed his client's money to pay for his two true passions: fine food and the collecting of orchids. Enjoy 12 of the finest radio episodes of Nero Wolfe, starring Sydney Greenstreet, who is perhaps best known for playing Kasper Gutman, the villain opposite Humphrey Bogart (Sam Spade) in the film The Maltese Falcon.

10/27/50 The Case of the Careworn Cuff
11/3/50 The Case of the Dear Dead Lady
1/26/51 The Case of the Phantom Fingers
2/2/51 The Case of the Vanishing Shells
2/16/51 The Case of the Party for Death
3/2/51 The Case of the Hasty Will
3/9/51 The Case of the Disappearing Diamonds
3/16/51 The Case of the Midnight Ride
3/23/51 The Case of the Final Page
3/30/51 The Case of the Tell Tale Ribbon
4/16/51 A Slight Case of Perjury
4/20/51 The Case of the Lost Heir
I got this audiobook because I have already read the entire Nero Wolfe series of books, in paperbacks, when I lived in Minnesota.  I lived on the west side of Minneapolis, which didn't have them.  I had to travel to the northeast side of St. Paul to the Roseville library to get them,  reserving a few at a time,  about 45-60 minutes each way in good traffic.
These old mysteries were written between 1934-1974 and reflect the mores of that time period, as well as a more simplistic method of crime solving and evidence than we have today.  It is based more on intelligence and deductions.  I enjoyed the clever thought processes.
Nero Wolfe has qualities many may not know by just this audiobook. He is a very large, heavyset man. He raises orchids. His assistant, Archie Goodwin, does all the running and evidence gathering. Often, an entire group of suspects is brought to his sitting room, along with the police, to hear the solution of the crime. I do not like the way he teases Archie with derogatory remarks.
Narration:
The audio is performed by a whole case in an ensemble, as these are the radio show performance, of 12 episodes in 1950-1951.  It is an excellent experience of the old radio shows. I did have to listen at 1.5x speed, which is faster than usual, because it was slow. Also, I did not enjoy how each episode began the same and then ended with commercials. It is true to the period, but I found those couple minutes boring after the first time or so.
Listen to a clip here.
Rating Breakdown
Plot
Characters
Narration (Audio)
Overall:
I can't really remember any time when I wasn't reading. I LOVE books and what they give me. It's an opportunity to learn new things, see new places,live different emotions in a "safe" way. It lets me live in a new world.
I read all types of books but my favorites are urban fantasy and romantic suspense.I like some romance and some action / adventure / mystery in everything.I like sex in my books but please, only between TWO people.Intimate conversation is equally important to the sex in a book.It lets me see the characters.The other thing I enjoy is humor.
Friend me at Goodreads.
Latest posts by Anne - Books of My Heart (see all)
Reading this book contributed to these challenges:
2018 Audiobook Challenge
2018 New Release Challenge
COYER Winter Switch
Related Posts