Review copy was received from NetGalley. This does not affect my opinion of the book or the content of my review.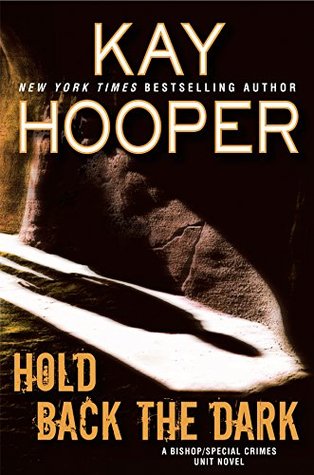 Hold Back the Dark
by
Kay Hooper
Series:
Bishop Special Crime Unit #18
Published by
Berkley
on April 3, 2018
Genres:
Paranormal
,
Mystery
Pages:
352
Format:
eARC
Source:
NetGalley
Goodreads
Amazon
, 
Audible
, 
Libro.fm
, 
Barnes & Noble



An SCU team investigates an inexplicable string of murders committed by men and women with no memory of their crimes in the latest in this New York Times bestselling series.

Madness has taken ahold of Prosperity, North Carolina. Residents are killing one another, as if in a dream, and waking up with no memory of the monstrous acts they've committed--or why. As the death toll climbs, the local sheriff's department is further rocked by a murder carried out by one of their own. Deputy Katie Cole knows that whatever monster is afoot is beyond her scope...

The Special Crimes Unit is called in for their specific brand of investigation. It will take all their training, all their experience, and every extra sense they can call on to get to the bottom of things in Prosperity. And as a dark pattern begins to emerge, even the most experienced and hardened SCU agents have to wonder if this is beyond their understanding.
I have enjoyed this Bishop Special Crime Unit series for a long time. It is my favorite sort of paranormal story where it relates to the mind: telepathy, clairvoyance, precognition,  and many other skills of this sort. The earlier books had a romance in each book for a different couple. It has mostly changed to be more of a paranormal mystery or suspense  rather than paranormal romance.
Hold Back the Dark is more similar to earlier books in the mystery suspense aspect. There are some new team members, actually many, and Hollis Templeton who has been in the most books other than maybe Bishop himself, is the team leader.  Bishop and Miranda make more than a small appearance which is also more similar. They have not actually been called in by local law enforcement but they know evil is there and head to the town of Prosperity.  As is usual, local law enforcement does not always believe in their type of talents.
The story is interesting with gathering information and trying to solve / stop the murders. The end solution just seems a little easy and fast. There wasn't very much time spent using their talents.  I love this specific type of paranormal and hope there will be more.   I just hope there will be less new people and more time on the use of their skills to fight the crimes.
Excerpt:
It was coming from behind her.

Olivia did not want to turn around. Her mouth was dry despite the nausea, her skin was crawling unpleasantly, the pain in her head was getting impossibly worse rather than better, and she was afraid if she turned to confront an axe murderer, she'd beg him to just cut off her head and be quick about it.

Axe murderer. Idiot.

Not an axe murderer, of course. Not anyone.

Not any one . . . thing. Because she heard more than one whisper, many whispers, countless whispers. And she didn't know what they were saying, but she had the eerie feeling they were all whispering the same thing. The same words.

Still holding the edge of the sink with one hand, Olivia turned slowly to see what so frightened her cat and was making her own skin crawl in a sensation she'd never felt before.

"Oh, shit," she whispered.

The headache that was still hellishly painful didn't seem such a big deal now. Because despite all the swirling colors nearly blinding her, she could see, very clearly, why Rex was afraid. Every sharp object in her kitchen and den—every single one from every kitchen knife and fork she owned to three letter openers, two pairs of scissors, two box cutters with razor blades visible, the iron fireplace poker, and half a dozen pens and twice that many sharpened pencils—floated in midair. Different levels, some low, some as high as eye level.

With their pointy ends aimed right at her.

And they were all whispering.

"Waaurr," Rex muttered, his voice unusually quiet, questioning.

"I'm not doing it. I'd know if I were doing it, right? I always know. I have to concentrate to do it. I mean, unless I'm mad. Angry, not crazy. Though maybe crazy too. Because this has never . . . And, anyway, even if I'm mad, I don't . . . know how . . . to make anything . . . whisper."

Or how to stop it when she instinctively tried, an effort that was definitely not rewarded.

Unconsciously, both her hands lifted to her head, pressing as if to hold something in, because the headache suddenly grew horribly worse, impossibly worse, dragging a guttural groan from somewhere deep inside her, and through the bright swirl of colors that was beginning to truly blind her, she could still see all the scary-sharp weapons floating inexorably toward her.

Whispering.

What was whispering? Inanimate objects couldn't communicate, right? Not like this, at least.

The pain edged into agony, but even so she heard as if from a great distance her own shaking, pleading question.

"What? What are you saying? What do you want of me?"

And from the same great distance, she heard the whispered demand that made no sense to her.

Prosperity. Go to Prosperity.

They were still floating eerily toward her, all the pointy things that promised even more pain if they came much closer, and hard as she tried, Olivia couldn't do anything about it, couldn't stop it, couldn't see anything but them or hear anything except for that whispered demand.

Go to Prosperity.

Go to Prosperity.

Olivia heard one last thing: A moan of agony escaped her, and then everything went black.
Latest posts by Anne - Books of My Heart
(see all)
Reading this book contributed to these challenges:
2018 New Release Challenge
Related Posts