Review copy was received from NetGalley. This does not affect my opinion of the book or the content of my review.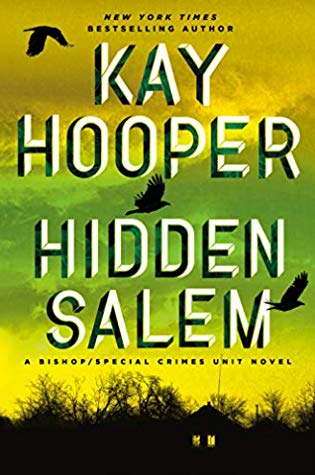 HIdden Salem
by
Kay Hooper
Series:
Bishop Special Crime Unit #19
Published by
Berkley
on April 7, 2020
Genres:
Paranormal
,
Mystery
Pages:
304
Format:
eARC
Source:
NetGalley
Goodreads
Amazon
, 
Audible
, 
Audiobook
, 
Barnes & Noble
, 
Apple



A town shrouded in the occult. An evil that lurks in the dark. The SCU returns in a hair-raising novel from New York Times bestselling author Kay Hooper.

Nellie Cavendish has very good reasons to seek out her roots, and not only because she has no memory of her mother and hardly knew the father who left her upbringing to paid caregivers. In the eight years since her twenty-first birthday, very odd things have begun to happen. Crows gather near her wherever she goes, electronics short out when she touches them, and when she's upset, really upset, it storms. At first, she chalked up the unusual happenings to coincidence, but that explanation doesn't begin to cover the vivid nightmares that torment her. She can no longer pretend to ignore them. She has to find out the truth. And the only starting point she has is a mysterious letter from her father delivered ten years after his death, insisting she go to a town called Salem and risk her life to stop some unnamed evil. Before her thirtieth birthday.

As a longtime member of the FBI's Special Crimes Unit, Grayson Sheridan has learned not to be surprised by the unusual and the macabre--but Salem is different. Evidence of Satanic activities and the disappearance of three strangers to the town are what brought Salem to the attention of the SCU, and when Gray arrives to find his undercover partner vanished, he knows that whatever's hiding in the seemingly peaceful little town is deadly. But what actually hides in the shadows and secrets of Salem is unlike anything the agents have ever encountered.
I have enjoyed this Bishop Special Crime Unit series for a long time.  Sometimes the stories feature long known members of the team and some are completely new characters.  With well known characters, there is the advantage of already knowing them and having better developed characters who then further progress.  With new ones, it makes it easier for new readers to jump into the story.
Hidden Salem is a story with new characters.  So even though this is book 19, it could be read out of order or possibly even standalone.  I would read a few of the earlier books to understand the leadership and forming of the team, especially Bishop and Miranda, and also to know the inside terms and jokes.
I see this series as romantic suspense but there was no romance here.  It followed a similar path to other books in the series.  There's a big bad and the team has to figure out who it is and take them down if necessary.  I liked Geneva and Grayson but they were not particularly well developed. This was also true of Nellie and Finn.  Leo is my favorite character.  Hidden Salem would have benefited from more emotional development of these characters perhaps with a romance or more of a "team" feeling with a few more characters from the series or updates on their current situations.
The investigation was suspenseful.  Determining who were good guys vs. bad guys was tricky. I also kept wondering if there was going to be a romance.  When things came to a showdown, it was over in a flash.
You will want to read the character bios, psychic terms and abilities, and author's note whether you are an old or new reader.  These are at the end but I would read them first.  Since all the key players in this book are new to the series, I would say the characters should have been developed here so they wouldn't need bios. But with this many books, I do appreciate the info verifying this is their first appearance in the series.
I love this series, along with Hidden Salem, as this is my favorite kind of paranormal, a specific kind of magic.  The series is uneven with some books more romance, others more mystery. There are characters like Hollis, who is not in Hidden Salem, who is key in many other books. Bishop, and less so his wife, Miranda, are in nearly every book with varying degrees of involvement.
Latest posts by Anne - Books of My Heart
(see all)
Reading this book contributed to these challenges:
Related Posts