Review copy was received from Publisher. This does not affect my opinion of the book or the content of my review.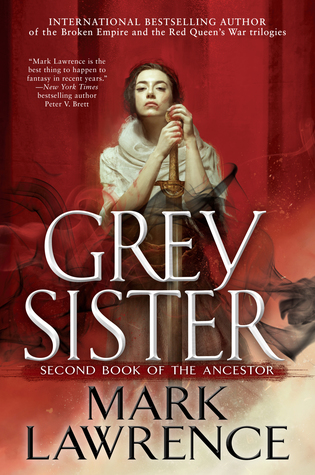 Grey Sister
by
Mark Lawrence
Series:
Book of the Ancestor #2
Published by
Ace
on April 3, 2018
Genres:
Fantasy
Pages:
415
Format:
ARC
Source:
Publisher
Goodreads
Amazon
, 
Audible
, 
Barnes & Noble





In Mystic Class Nona Grey begins to learn the secrets of the universe. But so often even the deepest truths just make our choices harder. Before she leaves the Convent of Sweet Mercy Nona must choose her path and take the red of a Martial Sister, the grey of a Sister of Discretion, the blue of a Mystic Sister or the simple black of a Bride of the Ancestor and a life of prayer and service.

All that stands between her and these choices are the pride of a thwarted assassin, the ambition of a would-be empress wielding the Inquisition like a blade, and the vengeance of the empire's richest lord.

As the world narrows around her, and her enemies attack her through the system she has sworn to, Nona must find her own path despite the competing pull of friendship, revenge, ambition, and loyalty.

And in all this only one thing is certain.
.
There will be blood.
Well, here goes, I am a mess. I'm going to share all my crazy thoughts without any spoilers.  I loved Red Sister, which I reviewed on audio last year, so I knew I would go on with the Book of the Ancestor trilogy.   I was thrilled to get the ARC a few months ago. Now there are two possible strategies with a highly anticipated ARC or book. I have practiced both. One method is to read it the second it is in your hands.  The other is to savor it like a reward, a treat to be devoured later.  I saved this ARC.
A pro tip for those reading an exciting book, especially a long one of over 400 pages,  start reading in the morning! Otherwise, you will be reading past your bedtime. At the end, you will be wide awake thinking "Noooooo, there has to be more." There will also be concern about the next book being a year in the future, with the shocking bit setting it up in the epilogue.
Mark Lawrence did a kindness in doing a brief refresh at the beginning of Grey Sister, highlighting the key points of Red Sister.  It was only a couple pages which if you don't want to read, don't. I appreciated it. It certainly made it easier to start after almost a year.
I need to make a confession. I often avoid certain genres and even topics in books I read. Everyone has preferences and even triggers. I avoid politics and religion like the deathly plague.  Did you notice the topics of Grey Sister which are noted on the cover of the lovely ARC I received? Politics and religion.  I recognize now I have hit rock bottom, loving a book on my least favorite topics, I just love to read and if a story is good enough, it doesn't matter about the topic. In the future, I will try not saying I don't read xxxx since obviously I do read those genres and topics, albeit selectively.
It is the world building. It is the characters. It is the clever plot, the mystery of what will happen next, the suspense of worrying about those characters I have come to love (or waiting to see the downfall of those we loathe). It is the EMOTIONS all those things bring to me. I love Nona and her compassion, endless efforts and perseverance. I'm enjoying learning about the different groups of people, and yes, their politics, and the different types of magics and skills.
I'll be looking forward to Holy Sister projected for next April.  I have already purchased some of the author's other works BEFORE reading them which is quite out of character for me. I will likely purchase this on audio for another option on the re-read.
Latest posts by Anne - Books of My Heart
(see all)
Reading this book contributed to these challenges:
2018 New Release Challenge
Related Posts