Review copy was received from NetGalley. This does not affect my opinion of the book or the content of my review.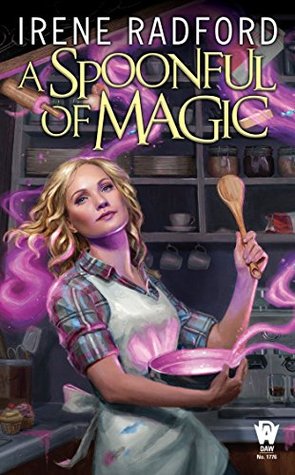 A Spoonful of Magic
by
Irene Radford
Published by
DAW Books
on November 7, 2017
Genres:
Urban Fantasy
Pages:
352
Format:
eARC
Source:
NetGalley
Goodreads
Amazon
, 
Barnes & Noble



Daphne "Daffy" Rose Wallace Deschants has an ideal suburban life--three wonderful and talented children; a coffee shop and bakery, owned and run with her best friend; a nearly perfect husband, Gabriel, or "G" to his friends and family. Life could hardly be better.

But G's perfection hides dangerous secrets. When Daffy uncovers evidence of his infidelity, her perfect life seems to be in ruins. On their wedding anniversary, Daffy prepares to confront him, only to be stopped in her tracks when he foils a mugging attempt using wizard-level magic.

Suddenly, Daphne is part of a world she never imagined--where her husband is not a traveling troubleshooter for a software company, but the sheriff of the International Guild of Wizards, and her brilliant children are also budding magicians. Even she herself is not just a great baker and barista--she's actually a kitchen witch. And her discovery of her powers is only just beginnning.

But even the midst of her chaotic new life, another problem is brewing. G's ex-wife, a dangerous witch, has escaped from her magical prison. Revenge-bent and blind, she needs the eyes of her son to restore her sight--the son Daffy has raised as her own since he was a year old. Now Daphne must find a way to harness her new powers and protect her family--or risk losing everything she holds dear.
A Spoonful of Magic looked fun with cooking and magic. I did enjoy those aspects. The start was just so sloooooow, so much data and so little information.  The world-building felt like mountains of details with no knowledge to be gained.
Daffy is the main character and when she got clued in to the situations, it was easier to learn about the world. She protected her children, while G put his efforts to solving the case. The rest of the characters got more developed and it got more interesting. The relationships between the characters were just kind of creepy.  Other than Daffy's love for her son Jason, and her best friend, everyone else seemed to be all about themselves with little regard for the consequences. I couldn't really connect to any of them.
There is a religious group causing problems along the way. Daffy's parents had some of the same mindless religious zealotry.  Religion never equals fun to me.
Solving the case, or rather catching the perpetrators who were murdering people and causing destruction, was good.  The whole team worked on aspects to both protect the children and bring down the bad guys. Daffy's baking and cooking made me hungry; she has a real talent.  Those were a pleasure to read.
"Training a teenager is a lot like training a dog. Speak their names very clearly to get their attention. Give them a specific chore, and only one at a time. Reward with food."
Latest posts by Anne - Books of My Heart
(see all)
Related Posts