Review copy was received from Publisher. This does not affect my opinion of the book or the content of my review.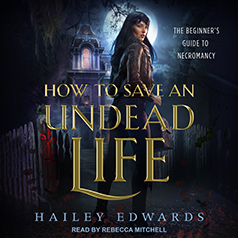 How to Save an Undead Life
by
Hailey Edwards
Narrator:
Rebecca Mitchell
Series:
Beginner's Guide to Necromancy #1
Published by
Tantor Audio
on July 31, 2018
Genres:
Urban Fantasy
Length:
8 hours, 12 minutes
Format:
Audiobook
Source:
Publisher
Goodreads
Amazon
, 
Audible
, 
Audiobook




Grier Woolworth spends her nights weaving spooky tales of lost souls and tragedies for tourists on the streets of downtown Savannah. Hoop skirt and parasol aside, it's not a bad gig. The pay is crap, but the tips keep the lights on in her personal haunted mansion and her pantry stocked with ramen.

Life is about as normal as it gets for an ex-necromancer hiding among humans. Until the society that excommunicated Grier offers her a second chance at being more than ordinary. Too bad no one warned her the trouble with being extraordinary is it can get you killed.

Contains mature themes.
I'd heard some good things about this Beginner's Guide to Necromancy series , so I was excited to get the audio release of the first book, How to Save an Undead Life.  The genre is urban fantasy and there's magic, so all my favorite things.  The setting is Savannah, Georgia so the southern style is present.  In fact, in my head, I went to New Orleans because they do ghost tours there also. I enjoyed the world building.
Grier is a quite young and strong main character. Her family background is scattered and she has to rely mostly on herself.  Her neighbors / best friends are her primary emotional support and a co-worker. She has enough trouble buying food and then the vampires are after her. I appreciated the robust character development. One of my favorite characters is her house.
I'm leaving out details because the mystery is exciting. She's had a rough past and people want to use her in the future as well.  Grier really learns a lot about herself and the world. The growth is to be expected with the isolation she had in the previous few years.  There is a low-key romance with some banter, as well as a hard press by a vampire suitor, all more in the background.
I'm so excited to see how Grier develops in the next two books!  How to Claim an Undead Soul will be out in August and How to Break an Undead Heart in September.  These three books are already available but now the audiobooks are being produced.  The fourth book will also be released in September. I have them on my review calendar and can't wait.
Narration:
This was my first listen to Rebecca Mitchell. I was able to use my usual 1.25x speed. I liked her voice for Grier, although I was surprised it had no southern drawl.  She uses a bit of it when she does her tours for work.   I don't recall anyone having much of a southern lilt.  But the performance was great, helping me to further enjoy the story.  Her male voices and female voices were equally good.
Listen to a clip:

Rating Breakdown
Plot
Characters
Narration (Audio)
Overall:
I can't really remember any time when I wasn't reading. I LOVE books and what they give me. It's an opportunity to learn new things, see new places,live different emotions in a "safe" way. It lets me live in a new world.
I read all types of books but my favorites are urban fantasy and romantic suspense.I like some romance and some action / adventure / mystery in everything.I like sex in my books but please, only between TWO people.Intimate conversation is equally important to the sex in a book.It lets me see the characters.The other thing I enjoy is humor.
Friend me at Goodreads.
Latest posts by Anne - Books of My Heart (see all)
Reading this book contributed to these challenges:
2018 Audiobook Challenge
2018 New Release Challenge
COYER BSBB
Related Posts