Review copy was received from Publisher. This does not affect my opinion of the book or the content of my review.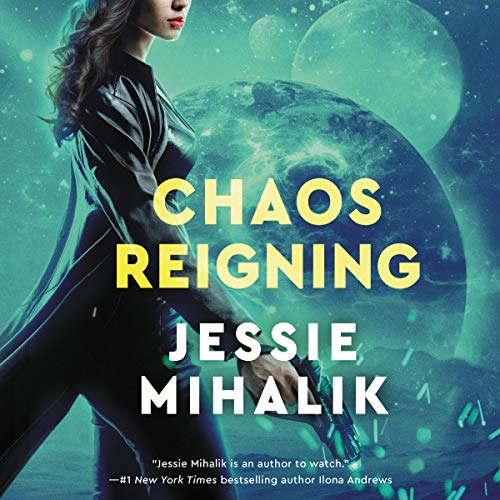 Chaos Reigning
by
Jessie Mihalik
Narrator:
Emily Woo Zeller
Series:
Consortium Rebellion #3
Published by
HarperAudio
on May 19, 2020
Genres:
Science Fiction
,
Fantasy Romance
Length:
12 hours, 30 minutes
Format:
Audiobook
Source:
Publisher
Goodreads
Amazon
, 
Audible
, 
Audiobook
, 
Barnes & Noble
, 
Apple






Interplanetary intrigue and romance combine in this electrifying finale to the Consortium Rebellion series.

As the youngest member of her High House, Catarina von Hasenberg is used to being underestimated, but her youth and flighty, bubbly personality mask a clever mind and stubborn determination. Her enemies, blind to her true strength, do not suspect that Cat is a spy—which makes her the perfect candidate to go undercover at a rival House's summer retreat to gather intelligence on their recent treachery.

Cat's overprotective older sister reluctantly agrees, but on one condition: Cat cannot go alone. Alexander Sterling, a quiet, gorgeous bodyguard, will accompany her, posing as her lover. After Cat tries, and fails, to ditch Alex, she grudgingly agrees, confident in her ability to manage him. After all, she's never found a person she can't manipulate.

But Alex proves more difficult—and more desirable—than Cat anticipated. When she's attacked and nearly killed, she and Alex are forced to work together to figure out how deep the treason goes. With rumors of widespread assaults on Serenity raging, communications down, and the rest of her family trapped off-planet, Catarina must persuade Alex to return to Earth to expose the truth and finish this deadly battle once and for all.

But Cat can't explain why she's the perfect person to infiltrate hostile territory without revealing secrets she'd rather keep buried. . . .
I have been loving this world in the Consortium Rebellion trilogy. One of three sisters is featured in each of the three books and now we meet Catarina.  She is the youngest sister and I didn't feel I knew her very well from previous stories.  While her sisters were out fighting and learning off planet, she stayed home.
Catarina has played her role as a high house princess, going to social events and parties. She meets people, gathers information, and has developed some knowledge, maybe even some allies.  Now she has a chance to find out information on the James house, as she is invited to a party at their place, off on another planet.
Bianca, (older sister from Aurora Blazing) ever the master of intelligence, doesn't want her going alone and plans to send along two friends as bodyguards. Catarina has played  "silly party girl" so well, sometimes others don't think she can handle herself.
Catarina is so much more than I expected, even though she is so young. She's smart and capable under that pretty facade. I love how she dived into the fray, to get the needed evidence to support her family and then to protect them.  Thankfully, Bianca's friends, Eva and Alex have her back.  She also has her best friend from another house.
Packed with action, sexual tension and political maneuvering, I loved Chaos Reigning! Catarina was compassionate, well-trained and knowledgeable.  Alex was more the strong, silent type. I didn't get much from him. I did appreciate how he supported and encouraged Cat.  I felt the connection between all the siblings and enjoyed how they came together to support the family in the end.
Narration:
I've always admired this narrator.  Her voices for all the characters, male or female, sounded appropriate. The voices were somewhat distinct so I could tell who was speaking. Most of the time, we were in Cat's head with her thoughts and it felt right. I enjoyed listening at my usual 1.5x  speed.
Listen to a clip:

Rating Breakdown
Plot
Characters
Narration (Audio)
Overall:
Latest posts by Anne - Books of My Heart
(see all)
Reading this book contributed to these challenges:
Related Posts