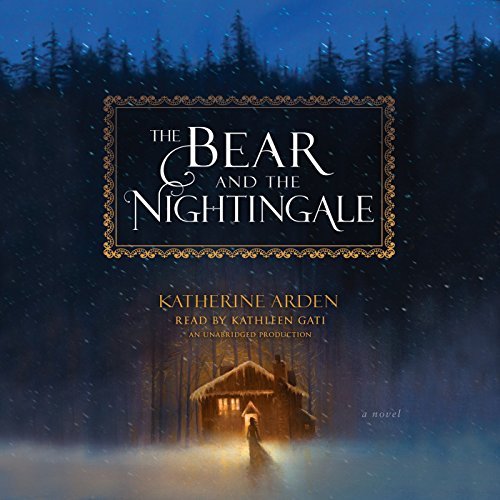 The Bear and the Nightingale
by
Katherine Arden
Narrator:
Kathleen Gati
Series:
Winternight Trilogy #1
Published by
Random House Audio
on January 10, 2017
Genres:
Fantasy
Length:
11 hours, 48 minutes
Format:
Audiobook
Source:
Library
Goodreads
Amazon
, 
Audible
, 
Audiobook
, 
Barnes & Noble





At the edge of the Russian wilderness, winter lasts most of the year and the snowdrifts grow taller than houses. But Vasilisa doesn't mind--she spends the winter nights huddled around the embers of a fire with her beloved siblings, listening to her nurse's fairy tales. Above all, she loves the chilling story of Frost, the blue-eyed winter demon, who appears in the frigid night to claim unwary souls. Wise Russians fear him, her nurse says, and honor the spirits of house and yard and forest that protect their homes from evil.

After Vasilisa's mother dies, her father goes to Moscow and brings home a new wife. Fiercely devout, city-bred, Vasilisa's new stepmother forbids her family from honoring the household spirits. The family acquiesces, but Vasilisa is frightened, sensing that more hinges upon their rituals than anyone knows.

And indeed, crops begin to fail, evil creatures of the forest creep nearer, and misfortune stalks the village. All the while, Vasilisa's stepmother grows ever harsher in her determination to groom her rebellious stepdaughter for either marriage or confinement in a convent.

As danger circles, Vasilisa must defy even the people she loves and call on dangerous gifts she has long concealed--this, in order to protect her family from a threat that seems to have stepped from her nurse's most frightening tales.
This dark world is not a positive place for women. They are either confined in a convent or they are servants and brood mares for men. Even young girls are beaten and tied up at the whim of men. The world-building is vivid and historical. The characters are so well-developed.
It is woven from Russian fairy tales. There is even a upiri which is a monster also in one of the Kate Daniels' books. It was more comfortable having a small background.  The setting is in the north and the magic of winter and storms.
Vasya is the youngest child of a magical mother who dies. Her father loved her mother so much; he tries to do his best for her.  Vasya is strong-willed and clever and brave.  She is a child of the forest, magic and has a way with horses. These are not acceptable pastimes for a girl so she disappoints her family often. A new step-mother is meant to tame her but it only makes things worse, as the step-mother is mean.
The Bear and the Nightingale is a tale of this family and its children. Especially though, it is Vasya's story of growth, protection of her family and fight to be something other than a wife or nun. It is the beginning of the Winternight Trilogy and I'm already listening to the next one, The Girl in the Tower.
Narration:
I loved the sound of the Russian accents, but yet clear and easy to understand. All the voices, male and female, were well performed. It was comfortable at 1.25x speed. The tale was such a magical listen.
Listen to a clip:

JIAM Giveaway:
This giveaway is described in detail on the Series on Saturday post.  Because of shipping, this will be US only.  I have listed the titles which are available for the giveaway. They are all first in the series.  I will start with picking one winner.  For every five new subscribers to the blog, I will pick another winner. Winners will have some input as to which audiobook they prefer. So tell your friends about the giveaway and the blog!   Any I do not give away this month will be given away at a future date.
Blood of the Earth  by Faith Hunter,  narrated by Kristine Hvam  (MP3)
Clean Sweep by Ilona Andrews, narrated by Renee Raudman  (CDs)
Nice Girls Don't Have Fangs by Molly Harper, narrated by Amanda Ronconi (CDs)
Red Sister by Mark Lawrence, narrated by Heather O'Neill  (CDs)
Skinwalker by Faith Hunter, narrated by Kristine Hvam  (Mp3)
Rating Breakdown
Plot
Characters
Narration (Audio)
Overall:
Latest posts by Anne - Books of My Heart
(see all)
Reading this book contributed to these challenges:
2018 Audiobook Challenge
2018 Library-Love Challenge
COYER BSBB
Related Posts