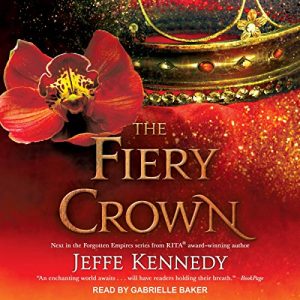 The Fiery Crown
by
Jeffe Kennedy
Narrator:
Gabrielle Baker
Series:
Forgotten Empires #2
Published by
Tantor Audio
on June 30, 2020
Genres:
Fantasy
Length:
14 hours and 11 minutes
Format:
Audiobook
Source:
Publisher
Goodreads
Amazon
, 
Audible
, 
Audiobook
, 
Barnes & Noble
, 
Apple






WILL THEIR LOVE STAND THE TEST OF TIME Queen Euthalia has reigned over her island kingdom of Calanthe with determination, grace, and her magical, undying orchid ring. After she defied an empire to wed Conri, the former Crown Prince of Oriel-a man of disgraced origins with vengeance in his heart-Lia expected the wizard's prophecy to come true: Claim the hand that wears the ring and the empire falls. But Lia's dangerous bid to save her realm doesn't lead to immediate victory. Instead, destiny hurls her and Conri towards a future neither could predict . . . OR TEAR THEIR WHOLE WORLD APART? Con has never healed after the death of his family and destruction of his kingdom-he's been carefully plotting his revenge against his greatest enemy, Emperor Anure, waiting for the perfect opportunity to strike. When Lia's spies gather intelligence suggesting that Anure is planning an attack against Calanthe, Con faces an agonizing choice: Can he sacrifice Lia and all she holds dear to destroy the empire? Or does his true loyalty exist in the arms of his beguiling, passionate wife-'til death do they part?

This is the second book in the Forgotten Empires series by Jeffe Kennedy. I had a really great time with the first book, The Orchid Throne, and this one picks up where that one leaves off. Lia and Conri are married and they are working together to meet their goals.
Euthalia, "Lia", the Queen of Calanthe wants to keep her people safe, at all costs. She was raised to put her land and people above herself. Her only care is to keep them safe from the Emperor Anure, who is a "false emperor". He has conquered the lands and tortured and killed people who didn't follow them. Lia was betrothed to him, but saw a partner, at least in her goals, in Con.
Conri, the former Crown Prince of Oriel, and escaped prisoner of the Vurgmun, and also known as the Slave King. Con only wants vengeance. He wants Anure dead. He's willing to do anything, including forfeit his own life to make this happen. The prophecy said he needs to "claim the hand that wears the ring and the empire falls" and Lia wears the ring, so he marries her to get to his goal.
While they have different agendas, they both need the same thing, Anure dead. But will they betray the other if it is needed to kill Anure. While they didn't marry for love, there is an attraction to them and they are growing closer together. In this book, they come even closer.
We also learn a lot more about Lia's nature, the nature of Calanthe and that there are a lot of secrets. We also find out there are some things that we thought we knew, but really didn't. Lia also has to come to terms with some things she doesn't want to believe (trying to avoid a book one spoiler here).
I had such a great time with this story. My earbuds were glued to my ears. I loved watching Con and Lia come closer together to truly become partners. I liked seeing the secondary characters really show their loyalty to their friends and common goal.
The ending of this story was truly remarkable. While it wasn't a cliffhanger, it does leave you wanting more. I am eagerly waiting for the third, and what I expect to be, the final book in this trilogy. It can't get here fast enough. *waits somewhat patiently*
Narration
Gabrielle Baker does a great job with the narration of this book. When I listened to the first book, I commented that I had difficulty telling when the narrator would go from Con's POV to Lia's. That was not an issue at all with this book. I really liked this narrator much better. It made for a much better listen. I continued to enjoy the voices of each character and she really brought out the feelings of each scene. I had a really great time listening to her bring this story to life.
Listen to a clip: HERE
Rating Breakdown
Plot
Writing
Characters
Dialogue
Narration (Audio)
Overall:
Related Posts