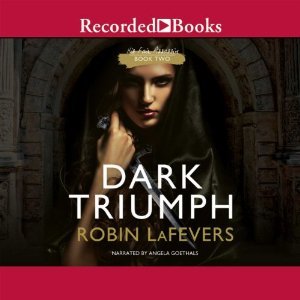 Dark Triumph
by
Robin LaFevers
Narrator:
Angela Goethals
Series:
His Fair Assassin #2
Published by
Recorded Books
on April 19, 2013
Genres:
Fantasy
Length:
13 hours, 36 minutes
Format:
Audiobook
Source:
Library
Goodreads
Amazon
, 
Audible
, 
Audiobook
, 
Barnes & Noble






When Sybella arrived at the doorstep of St Mortain half mad with grief and despair the convent were only too happy to offer her refuge - but at a price. The sisters of this convent serve Death, and with Sybella naturally skilled in both the arts of death and seduction, she could become one of their most dangerous weapons.

But her assassin's skills are little comfort when the convent returns her to the life that nearly drove her mad. Her father's rage and brutality are terrifying, and her brother's love is equally monstrous. But when Sybella discovers an unexpected ally she discovers that a daughter of Death may find something other than vengeance to live for...
Read It, Rate It and Record   
A short review to update challenges
Robin recommended this His Fair Assassin series to me for assassins and she also just reviewed Courting Darkness, which is the first in the related series.  I  loved Grave Mercy and couldn't resist going right on in the series. Luckily, my library has RBDigital which means we have almost everything from Recorded Books.  Oddly, Dark Triumph, is the only one in the Audible Romance package. (I don't have it)
So simply to recap without spoiling, this is historical set in the 1400s. women have few choices, primarily marriage or the convent. Brittany and France are on the brink of war, with France wanting to take over Brittany. Like Ismae, Sybella is poorly treated and "escapes" to the convent to serve the god of death. She is trained as an assassin.
Unfortunately. Sybella is sent back to her father's home where all the horrors began.  She walks a fine line serving her god and working around the dangers. She is perhaps even more skilled than Ismae and faces the worst things imaginable, often at a great personal cost.  Worse yet, she believes herself to be a despicable person and because she did not help some, even believes at times she should not be allowed to live.
The timeframe picks up immediately following Grave Mercy with the political and actual battles ongoing. Now we are in Sybella's point of view rather than Ismae. Sybella fights for the vulnerable and does her tasks with care and skill. She is so, so brave. I love her compassion for others and the fact she finally has people who care about her, and eventually finds some peace.
Narration:
This narrator was new to me but very enjoyable and she felt well-suited to the primary character, Sybella. Most of the story is from her point-of-view so the consciousness is her thoughts. The other voices, both male and female, felt right and each was distinct.  I settled in to 1.5x speed comfortably.  I am excited to see she also narrates the new Courting Darkness, which also features Sybella.
Listen to a clip:    HERE
Rating Breakdown
Plot
Writing
Characters
Narration (Audio)
Overall:
Latest posts by Anne - Books of My Heart
(see all)
Reading this book contributed to these challenges:
2019 Audiobooks
2019 Library-Love
BTB 2019
Related Posts