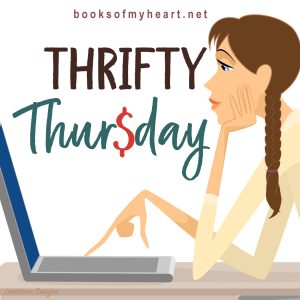 The purpose of Thrifty Thursday is to read a book which was free (at some point).
Kindle freebie on March 5, 2019  (currently still free at Amazon and Barnes & Noble as of writing this post)
Overall rating 3.84 with 97 ratings and 28 reviews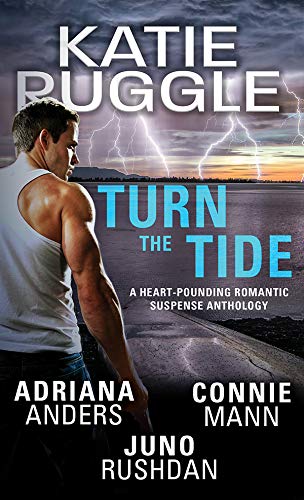 Turn the Tide
by
Katie Ruggle
,
Adriana Anders
,
Juno Rushdan
,
Connie Mann
Series:
Rocky Mountain Bounty Hunters
,
Survival Instincts
Published by
Sourcebooks Casablanca
on March 5, 2019
Genres:
Romantic Suspense
Pages:
314
Format:
eBook
Source:
Purchased
Goodreads
Amazon
, 
Barnes & Noble





Any Means Necessary by Katie Ruggle
Katie Ruggle brings trademark wit and warmth to her introduction of a family of five bounty hunter sisters making the Rocky Mountains a safer place—finding love and sowing chaos along the way.

More from Katie Ruggle: In Her Sights (Book 1, Rocky Mountain Bounty Hunter series)

Deep Blue by Adriana Anders
Adriana Anders plunges readers into a thrilling tale of survival (and steamy romance) as a deep sea diver and a former SEAL escape a derelict oil rig overrun with men who have a secret worth killing for.

More from Adriana Anders: Whiteout (Book 1, Survival Instincts series)

No Way Out by Juno Rushdan
Juno Rushdan turns up the pressure in a high-octane, non-stop thriller where one woman's defiance—and her fierce love for the man she could never forget—may be all that's standing in the way of a new bioterror threat.

More from Juno Rushdan: Every Last Breath (Book 1, Final Hour series)

Beyond Home by Connie Mann
Connie Mann shows that in central Florida's untamed wilderness, paradise has a dark side, and the heroes of the Florida Fish and Wildlife Conservation Commission (FWC) are trained to face the worst that man—and nature—can dish out.

More from Connie Mann: Beyond Risk (Book 1, Florida Wildlife Warriors series)

Turn the Tide is a pulse-pounding collection of novellas by some of the brightest names in the genre.
I love this anthology!  It has the novellas in four new series from Sourcebooks Casablanca.  Two authors, Katie Ruggle and Adriana Anders, are ones I have read and enjoyed very much. The other two are new to me.  I appreciate greatly having these in a freebie to decide how I might like the new series.
Turn the Tide was highly enjoyable, highlighting four new series in a genre I favor. I think all the stories were well-written and I expect to read all the series which is an unusually high amount for an anthology.
Any Means Necessary by Katie Ruggle          2.5 hearts
The beginning of the Rocky Mountain Bounty Hunters did not really help me get started on the series.  I had already read In Her Sights and was looking for some previous introduction to the main couple. Instead, it made clear Molly didn't know John, so the insta-love was even more baffling.  The world is starting to be built and a bit about the family. I already know I enjoy this author and will continue with the series.
Deep Blue by Adriana Anders                       4 hearts
Here we have Zoe, from a non-profit  protecting sea wildlife and Eric, a navy SEAL who end up battling against big corporate corruption. In a novella, there is little enough world and character building. Regardless, I thought the author handled it well and set the groundwork for the first book in the Survival Instincts series, Whiteout. It focuses on Eric's brother who works for big corporate as a research scientist.  I'll be looking forward to get this one.  I've loved the books I've read from this author, so it's not a surprise. She brings on the action and the heart-pounding emotion.
No Way Out by Juno Rushdan                       4 hearts
Rushdan is a new author. The stories in the Final Hour series deal with government agents who find some of their co-workers and some politicians to be corrupt and willing to easily use agents as disposable tools.  Our couples end up being the ones risking themselves to do the right thing and falling in love in the process.  Ashley and Logan have known each other for years before Logan is asked to bring her in when she has fled her current mission. The danger had me on edge and on a roller-coaster of emotions.  The bad guys and the good guys are all too comfortable with just killing any one in their way.  I've already requested and received Every Last Breath which is next in the series.
Beyond Home by Connie Mann                     3.5 hearts
Sarah comes home to Florida and almost immediately runs into her high school love, Marco. Of course, they end up trying to save a women from a tropical storm and have a chance to figure out why things went wrong in the past.  Sarah is a nurse; Marco is law enforcement.  The first book  in the Florida Wildlife Warrior series, actually comes before this one, with two of the other officers. Beyond Risk was released in January and I need to find and read it.
---
These are only Kindle freebies I get, or ones through author newsletters which anyone can sign up and get for free. I don't include things like Kindle Unlimited or Prime Free Reading (I do have it). Both Tantor and Audible have occasional free audios (to anyone) and I do include those.  Since I one-click on 1-2 freebies a day or probably at least 5 a week, I came up with this feature to make sure I start reading them.
So I have thought about doing a Thrifty Thursday Challenge someday. For now,  what I think would be fun is if you have read and reviewed  a freebie, link up to your review (Goodreads, blog, facebook or wherever) below.
---
Add your review link here: 
Mister Linky's Magical Widgets — Thumb-Linky widget will appear right here!
This preview will disappear when the widget is displayed on your site.
If this widget does not appear,
click here
to display it.
Latest posts by Anne - Books of My Heart
(see all)
Reading this book contributed to these challenges:
Related Posts