Review copy was received from NetGalley. This does not affect my opinion of the book or the content of my review.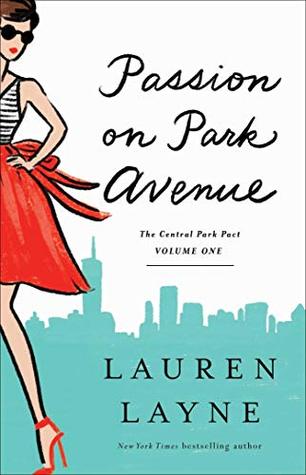 Passion on Park Avenue
by
Lauren Layne
Series:
Central Park Pact #1
Published by
Gallery Books
on May 28, 2019
Genres:
Contemporary Romance
Pages:
288
Format:
eARC
Source:
NetGalley
Goodreads
Amazon
, 
Audible
, 
Audiobook
, 
Barnes & Noble





For as long as she can remember, Bronx-born Naomi Powell has had one goal: to prove her worth among the Upper East Side elite—the same people for which her mom worked as a housekeeper. Now, as the strongminded, sassy CEO of one of the biggest jewelry empires in the country, Naomi finally has exactly what she wants—but it's going to take more than just the right address to make Manhattan's upper class stop treating her like an outsider.

The worst offender is her new neighbor, Oliver Cunningham—the grown son of the very family Naomi's mother used to work for. Oliver used to torment Naomi when they were children, and as a ridiculously attractive adult, he's tormenting her in entirely different ways. Now they find themselves engaged in a battle-of-wills that will either consume or destroy them…

Filled with charm and heart and plenty of sex and snark, this entertaining series will hook you from the very first page.
I've read a number of Lauren Layne (LL) books somewhere between eighteen and twenty and there are a few things I've come to expect.  I always expect a thoroughly enjoyable story, an eventual HEA, a group of fun friends that are pretty hilarious and one or two steamy sex scenes.  Passion in the Park had most of this, except when it came time for the sex scene, it was completely fade to black. I think that was the most surprising thing in this book, since it made the 'Passion' in the Park feel almost young adult or Harlequin.
But moving onto the actual story of how Naomi and Oliver eventually fell in love. Naomi and Oliver actually met as children, young children, around the age boys are awful and pull girl's hair.  Oliver used to call her carrots and he told a lie that got her and her mother kicked out of the apartment on Park Avenue. They struggled to survive for years after that, fast-forward a few decades later and Naomi has made herself into a strong business woman and the head of her self made company.   It seems she still has a bit of a chip on her shoulder about how she grew up.
Naomi is all set to move when she gets an invitation to interview for an apartment in a super exclusive apartment on Park Avenue, the very same one she and her mother were kicked out of once.  Intrigued by whatever possessed her mother to submit an application on her behalf, Naomi goes to the interview and sees none other than the hair pulling boy all grown up; she recognizes him but he has no idea who she is.  
Naomi is an interesting character in that she is holding on very tightly to her roots and hasn't really accepted where she came from.  Most of the time she projects confidence, but closure on that part of her life seems important too. Only the boy she used to know is quite a different man, and his father whom she blames for most of the situation with childhood is a shadow of the man he once was.  The closure she is looking for, just might be more of a new beginning.
Like always, LL has a fun cast of characters written into her book.  I really liked the girl posse that was created by a very unusual circumstance.  Naomi with her two female besties is fantastic. They are what every girl needs to bolster her up in this unfamiliar time in her life.  Oliver is so likeable; I think that has a lot to do with his family situation at the moment and how he is handling it.
Overall, I liked a lot of things in the story.  I think the steaminess of the romance would have worked so much better if the sex scene wasn't fade to black.  But I like the family dynamic explored here between Oliver and his father that eventually included Naomi too.  
Rating Breakdown
Plot
Writing
Characters
Dialogue
Overall:
Related Posts