Review copy was received from Publicity team. This does not affect my opinion of the book or the content of my review.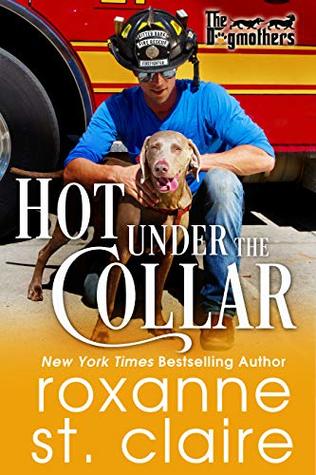 Hot Under the Collar
by
Roxanne St. Claire
Series:
The Dogmothers #1
on May 31, 2019
Genres:
Contemporary Romance
Pages:
374
Format:
eARC
Source:
Publicity team
Goodreads
Amazon
, 
Barnes & Noble
, 
iTunes





Firefighter Braden Mahoney is devastated when his beloved Weimaraner, Jelly Bean, fails the canine arson investigator test. Faced with the challenge of raising the money for advanced training, it's Braden's sweet grandmother and her best friend who suggest he use the services of the new event planner in town. Not that he needs a push in Cassie Santorini's direction. Ever since she arrived, Braden has had his eye on the sassy Greek goddess…and can't stop thinking about getting the rest of him on her, too.

Cassie has spent years putting family first, even moving to Bitter Bark when her mother falls in love with the local veterinarian. Having a huge new extended "family" is fun, especially when one smokeshow of a firefighter attends the gatherings, but Cassie has no plans to remain in this small town. She's ready to pursue her big city dreams. But when Braden asks for an assist for his precious pup, Cassie agrees to help him set up a town-wide scavenger hunt. It isn't exactly a hardship to be around those blue eyes and brawny shoulders, especially since they both agree everything – even the undeniable sparks that crackle between them – is temporary.

But when temporary gets complicated by feelings that might lead to forever, Braden and Cassie start to question the direction they're headed. Should they follow their dreams…or their hearts? It'll take a dog with a bad nose and a good heart, two particularly meddlesome grandmas, and some help from the clan that loves them to make sure Cassie and Braden follow the clues and find their way to each other's arms.

About The Dogmothers – a brand new spinoff series by Roxanne St. Claire, author of The Dogfather Series

Daniel Kilcannon, a widower with six unmarried kids, has not only orchestrated wonderfully happy endings for all his offspring…he's found one of his own. That leaves his grown nieces and nephews plus his adult stepkids all in need of their own magical romances. Is The Dogfather too preoccupied with his new lady love to pull the strings and make the matches? Maybe. But never fear, there's a new team in town and these two might be polar opposites in life but they are lined up in love. Meet Yiayia and Gramma Finnie. One has the steel spine of a Greek warrior, the other has the sweet soul of an Irish poet. Together, along with two darling dachshunds, these Dogmothers won't stop until all nine of their grandchildren are hooked, hitched, and happy.

Just like The Dogfather, the covers of The Dogmothers were all photographed at Alaqua Animal Refuge in Florida using rescue dogs and local heroes, and a portion of the first month's sales of every book is donated to that amazing organization.
I have been reading the lovely Dogfather series slowly.  I loved the combination of both small town and a big family making it warm and fun; the addition of animals was just another big plus. The first book of the original series, Sit, Stay Beg is still available as a Kindle freebie.  I have bought some of the others and now they seem to be somewhat available at one of my libraries.
Now there is a spin-off series, The Dogmothers. I would read each series in order with the close family dynamic meaning you will see previous couples in the next ones.  You will see a little of the Kilcannons in this new series.

I couldn't NOT read Hot Under the Collar when I saw it, even though I haven't quite finished the related series.  It was great to know the town and some of the characters. I had the backdrop of all the good feelings already.  The dogs are such a part of the story, their lives,  and I love that.
The charming story of Braden and Cassie has the usual components.  They have known each other for a while, since Cassie moved to town as the rest of her family is here, to help them. They are brought together by an uncle and parent's relationship so they are both at many family events.  Each of them is a helper but in different ways. It's great to see how caring and highly competent they are. You can't help but cheer for them in love and life.
Braden and Cassie are at the time of life when many friends and relatives are settling down, making some decisions about their lives, careers and children. It's a time when they are old enough to not be interested in casual relationships.  They each have their issues and dreams to reconcile with the reality of their lives,  and their attraction. Both have others interested in dating them, too.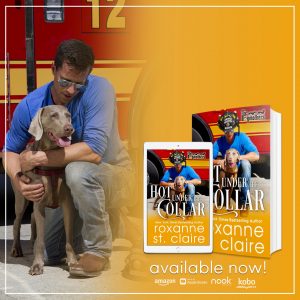 "Look, I wouldn't sleep with you on the first date if I'd just met you on the street and asked you out. It's not my style, and you're too special for that. I would, however, kiss you.

"Then we'd never stop"

"I have self-control, Cassie."

"Go you. I, on the other hand, might not have a shred of it."
I really enjoyed this story. It made me feel a wide range of emotions, beyond those in a typical romance. There's laughter, fears and tears. A romance, a wonderful big family, business and career dilemmas, a small town with interesting folks, and dogs, what's not to love? I will definitely read more when it is available!
Latest posts by Anne - Books of My Heart (see all)
Reading this book contributed to these challenges:
Related Posts