Review copy was received from Publicity team. This does not affect my opinion of the book or the content of my review.
Three Dog Night
by
Roxanne St. Claire
Series:
The Dogmothers #2
on November 8, 2019
Genres:
Contemporary Romance
Pages:
260
Format:
eARC
Source:
Publicity team
Goodreads
Amazon
, 
Barnes & Noble
, 
Apple





Alex Santorini puts his family first and foremost, and that's going to keep him behind the grill at the family restaurant for the rest of his life, especially if his Greek grandmother has anything to say about it. But when a local winery needs a chef to step in to cook for a celebrity wedding, Alex jumps at the opportunity to showcase his culinary skills...and a chance to get closer to the winery owner who has captivated - and refused - his attention.

Grace Donovan is in a bind and knows that the answer to all her problems is one sexy Greek chef who has everything she needs...and everything that scares the hell out of her. Raised in a series of ever-changing foster homes, Grace has spent her life using science and logic to surround herself with protective walls. With all his passion and intensity, Alex could burn those walls down and, like everyone else in her life, leave her broken and alone.

As Alex and Grace join forces to land the wedding of the year, they also launch a search for the mother of a three puppies abandoned at the winery...only to discover a shocking connection to Grace's own mother and her shadowy past. When the truth comes out, their romance faces its greatest test. Will Grace choose the family she's wanted her whole life...or the love she may never find again?

The Dogmothers - a brand new spinoff series by Roxanne St. Claire
In this new spin-off series from The Dogfather, there's laughter, love, heartache, hope, and happy endings in store when two polar opposite grandmothers team up to make matches and wreak a little havoc in Bitter Bark, North Carolina. Yiayia has the steel spine of a Greek warrior, and Gramma Finnie has the heart of an Irish poet. Together, along with two darling dachshunds, these Dogmothers won't stop until all nine of their grandchildren are hooked, hitched, and happy.
I have been reading the wonderful Dogfather series slowly.  I love the combination of both small town and a big family making it warm and fun; the addition of dogs was just another big plus. It's set in North Carolina near the Blue Ridge mountains, too!  I have bought some of the books and now they seem to be somewhat available at one of my libraries.
Daniel Kilcannon (the Dogfather) is a veterinarian; his sister is the mother of the Mahoneys and his new wife, the mother of the Santorinis.  These three big families have become one family with big hearts, and provide an amazing support system.
Now there is a spin-off series, The Dogmothers.  This is the Irish mother of Daniel and the Greek mother of his new wife. I would read each series in order with the close family dynamic meaning you will see previous couples in the next ones.
You will see the all the clans here and it's really a joy to see the inclusive support, both emotionally and helping with whatever is needed. It's a safety net of kindness and caring in a crazy world. They are all around for Sunday dinners at the Kilcannon home.  It's such fun to see them with their kids, including new babies and, of course, their dogs.
Three Dog Night has a bunch of things happening. Grace is the newish owner of a winery who just hosted the wedding for Daniel Kilcannon.  Alex is the bride's son and is a chef but has so far worked in his family's Greek restaurants with its long-time menu. Alex is also interested in Grace.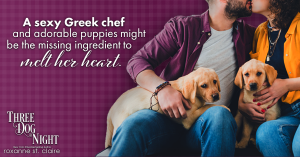 Grace's chef quits and Alex sees an opportunity to get to know Grace. It will also let him use his training which is something he always has wanted to do.  Grace doesn't know him other than a small-town cook. She is hurt by never being accepted whether it is by foster families or her departing chef. Grace isn't open to any kind of relationship since she always gets left. But the chef who took off for a "better" job, also left some puppies someone abandoned.
Between Alex's family support system and three young puppies who have lost their mother, too, Grace can't hold back the feelings. It's a bit of a bumpy journey but with lots of love and the good guys win!
Latest posts by Anne - Books of My Heart
(see all)
Reading this book contributed to these challenges:
Related Posts