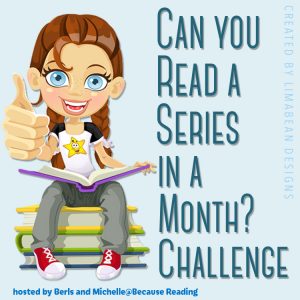 The Rules
Pick 1 series. Yes, just 1. Announce which series you've picked on your sign up post and link it back here.
Read EVERY book in the series. You don't have to read novellas or short stories, just the core books.
Read them all between 12am (your time) May 1st and 11:59pm (your time) May 31th. They MUST be marked (on Goodreads) as started and finished in the month of May to count.
Enjoy bragging to everyone about how you're all caught up on whatever series you read (AKA – have fun)! Use the hashtag #SeriesinaMonth
So I always have a tough decision for my Read A Series in a Month Challenge.  Should I do ebooks or audiobooks?  I'm going to be out of town at the end of May which favors audiobooks.   But I'll also have many audiobooks stockpiled to review for June is Audiobook Month.  Last time, I actually managed to complete my ebook series last time and most of the audiobook one I chose.
My choice is K-9 Rescue series by DD Ayres.  I have only read the prequel novella and book 1.  I plan to get books 2-4 at the library which I think they only have ebook format. Then I have books 5-6 from Tantor as audio ARCS for review.   It should work out well combining ebook and audio, backlist and new release. Yes, I want to do it all.
Already read: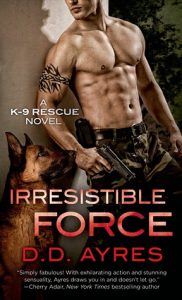 For the Challenge:       3 ebooks, 2 audiobooks
---
I successfully completed the challenge.
Click on the covers below to read my reviews of each book.
I can't really remember any time when I wasn't reading. I LOVE books and what they give me. It's an opportunity to learn new things, see new places,live different emotions in a "safe" way. It lets me live in a new world.
I read all types of books but my favorites are urban fantasy and romantic suspense.I like some romance and some action / adventure / mystery in everything.I like sex in my books but please, only between TWO people.Intimate conversation is equally important to the sex in a book.It lets me see the characters.The other thing I enjoy is humor.
Friend me at Goodreads.
Latest posts by Anne - Books of My Heart (see all)