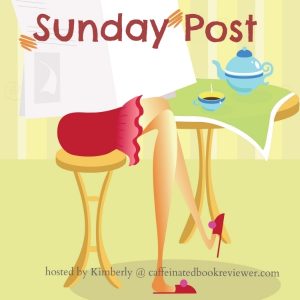 The Sunday Post is a weekly meme hosted by Kimberly  @ Caffeinated Reviewer. It's a chance to share news~ A post to recap the past week on your blog and showcase books and things we have received.
Stacking The Shelves
is also a weekly meme hosted by 
Tynga's Reviews
and Marlene from
Reading Reality.
It's all about sharing the books you are adding to your shelves, may it be physical or virtual. This means you can include books you buy in physical store or online, books you borrow from friends or the library, review books, gifts and of course ebooks!

Don't forget to look at my giveaways on the right sidebar.
Sunday, I worked away at my pile of emails and blog hopping. I also managed to do a little packing and got my daughter doing some packing.  I also printed out some stuff to try to figure out my COYER plan.
Monday, I finally got out in the yard to sweep the walkway/driveway, pull weeds, pick up sticks and pine cones.  I took out all the garbage and recycle in the house to the bins. Then a good portion of the garbage cans got filled with bleach / water.  I also managed to accidentally spray myself when I set down the sprayer and it didn't shut off. So I was soaked by the time I finished. But all the garbage cans look and smell great.
Monday was also my daughter's  23rd birthday but she was having a headache.  I made her favorite salmon for dinner with green beans,  and lemon cheesecake.  I had gotten her some gorgeous cloth containers to store her jewelry and some board games.
I'm fully into sort/pack / throw / donate mode.  I have to make a plan of what I will pack every day.  I'm only using 2 drawers in my dresser as I packed all but a few undies, socks, PJs, swimsuit, and leggings.  I'm thinking I won't pack my hanging clothes, just take them over in the car on a clean blanket and then hang them up in the new closet.  The same with some food stuffs. I'll just take over sacks or open top boxes of stuff and start putting it in the new cabinets once I have the cabinets all scrubbed.   We are already playing let's eat what is already in the freezer and pantry.
Wednesday, we went to the dentist – no cavities for either of us.  We finally made it to quilting after a month of not making it. It felt good to get back to work on quilts.  Thursday, I had a mammogram and my daughter had a medical appointment. Friday, we signed up for her fall classes: the next level of Spanish and a Health/ Wellness class.  I was able to get going early to the farmer's market and grocery store before the rain hit.
I won the Read A Series in A Month challenge gift card!   I enjoyed the first COYER Twitter party. I read 6 books the first week and I think I have it sort of figured out maybe.   I have lots of scheduled things in June but July is very, very lightly scheduled and I will be reading things I purchased or from the library I've wanted to read when I'm not busy moving.  I already have A LOT of ARCs for August and September though.
It looks like I finished my Goodreads Challenge for the year – I may have to up that number.

Stacking the Shelves is hosted by Tynga's Reviews and Reading Reality.  These are the exciting ARCs I received this week:   (If you click on the cover, it will take you to the Goodreads entry)
WOW.   Thank you so much Penguin Random Audio,  Tantor Audio,  AceRoc / DAW/  Berkley  Publishing, St Martin's Press, Inkslinger PR,  Elizabeth Hunter.  How to Wake an Undead City and Thornbound are audiobooks but the covers aren't available anywhere I looked yet.
(If you click on the cover, it will take you to the Goodreads entry)
I got False Step as my Prime First Read.   I was excited to get 3 great audios for one credit that are narrated by Andi Arndt and Sebastian York.  I also got the third in a series from Nora Roberts on pre-order.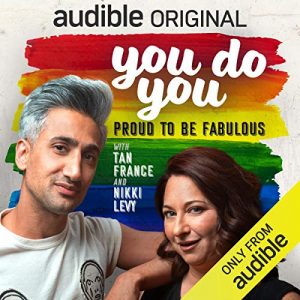 Next I clicked on my two Audible Originals which come with the membership.

Now the really scary one. This is all the Kindle and Audible freebies I grabbed this past week. You can see why I need to do Thrifty Thursday to be sure I read a few at least one each month.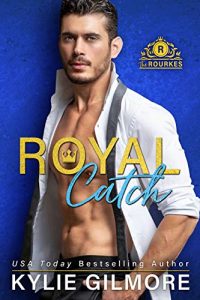 I really meant to cut back on freebies BUT  they are free so I guess that won't be happening.

I'm not including things like reviews posted or upcoming as they are always in the right sidebar. And, my challenge status is also there.
If you like this and want to see me do the Sunday post, as often as I can manage, leave me a comment and let me know.
Anne
Latest posts by Anne - Books of My Heart
(see all)