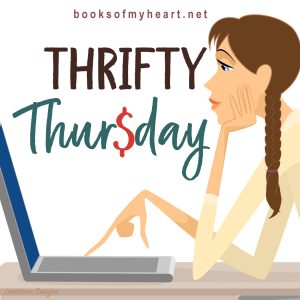 The purpose of Thrifty Thursday is to read a book which was free (at some point).
Kindle freebie on May 24, 2019  (currently still free as of writing this post)
Overall rating 3.95 with 25,620 ratings and 2,841 reviews
Big Rock
by
Lauren Blakely
Series:
Big Rock #1
Published by
Self-Published
on January 6, 2016
Genres:
Contemporary Romance
Pages:
244
Format:
eBook
Source:
Purchased
Goodreads
Amazon
, 
Audible
, 
Audiobook
, 
Barnes & Noble





IIt's not just the motion of the ocean, ladies. It's definitely the SIZE of the boat too.

And I've got both firing on all cylinders. In fact, I have ALL the right assets. Looks, brains, my own money, and a big c&$k.

You might think I'm an as%*$le. I sound like one, don't I? I'm hot as sin, rich as heaven, smart as hell and hung like a horse.

Guess what? You haven't heard my story before. Sure, I might be a playboy, like the NY gossip rags call me. But I'm the playboy who's actually a great guy. Which makes me one of a kind.
The only trouble is, my dad needs me to cool it for a bit. With conservative investors in town wanting to buy his flagship Fifth Avenue jewelry store, he needs me not only to zip it up, but to look the part of the committed guy. Fine. I can do this for Dad. After all, I've got him to thank for the family jewels. So I ask my best friend and business partner to be my fiancée for the next week. Charlotte's up for it. She has her own reasons for saying yes to wearing this big rock.
And pretty soon all this playing pretend in public leads to no pretending whatsoever in the bedroom, because she just can't fake the kind of toe-curling, window-shattering orgasmic cries she makes as I take her to new heights between the sheets.

But I can't seem to fake that I might be feeling something real for her.

What the hell have I gotten myself into with this…big rock?
I grabbed this freebie when it came available, since I already owned Mister O (book 2) on audio and Joy Ride (book 5) as another freebie. Plus book 1-4 was on sale as a set and I think I bought that also. Yet, this is my first time reading this author!  I own some of her other books also. Big Rock is also currently in the Audible Romance package.
Spencer, as you can tell from the synopsis, is over the top cocky. He may have the goods to back up that confidence, too.  Thankfully, he is not a dick.  He cares about people.  He may be a playboy, but he has excellent relationships with his business partner, Charlotte and his family.
The trope is actually my favorite, the fake fiance.  It's also a trope within a trope, as it is also a friends to lovers.  I won't spoil the rest of the details but this is fun. The villains are a bit cliche, but the main characters are well developed. I love the banter, also the actual compassion they have for others.  We only get Spencer's POV but Charlotte is impressive in her words and actions.
This isn't the story of a guy with a rich, shithead dad and a cold, bitchy mom. This is the tale of a guy who likes his parents and whose parents like him. Guess what else? My parents like each other, too.

How do I know this?

Because I'm not fucking deaf. No, I didn't hear that when I was a kid. Instead, I heard my mom whistling a happy tune every morning when she woke up. I learned some good lessons from them. Happy wife = happy life, and one way to make a woman happy is in the bedroom.
---
These are only Kindle freebies I get, or ones through author newsletters which anyone can sign up and get for free. I don't include things like Kindle Unlimited or Prime Free Reading (I do have it). Both Tantor and Audible have occasional free audios (to anyone) and I do include those.  Since I one-click on 1-2 freebies a day or probably at least 5 a week, I came up with this feature to make sure I start reading them.
So I have thought about doing a Thrifty Thursday Challenge someday. For now,  what I think would be fun is if you have read and reviewed  a freebie, link up to your review (Goodreads, blog, facebook or wherever) below.
---
Add your review link here: 
Mister Linky's Magical Widgets — Thumb-Linky widget will appear right here!
This preview will disappear when the widget is displayed on your site.
If this widget does not appear,
click here
to display it.
Rating Breakdown
Plot
Characters
Overall:
Latest posts by Anne - Books of My Heart
(see all)
Reading this book contributed to these challenges:
Related Posts