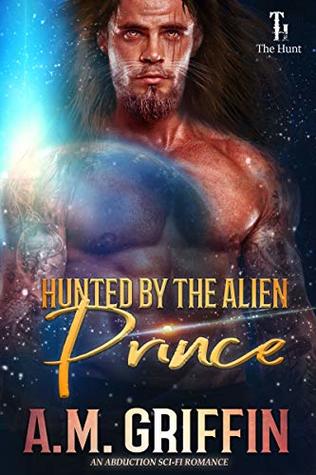 Hunted by the Alien Prince
by
A.M. Griffin
Series:
The Hunt #2
Published by
Indie
on June 25, 2019
Genres:
Science Fiction
Pages:
230
Format:
eBook
Source:
Purchased
Goodreads
Amazon
, 
Barnes & Noble
, 
Apple





The Hunter. Prince Themba bu Kumkani has spent his whole life putting family and kingdom above his own wants and needs. With his impending bonding ceremony on the horizon, he's gifted a coveted spot in The Hunt. His catch and release strategy is forgotten once he lays eyes on the human female. Their hide and seek game is fuel to the fire raging out of control for her. He's staked his claim on a mate he cannot have, but can't live without.

Now Themba has to choose between love or family. One choice will bring happiness while the other will cost him his homeworld and title.

The Prey. With an ex who didn't want to be an ex, and an impending divorce hanging over her head, Payton Cole already thought her life had gone to hell in a handbasket. Then she woke up in an alien survival of the fittest game. Her top priority is to keep herself and her dog alive until the end. Winning The Hunt means gaining her freedom, but returning to Earth isn't a high priority.

She doesn't know where she'll go or what she'll do, but one
Hunted by the Alien Prince is the second book in The Hunt series. This story takes place in the same timeframe as the first book in the series, The Game Warden's Mate. Humans have been taken from all over Earth and taken to an alien planet to be "hunted".
In this story, we follow Payton and her dog, Jake. Payton has had a hard life. She is currently on the run from her abusive ex-husband. She even got Jake, the former and retired military dog, to help protect her from him. She was taken along with other humans to be used as prey for The Hunt.
The hero of the story is Prince Themba bu Kumkani. He is going on this hunt as a fun way to relax and nurture his more primal side before his upcoming bonding ceremony. He isn't mating for love, but instead, as many royals, for kingdom. Themba always puts his kingdom before himself. His plan was to catch and release his victim. He just wanted it for the entertainment aspects. That all changed once he laid eyes on Payton.
I have had a really good time with this series so far. I enjoy the world that Ms. Griffin has created. The Hunt takes place in an arena, which can be controlled by the game wardens (similar to the Hunger Games, but that is were the similarities end). The hunters return to their rooms at night, which gives the huntees time to relax and figure out their strategy for the next day. The hunters can do whatever they want with their prey. They can keep them as servants, mates, some might not even survive (though hunters can only kill prey in level three).
This is a really fun series that I think fans of science fiction romance and paranormal romance would enjoy. I'm hoping we will get another story with another victim of the same group of humans. I really enjoyed most of the humans used as prey and would love to hear stories their stories.
Rating Breakdown
Plot
Writing
Characters
Dialogue
Overall:
Related Posts