Review copy was received from Publisher. This does not affect my opinion of the book or the content of my review.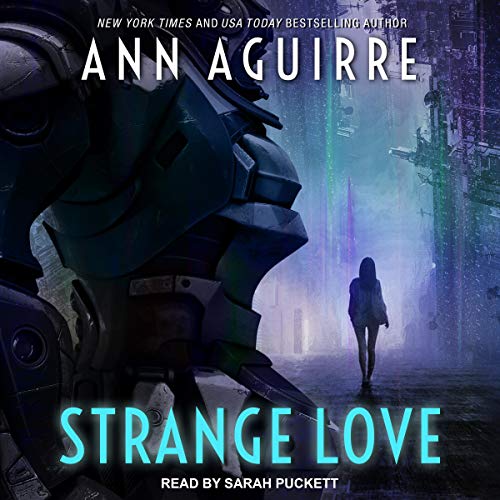 Strange Love
by
Ann Aguirre
Narrator:
Sarah Puckett
Series:
Galactic Love #1
Published by
Tantor Audio
on April 28, 2020
Genres:
Science Fiction
,
Romance
Format:
Audiobook
Source:
Publisher
Goodreads
Amazon
, 
Audible
, 
Audiobook





He's awkward. He's adorable. He's alien as hell.

Zylar of Kith Balak is a four-time loser in the annual Choosing. If he fails to find a nest guardian this time, he'll lose his chance to have a mate for all time. Desperation drives him to try a matching service but due to a freak solar flare and a severely malfunctioning ship AI, things go way off course. This 'human being' is not the Tiralan match he was looking for.

She's frazzled. She's fierce. She's from St. Louis.

Beryl Bowman's mother always said she'd never get married. She should have added a rider about the husband being human. Who would have ever thought that working at the Sunshine Angel daycare center would offer such interstellar prestige? She doesn't know what the hell's going on, but a new life awaits on Barath Colony, where she can have any alien bachelor she wants.

They agree to join the Choosing together, but love is about to get seriously strange.
Are you ready to walk a bit outside your romance comfort zone? If the answer is yes, Strange Love might just be the romance for you. As a fan of Star Trek when I became an adult, I wondered what some of the interesting pitfalls a couple might have if they were from two separate species. James T. Kirk always seemed to find a way to explore all the ladies, so it seemed like where there is a will there is a way. But how many want to boldly go where no one has gone before? Beside Starlord and that Oskavarian chick that is.
Zylar, needs to find a mate if he is going to avoid the life of a drone and prove his worth to his family. He has gone so far as to join an interspecies dating service and was on his way to collect his intended when some solar flares put him in the wrong location at the wrong time and he ends up accidentally abducting a human and her dog.
Life has just taken a strange turn for Beryl. One day you are doing your community service and the next thing you know you are on a ship with a creature that looks a little Predator crossed with a gecko (at least in my head) and your dog can talk. The AI is on the fritz and can't take you home, your other options don't seem great either but the least horrible is to compete to be in a relationship with your abductor who really does seem sorry about the mix up.
In the first book in the Galactic Love series, we follow Zylar and Beryl as they enter a competition to earn the right to be a mated pair and eventually have genetically created young to raise. Some of the competitions can lead to death and as they root for one another they find some common ground and  start to feel a bond between them.
I liked Zylar, he was rather sweet and accommodating to Beryl and her strange dog. Beryl wasn't one to wallow in her situation and goes all in right off the bat. It was easy to like both characters and root for them in the challenges against them. The love part was a little fast but these are dangerous times and they could lose each other easily before figuring out whatever is between them.
FYI there is alien sex in this and it is alien. Zylar doesn't have anything resembling human anatomy organs so they have to be creative. Strange Love definitely is an apt title and yeah your mind is going to need to be discovery channel open at this point.
Overall, I enjoyed the story for what it is, an Alien Romance. Ann Aguirre could have delved a smidge deeper into her characters to round them out a bit and make them a little less one dimensional but this is a rather short book and so there really wasn't time with everything else happening in the competition. I liked getting a glimpse of this universe and the alien cultures in it.
"As the combatant fell, she shouted, "This is Sparta!" Because obviously."
Narration:
Sarah Puckett isn't new to the romance genre.  She has credits in contemporary, paranormal and now alien.   She did a good job with the characters even Snaps the talking dog.  I was able to listen at my usual 1.5x speed.
Listen to a clip:  HERE
Rating Breakdown
Plot
Writing
Characters
Dialogue
Narration (Audio)
Overall:
Reading this book contributed to these challenges:
Related Posts