Review copy was received from Author. This does not affect my opinion of the book or the content of my review.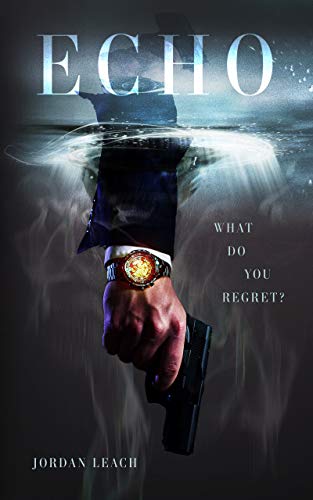 Echo
by
Jordan Leach
Published by
Self-Published
on November 1, 2019
Genres:
Science Fiction
,
Thriller
Pages:
283
Format:
eARC
Source:
Author
Goodreads
Amazon





Echo Fray, crippled by regret, has wasted his life after the loss of his family……Or so he believed.
Drafted by the elusive assassin, Natasha Vixen, Echo is given a chance at redemption when he learns time travel is real! Over the course of several years, he trains under Natasha's direction to master his body and mind while harnessing the scientific properties which make time travel possible. As Echo faces a gauntlet of formidable enemies throughout his past, present, and future, secrets become unearthed that threaten everything he thought he knew. Now, he must choose to mend his life and be with the woman he loves or sacrifice it all to save a fractured universe.
Echo is a spacetime adventure with an interesting premise and story structure.  When I opened my copy and it started at chapter 29, I thought maybe it got scrambled and I didn't get a final version of the book.  But this is by design, it is to help the reader understand where you are chronologically in the story and give the most emotional impact as things are revealed.  Because the story jumps forward and backwards in time, it helped me keep my bearings.
Echo was the guy who never took a risk, didn't go after the girl and fell apart after his mother's death.  After spending decades in prison, he is offered a bargain. He can spend the rest of his life exactly where he is, or he can be released into the care of a woman he has never seen before and take a different and dangerous journey with her.
Natasha has been time traveling/dimension jumping for hundreds of years.  She even taught a few others how, but they've moved on from her and took everything she taught them to build their own personal paradises.  That wouldn't be totally bad, except they are taking things from other dimensions and time to do it creating havoc and the edges of spacetime are starting to fray and bleed through.  Natasha needs Echo to help her destroy the men who are treating the universe like a candy store and figure out a way to stop it from unraveling.
I liked most of the story.  There is just enough info on how time travel and spacetime jumping is supposed to work that I got it without it feeling like a lecture in the middle of a story.  There are a few twists which had a nice emotional impact.  
My only issues were, it gets a little cluttered at the end.  There is a lot of time jumping, fighting, multiple same people and a weird chapter happening in the 5th dimension with some artistic liberties taken with how the words are written on the page that took a minute to adjust to.  There is also one thread of the story I didn't really understand why/what happened.  
Overall, I'd say this is a decent sci-fi novel.  Echo isn't a perfect character, which makes him all the more relatable.  He does some very questionable things throughout the book, but if you had control over spacetime what would be normal and acceptable to you after decades?  For those of you like me that need a little romance in your reading there is a smidgen of one. It is adjacent to the overall story and never detracted from the spacetime adventure.
Act like we're writing about Quark flavours or the subatomic composition of a meteorite.  That's pretty normal, right?

I have acquired wealth and power and prosperity and freedom…and I never once stopped to realize – we're still not happy.

I fear the past.

I neglect the future.

And life passes me by.
Related Posts