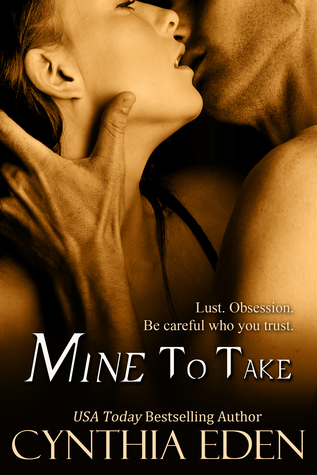 Mine to Take
by
Cynthia Eden
Series:
Mine #1
Published by
Self-Published
on June 12, 2013
Genres:
Romantic Suspense
Pages:
169
Format:
eBook
Source:
Purchased
Goodreads
Amazon
, 
Barnes & Noble




Skye Sullivan knows that someone is watching her. Not just watching - stalking her. Months ago, Skye was involved in a dangerous car accident. The accident ended her dancing career and sent her fleeing back to Chicago. Skye is convinced that her stalker caused the crash, and she fears that he won't stop pursuing her, not until she's dead.

When someone breaks into her apartment in Chicago, Skye turns to the one man she believes can protect her - Trace Weston. Once, Trace was her lover. Two lost souls, they'd come together in a firestorm of need and desire. But then Trace had pushed her away. He'd joined the military, vanishing from her life. She'd put all of her emotion into dancing, and she'd tried to forget him.

Now Trace is one of the most successful men in the United States. Rich, driven, and carrying dark secrets, he agrees to help Skye. He'll protect her from the danger that lurks in the darkness, but Trace wants more than to just be a guard for Skye.

He wants her. And he'll take her. The years have changed him, hardened him. He's not just a poor kid from the streets any longer. Now, he can have anything - or anyone - that he wants. And the one woman he has always wanted has just come back into his life. He won't let her go again.

But with the threats mounting against Skye, she suspects that her stalker may be intimately close. He's a man who knows her too well. As his attacks grow ever more dangerous, she realizes that if she trusts the wrong man, she could be making a fatal mistake.

Lust. Love. Obsession.

Just how far would you go in order to possess the one person you want the most?
ICYMI is a post from my early days of blogging at Yummy Men & KickAss Chicks.   You can see the original review here.   Thrifty Thursday is a feature I do at least monthly to try to reduce my Kindle freebie TBR.
Yummy Man – Trace Weston
Kick Ass Chick – Skye Sullivan
---
I will be doing posts about once a month of a book I got free on Kindle. I get at least five emails a day with free books as options. I look them over on Goodreads and download ones that sound interesting. I try to only take ones which have a rating above 3.5 stars since there are so many.  
This month's title is still free for Kindle.  Kobo and Nook are charging $3.12 and $2.99 
Mine to Take is by Cynthia Eden, a recognizable and popular author, and is the first in her Mine series. Somehow I thought it was paranormal romance since she does that genre, but this is romantic suspense. It is a long novella or half a book and it has a Goodreads rating of 3.78.
This has some of the cliché things with a poor guy who has made himself rich and powerful. The woman was famous and rich but lost everything in an accident where medical bills have decimated her savings. Both of them grew up in the foster system and were each others' first loves. They ended for what seemed like good reasons at the time.
Trace has worked hard and done the honorable things as much as anyone can. He knows what he wants and makes it happen. His love for Skye may seem like insta-love but it's long-term love that has been there from the beginning. His alpha male tendencies are so clear, it's a bit funny.
Skye made a life for herself around her career dancing. She never understood why Trace left her and went into the military. She has always loved him. So when she goes to him for help, it's not surprising they develop into a new relationship. Everything isn't too fast since it has been there most of their lives.
As this is a romantic suspense book there is a mystery here in addition to the personal issues the couple have to solve, which ended their relationship as teens. Someone is stalking Skye and she's afraid. It gives them reasons to be together more and allows time for them to build a new intimacy. The stalker is surprised me, ending being someone different than I expected.
I liked these characters and this story. It's a good escape read with sexy moments, even with the cliché aspects. I enjoyed it and will probably read further in this series.
Latest posts by Anne - Books of My Heart
(see all)
Related Posts