Review copy was received from NetGalley. This does not affect my opinion of the book or the content of my review.
This book may be unsuitable for people under 17 years of age due to its use of sexual content, drug and alcohol use, and/or violence.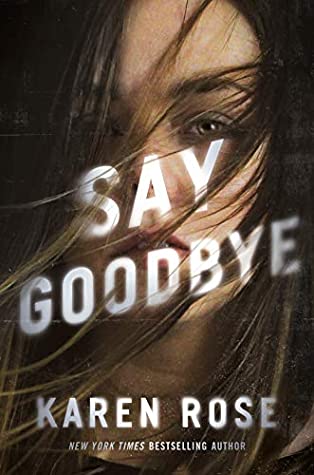 Say Goodbye
by
Karen Rose
Series:
Romantic Suspense #25
Published by
Berkley
on August 3, 2021
Genres:
Romantic Suspense
Pages:
640
Format:
eARC
Source:
NetGalley
Goodreads
Amazon
, 
Audible
, 
Audiobook
, 
Barnes & Noble
, 
Apple






For decades, Eden has remained hidden in the remote wilds of the Pacific Northwest, "Pastor" keeping his cult's followers in thrall for his personal profit and sexual pleasures. But the Founding Elders are splintering, and Pastor's surrogate son DJ is scheming to make it all his own.

When two of Eden's newest members send out a cry for help, it reaches FBI Special Agent Tom Hunter, whose friend and fellow FBI Special Agent Gideon Reynolds and his sister, Mercy, are themselves escapees of the Eden cult, targeted by the Founding Elders who want them silenced forever. The three have vowed to find the cult and bring it down, and now, they finally have a solid lead.

Neutralizing Eden's threat will save captive members and ensure Tom's new friends can live without fear. But when his best friend, ex-Army combat medic Liza Barkley, joins the case, it puts her life—and their blossoming love—in danger. With everything they hold dear in the balance, Tom and Liza, together with Gideon and Mercy, must end Eden once and for all.
I love the Romantic Suspense series. I've read them all. I started the series with the first Cincinnati book, with Faith and Deacon.  It was actually #16 overall. Then I went back and read the previous 15 books. I would not jump into this in the middle of the series. One could start at the beginning of a city since those stories connect well, and they seem to be labelled on Goodreads.
Say Goodbye is the third Sacramento story.   Say You're Sorry was the first Sacramento book and #22 in the series, followed by Say No More.  Say You're Sorry  featured Gideon, who escaped from a cult, paired him with Daisy, his sister Mercy,  and his best friend Rafe, who is from a large family. Say No More was Rafe and Mercy's book.  Mercy and Daisy are kidnapped by a serial killer. Gideon is an FBI agent. Rafe is a homicide detective.
I was correct that one focus of Say Goodbye would be Tom Hunter. Tom Hunter is a newer FBI agent came from Chicago and we know his family there.  A "friend" from Chicago, Liza is coming to Sacramento to attend nursing school.  They both have known loss and Tom was attracted to her when she was too young.  He also worries he might act like his father who abused his mother and him.  Tom bought a duplex where he lives in one side and Liza the other side.
The cult is still out there and after Mercy and Gideon.  Gideon has been recused for being too close to the case.  Tom is working the case from many angles and Liza turns out to be a surprising amount of help.  There are many exciting plot layers and suspenseful because bad things happen to girls turning 12 in the cult or having babies without medical care.   One cult member has lost himself to anger and revenge and greed and is on a killing spree of anyone who crosses him or has resources he wants.
The author has done an outstanding job in every way.  The world is engaging and well-developed in each city. There are fun connections between cities like Tom Hunter coming from Chicago to work in Sacramento.  The main characters tend to be in law enforcement, social work or therapy or foster care systems.  They are upstanding caring people who usually have been through some horrific situations.  Other characters are also well-developed.  Children play a realistic role.  The people are not perfect, which only makes them more believable. I really enjoy the times when they are smart and have good strategies, both good and bad guys.  There aren't the obvious TSTL choices.  The plot is the icing on the cake with several storylines, plenty of action and life or death suspense.
Latest posts by Anne - Books of My Heart
(see all)
Reading this book contributed to these challenges:
Related Posts