Review copy was received from NetGalley. This does not affect my opinion of the book or the content of my review.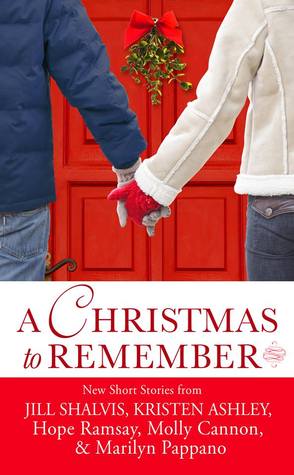 A Christmas to Remember
by
Jill Shalvis
,
Kristen Ashley
,
Hope Ramsey
,
Molly Cannon
Published by
Grand Central Publishing
on December 3, 2013
Genres:
Contemporary Romance
Pages:
224
Format:
eARC
Source:
NetGalley
Goodreads
Amazon
, 
Barnes & Noble




ICYMI is a post from my early days of blogging at Yummy Men & KickAss Chicks.   You can see the original review here.  .
---
This is an anthology of Christmas romances.   I think it can be difficult to develop characters sufficiently to care about them in shorter stories.  It is also challenging to have the story develop quickly enough for them to have sex and have it seem like a realistic thing to happen if they didn't know each other when the story began.  I've talked a bit about each story, clearly stating my history with the author and my prejudices.  I liked this book and it's a collection worth reading.
Dream a Little Dream by Jill Shalvis
From Goodreads – 
Melissa has kept every man at a safe distance-especially firefighter Ian, a sexy friend with sexy benefits. But Ian secretly longs for more. Luckily, 'tis the season for giving love a chance . . .
—–                                                                      
This is easily my favorite story here.  Yes, I'm a biased, complete fangirl about Jill Shalvis.  I can explain though.  This story is set in Lucky Harbor.  It can easily stand alone.  The other characters from Lucky Harbor (I've read everything including the short stories) are barely mentioned.  This story is about Ian (a firefighter !),  mentioned in the series, but this gives us more about him.  It's a brilliant approach to a short story since we know the setting if we've read the series but since it doesn't involve any existing characters, it stands well on its own.  Also, since the couple is already involved, any sex seems realistic.  It's set at Christmas time but is not really focused on Christmas.
5 stars
Every Year by Kristen Ashley (Chaos #2.5)    
From Goodreads – 
Holidays don't come easy for Shy and his brother, Landon. But with the magic of Christmas, along with a little help from Tabby and her family, the Cage brothers are about to get the gift of a lifetime . . .
—–                                                               
This is totally a Christmas, holiday celebration story.  The characters, I think, are from the Chaos motorcycle club series.  I have not read the series.  I own them but haven't gotten to them yet. Sad, since I am a Harley rider.  The only book by this author I have read (so far) is Dream Man, which does have the character, Tack. He is in this book; it is obviously set in a time frame years after Dream Man.
This story was sweet and understandable.  The couple in the story is married, so sex seems appropriate.  So much of the story seems like it would be better if I had read the series, knew the characters better.  I wanted to connect to them but didn't feel like I knew them well enough.  I'm sure I would rate this much higher if I had read the series, but as a short story it should work by itself.
3 stars

Silent Night by Hope Ramsey         
From Goodreads – 
Down on her luck and evicted from her apartment, single mother Maryanne hopes to start over in Last Chance. When the snow begins to fall, it looks like her baby might literally spend Christmas Eve in a manger. And Maryanne might celebrate the holiday with a handsome stranger.
—–                                                                       
I have read nothing by this author but now I want to read her books.  And isn't that just the reason to read collections, by the way? Or to pick up additional stories, about characters I love, in a series I am already reading.  It has often helped me find new authors I might enjoy.  Surprisingly, I connected to these characters and this story.  It was a bit unrealistic. I do tire of the rich guy, poor girl setup but I actually cried at one point.  This story was set on Christmas Eve with people who are alone, finding some hope in the world.
4 stars
Have Yourself a Messy Little Christmas by Molly Cannon                  
From Goodreads – 
Lincoln is a bachelor who's set in his ways-until a professional organizer dressed up as Mrs. Claus changes his life, one tip at a time. . .
—–         
I have not read anything by this author previously.  I did not really connect with the characters or care about them much I am sorry to say.   Is hired by Lincoln's mother to prepare her home (where Lincoln is living now) for the family to come home for Christmas.  Lincoln is focused on work and pretty much a slob.  What I did connect with is the organizing and everything has a place.  I LOVE that.  I believe in it.   I didn't believe the sex with this couple; it just happened too fast.  The story is cute, easy and did provide a few laughs.
2.5 stars
A Family for Christmas by Marilyn Pappano

From Goodreads – 
War widow Ilena doesn't mind spending Christmas alone. But when a new doctor blows into town with the winter wind, will she get her secret Christmas wish?
—–
I have not read this author before now.   I didn't care about these people either.  I got a bunch of details and just didn't get any feelings.  It did have some Christmas and giving elements to the story. The couple was attracted quickly, which is fine, and to a degree even the quick to sex didn't bother me, but the ending was not believable for me.  It's a fast read but it didn't do anything for me.
2 stars
So…. A Christmas to Remember is a nice book of Christmas stories, overall I am very happy to have read this book.  As I said above, I would read it for the Jill Shalvis story alone.  I wish I had not read the Kristen Ashley story until I read the first two books in the Chaos series, since I intend to read them, and I am sure it would have made more sense to me.  I was delighted to be introduced to Hope Ramsey and will have to check out some of her other books.  There were excerpts for each author's future work on the Kindle version I read and the Ramsey excerpt has knitting!  Daniel (aka Yummy Man) mentions it in the short story.  I knit so that will be a connection for me.   The other two authors I probably won't look further, but I wouldn't avoid them.   Short stories are all about being introduced to new authors and characters for me, so I recommend this book.
Latest posts by Anne - Books of My Heart
(see all)
Related Posts