I've decided to do something different about challenges this year to make them more challenging. Or rather more about what I want to do with reading and blogging.  So rather than following a bunch of challenges, I'm lumping them into Bookish Resolutions.  I enjoyed the ones I have done like New Release, Audiobooks and Beat the Backlist. I also did well, easily with them.  I will always do COYER.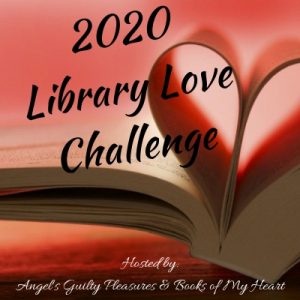 I am a co-host of this challenge.  I'll still share reviews and savings for it. I just set a number goal or go for prizes. If you want the details, all the posts are at Library Love on the upper menu and here is the sign-up.
Library-Love 2020 sign-up is HERE
---
It's harder to set up these goals and even track them depending on what you want to accomplish.  But I'm going to give it a try and comment on my progress periodically.
I did the Blog-ahead challenge once last year and it was very beneficial.  It taught me some things I have been applying regularly to keep ahead.  The one I want to do here is to set up the post shells for my ARCs the same week I receive them.
I used to always do an amazing job with Netgalley and reviewing ARCs on a timely basis. Now I get ARCs from like 10 audiobook publishers and they aren't all in one nice place to track.  I have created my TBR spreadsheet where they either get scheduled in when I request /receive them but I have a few older ones.  I need to request less and clean up the ones I already have which are not scheduled.   I will need to improve the system so I don't let them get old by both requesting less and scheduling more immediately.
I want to read some of the books I have purchased.  They are the last thing I read.  ARCS and library books have due dates so they get read first. They are on my 3tbr or 9kfree shelf in Goodreads.  I think I should try to read at least 3 a month, so 36 books this year. I own all the Mercy Thompson ebooks for the Read-along, but I may do some on audio from the library instead which won't count. We will see if I can improve that over time.  This is similar to Mount TBR or some other challenges but I want to get to my reading this year more than tracking. My Thrifty Thursday books will count for this tracking.
In general, I want to read more books I just want to read, whatever the source, without doing as much tracking. This means somewhat less ARCs and definitely less blog tours. But that isn't something easy to make a quantifiable objective.
Participate in the May Read-a-Series in a Month.
Participate in the Oct/Nov Read-a-Series in a Month.
Host the Top 10 Meme for the week of Christmas holidays.  Provide graphic and linkys, support and promote all who participate.
Do something more with June is Audiobook Month. Write at least one discussion post for it.
Create the Library Love monthly email / newsletter.  It contains the details of that month's giveaway and the linkups.  I also write a short discussion post with information / links relating to library events / information.  (For January, this was about National Braille Literacy month)
Latest posts by Anne - Books of My Heart
(see all)