Review copy was received from Publisher. This does not affect my opinion of the book or the content of my review.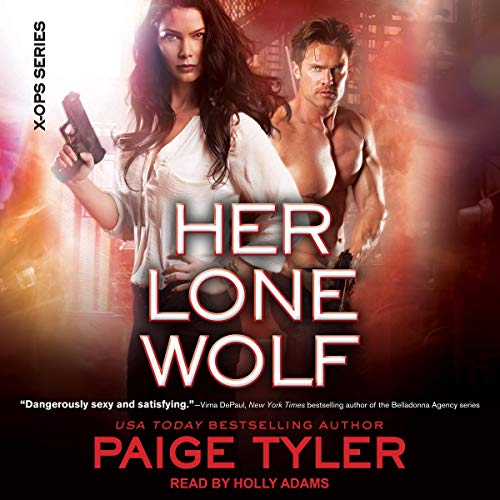 Her Lone Wolf
by
Paige Tyler
Narrator:
Holly Adams
Series:
X-Ops
Published by
Tantor Audio
on December 31, 2019
Genres:
Paranormal Romance
Length:
9 hours, 27 minutes
Format:
Audiobook
Source:
Publisher
Goodreads
Amazon
, 
Audible
, 
Audiobook
, 
Barnes & Noble
, 
Apple





Leaving him was Impossible…

It took everything she had for FBI Special Agent Danica Beckett to walk away from the man she loved. But if she wants to save his life, she has to keep her distance. Now, with a killer on the loose and the stakes higher than ever before, the Department of Covert Ops is forcing these former lovers into an uneasy alliance…whether they like it or not.

Seeing her again is even worse

The last thing Clayne Buchanan wants is to be shackled to the woman who broke his heart. She gets under his skin in a way no one ever has and makes him want things he has no right to anymore. All he has to do is suffer through this case and he can be free of her for good. But when Clayne finds out why Danica left in the first place, everything he's tried to bury comes roaring back—and there's no way this wolf shifter is going to take no for an answer this time.
I'm enjoying the X-Ops series as they release on audio, as I've always wanted to read them.  I haven't been reading too much PNR lately but this feels like romantic suspense with shifters. There is a new couple in each book.  So you could read them out of order, but I wouldn't.  I'm enjoying how the world and characters continue to develop.
An overview on the shifters in this world is they do not change completely. Their eyes change color and they may grow claws. They always have more strength, better hearing, healing and sense of smell than humans. They are born into human families and have just slight genetic differences.
Her Lone Wolf is a second chance romance. The couple were DCO partners in the past. Danica, the human partner, transferred to the FBI in another state.  Clayne, as wolf shifter,  stayed in the DCO without a partner.  The previous romance made this more believable.
There is a serial killer, who is likely a shifter, and Clayne gets sent to work with the FBI. Nobody is happy about it at first.  The suspense and action are great as they try to figure out who the killer is.  Working together gives Clayne and Danica time to reconnect and figure out what happened in the past to separate them.
The bad guys from the previous story with Ivy and Landon remains a continuing side arc here and there are hints about the next story. Kendra is a key figure in each book so far and I REALLY like her.  I have guesses about her story and who she will love, but I won't share my wild speculation. I enjoyed the characters who are continuing along in the series.  Well not Dick, he's a dick. And John is confusing.
As is sometimes the case, PNR is on the steamier side. The language and sex scenes are hot.   Each person grows as they become part of a couple,  and they all have excellent skills and compassion for others. The team gets closer and more closely connected as the series continues.  I'm looking forward to more stories and more couples.
Narration:
This series is my first experience with Holly Adams. I really enjoyed her approach to male and female voices. The chapters alternated between Clayne and Danica's point of views but also sometimes Kendra or Ivy. We got some of their thought along with dialogue.   The voices for the non-dialogue parts in the chapter were also more male or female depending on whose chapter it was.  I can't recall hearing other narrators do it, though.  I really liked it.  I listened at my usual 1.5x speed.
Listen to a clip: HERE
Latest posts by Anne - Books of My Heart
(see all)
Reading this book contributed to these challenges:
Related Posts