Review copy was received from NetGalley. This does not affect my opinion of the book or the content of my review.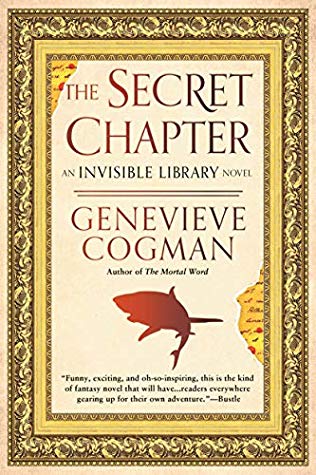 The Secret Chapter
by
Genevieve Cogman
Series:
The Invisible Library #6
Published by
Ace
on January 7, 2020
Genres:
Fantasy
Pages:
336
Format:
eARC
Source:
NetGalley
Goodreads
Amazon
, 
Barnes & Noble
, 
Apple






A Librarian's work is never done, and once Irene has a quick rest after their latest adventure, she is summoned to the Library. The world where she grew up is in danger of veering deep into chaos, and she needs to obtain a particular book to stop this from happening. No copies of the book are available in the Library, so her only choice is to contact a mysterious Fae information broker and trader of rare objects: Mr. Nemo.

Irene and Kai make their way to Mr. Nemo's remote Caribbean island and are invited to dinner, which includes unlikely company. Mr. Nemo has an offer for everyone there: he wants them to steal a specific painting from a specific world. He swears that he will give each of them an item from his collection if they bring him the painting within the week.

Everyone takes the deal. But to get their reward, they will have to form a team, including a dragon techie, a Fae thief, a gambler, a driver, and the muscle. Their goal? The Kunsthistorisches Museum in Vienna, in a early twenty-first century world, where their toughest challenge might be each other.
This is a joint review between Robin and me.
We both are big fans of  The Invisible Library series since the beginning.  The world-building is exceptional, with new worlds in each book since Irene travels.  Irene is an awesome character, and all the characters are very well-developed. The writing in these stories is excellent, more complex in the worlds and characters along with mysteries and thrilling action. The main thing Robin likes about the characters in this series is they are true to themselves.
It's important to read the series in order with the character development, you wouldn't get the same knowledge or connection with just one book.  Secret Chapter is a new arc to the story for many reasons, spoilery reasons.  Irene's assignment has changed since the previous book as she and Kai are part of a political team overseeing the new peace treaty, plus she and Kai are more officially a couple.
There are a few Library characters who are involved throughout the series.  But the primary contacts for Irene have been the detective, Vale and the dragon, Kai.  I thought at one point she was going to have a romance with Vale.  This time Vale was mostly absent. Robin was surprised she didn't miss him more, and we hope to see him more in the future.
Robin was slightly worried now Irene and Kai are official that romance would skew the series.  We both feel it is handled well, ie, still in the background.  Robin loved how each has their political role to play and they try not to let it interfere with the romantic aspects. I enjoyed how they were committed to each other, respecting each other's cultures and secrets, while being able to discuss things honestly.
Probably because of Kai, Irene has grown so much personally.  She really knew so little overall about the library, yet quite a bit about various worlds, the fae and the dragons.  Irene continues to learn about the cultures here.  I love this expansion of her knowledge!  Robin and I were both excited to finally meet her parents and hear about Irene's background.
Robin loved that this story is a heist. Each book has its own style and this one was different from the rest. I pointed out Irene is pretty much always stealing a book but this time it is different because there is a whole team.  This team is one they didn't choose, can't trust and is likely to unreliable, probably dangerous. Irene and Kai really have to work every bit of their intelligence and political skills to stay alive in this venture.
Another thing I love so much is the humor. It is based around some of the stereotypes of the cultures but it works very well.
We note the Library has not had fire alarm drills for the last two hundred years. This is because we found the two default responses unhelpful. These being "running away screaming" or "resigning yourself to death while clutching your favourite books." Librarians with more useful suggestions should contact Yves via email and attach a full benefit-threat analysis.
Kai was brooding over his own pot of coffee when she returned, sprawled in his favourite armchair by the fire. He greeted her with an absent nod.

She settled into the chair opposite. "Which  of our many problems are you thinking about?" she asked.
The political treaty team includes Irene (library), Kai (dragon) and by the end, a fae member has been chosen.  Pretty much any fae wouldn't be trustworthy so it will be fascinating to see how that goes in the next book.  We'll both be reading!
Latest posts by Anne - Books of My Heart
(see all)
Reading this book contributed to these challenges:
Related Posts