Review copy was received from NetGalley. This does not affect my opinion of the book or the content of my review.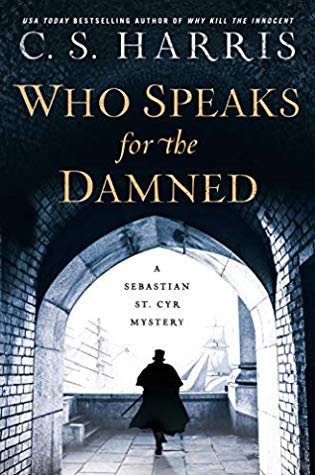 Who Speaks for the Damned
by
CS Harris
Series:
Sebastian St. Cyr #15
Published by
Berkley
on April 7, 2020
Genres:
Historical Fiction
,
Mystery
Pages:
352
Format:
eARC
Source:
NetGalley
Goodreads
Amazon
, 
Audible
, 
Audiobook
, 
Barnes & Noble
, 
Apple





It's June 1814, and the royal families of Austria, Russia, and the German states have gathered in London at the Prince Regent's invitation to celebrate the defeat of Napoléon and the restoration of monarchical control throughout Europe. But the festive atmosphere is marred one warm summer evening by the brutal murder of a disgraced British nobleman long thought dead.

Eighteen years before, Nicholas Hayes, the third son of the late Earl of Seaford, was accused of killing a beautiful young French émigré and transported to Botany Bay for life. Even before his conviction, Hayes had been disowned by his father, and few in London were surprised when they heard the ne'er-do-well had died in disgrace in New South Wales. But those reports were obviously wrong. Recently Hayes returned to London with a mysterious young boy in tow--a child who vanishes shortly after Nicholas's body is discovered.

Sebastian St. Cyr, Viscount Devlin, is drawn into the investigation by his valet, Jules Calhoun, an old friend of the dead man. With Calhoun's help, Sebastian begins to piece together the shattered life of the late Earl's ill-fated youngest son. Why did Nicholas risk his life and freedom by returning to England? And why did he bring the now-missing young boy with him? Several nervous Londoners had reason to fear that Nicholas Hayes had returned to kill them. One of them might have decided to kill him first.
In this latest, Sebastian learns of a new murder he needs to investigate when a scared, young boy comes to tell his valet, Jules Calhoun, that his friend, Hayes, has been killed.  As usual, Harris pulls me into the heart of a new story that is more than a mystery so I can hardly put the book down and fly through the pages.
Who Speaks for the Damned is the fifteenth in the Sebastian St. Cyr historical mysteries.  Each book develops the series arcs, the characters, and some ongoing relationships so they don't read as well when taken out of order.
This series continues to dazzle me with the complexity and depth of each mystery and the characters.  Sebastian St. Cyr, Viscount Devlin, is the main character and he has captured my fancy since the first book.  He has grown as a person and as a detective making peace with his past and growing steadier on a good present path.  Hero, his wife, is just as appealing as a strong, intelligent woman who is his partner in love, home, and work- both his and hers.
This mystery was deeply emotional.  The author is good at making the reader feel not just for the people around the victim, but for the victim himself.  In this case, the death was a tragedy and only felt more so as Sebastian dug up the truth of his life and the people around the murdered man.  I was so worked up on Hayes' behalf that mere jail time or even hanging didn't seem enough to feel that justice would be done.  It was a good twisting mystery.
Who Speaks for the Damned takes place against the historic backdrop of the peace celebrations after Napoleon is defeated.  The author paints a vivid picture of Regency English life and draws in people from all strata including people from other parts of the world.  Harris doesn't shy away from the social and cultural history of the time such as the abuses of the East India Company, Opium smuggling, the life of those transported to Botany Bay, street musicians, illegitimacy, political intrigue, war-time espionage and more.
All in all, this was superb for mystery, history, and people story that has heart and vitality.  I devoured this and was still left wanting more immediately after.  Those who enjoy historical mysteries should definitely try this series.
Related Posts