Review copy was received from Publisher. This does not affect my opinion of the book or the content of my review.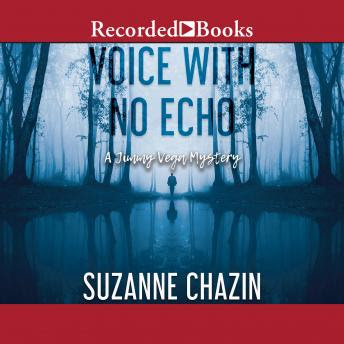 Voice with No Echo
by
Suzanne Chazin
Narrator:
Thom Rivera
Series:
Jimmy Vega Mystery #5
Published by
Recorded Books
on March 31, 2020
Genres:
Mystery
Length:
11 hours, 36 minutes
Format:
Audiobook
Source:
Publisher
Goodreads
Amazon
, 
Audible
, 
Libro.fm
, 
Barnes & Noble
, 
Apple





It's spring in Lake Holly, New York, a time of hope and renewal. But not for immigrants in this picturesque upstate town. Raids and deportations are on the rise, spurring fear throughout the community.

Tensions reach the boiling point when the district attorney's beautiful young bride is found hanging in her flooded basement, an apparent victim of suicide. But is she, wonders Vega? If so, where is her undocumented immigrant maid? Is she a missing witness, afraid to come forward? Or an accessory to murder?

Vega gets more help than he bargained for when Immigration and Customs Enforcement sends an investigator to help find--and likely deport--the maid. It's Vega's half-sister Michelle, the child who caused his father to leave his mother. Now an ICE agent, Michelle tangles with Vega and his girlfriend, immigrant activist Adele Figueroa. The law is the law, Michelle reminds Vega. And yet, his heart tells him he needs to dig deeper, not just into the case but into his past, to a childhood terror only Michelle can unlock.

While Vega searches for the demon from his youth, he discovers one uncomfortably close by, erecting a scheme of monstrous proportions. It's a race against the clock with lives on the line. And a choice Vega never thought he'd have to make: Obey the law. Or obey his conscience. There's no margin for error . . .
I saw this Jimmy Vega Mystery series first in a review on Carole's Random Life in Books blog and had to start it.  I was thrilled to keep listening on my own motivation. I have been excited to get each book and could barely stop reading, finishing quickly.
The main character, Jimmy Vega, is a homicide detective in upstate New York and he ends up in the most heart-wrenching situations.  He's experienced and spent 5 years as an undercover narcotics detective.  His skills and efforts to follow the law are excellent. His Puerto Rican heritage, fluent Spanish, and girlfriend, all put him in situations with the local immigrant population.
Most of the murders people would love to see attributed to some undocumented person. Mostly, that is not what really happened.  There are too many people with egos, power and wealth, not to mention racist and cultural bias, who want things their way, regardless of the truth.  The undocumented have the whole range of honest and hardworking, to criminals involved in drugs, robberies, etc.
Jimmy has an ex-wife and daughter in town.  In Voice with No Echo, he is brought face-to-face with another relative. Michelle is his half-sister,  and the reason his father left his mother and him. Jimmy has some long standing rage and grief over those times in his young life which he finally looks at more closely. Michelle is with ICE which only adds another layer of conflict.
I really LOVE this series. The action is fast paced. The suspense I felt over those in danger was constant. I did guess who two of the bad guys were but there were more than two here.  The characters are diverse and interesting. Jimmy has to struggle with what is right and the safety of others, and keeping police business confidential.  No one is perfect but Jimmy and his girlfriend, Adele, try hard even though they are sometimes on opposing sides of a situation.  I enjoy the law enforcement investigation and the immigrant issues.
I can hardly wait for more!  I highly recommend this series. The audio version is fantastic.
Narration:
All but the first book in this series has been narrated by Rivera so he is the voice for me.  I really am enjoying his performance and accents, although I am no expert on different regions or countries.  It all sounds right to me.  I was able to listen at my usual 1.5x speed.
Listen to a clip:  HERE
Rating Breakdown
Writing
Characters
Narration (Audio)
Overall:
Latest posts by Anne - Books of My Heart
(see all)
Reading this book contributed to these challenges:
Related Posts