Review copy was received from Publisher. This does not affect my opinion of the book or the content of my review.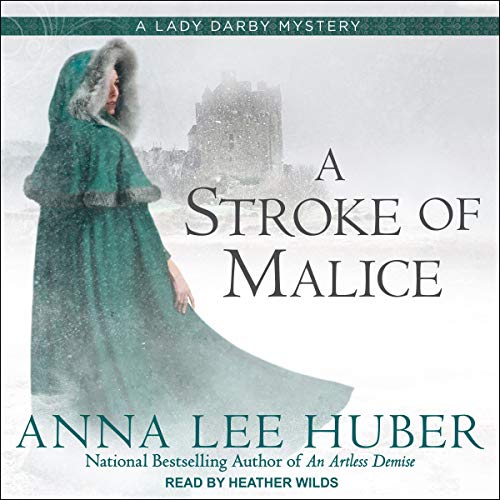 A Stroke of Malice
by
Anna Lee Huber
Narrator:
Heather Wilds
Series:
Lady Darby Mystery #8
Published by
Tantor Audio
on April 21, 2020
Genres:
Historical Fiction
,
Mystery
Length:
11 hours, 29 minutes
Format:
Audiobook
Source:
Publisher
Goodreads
Amazon
, 
Audible
, 
Libro.fm
, 
Barnes & Noble
, 
Apple





Lady Kiera Darby and her husband Sebastian Gage are looking forward to relaxing with new friends at an exciting yearly soiree, but they soon learn that murder never takes a holiday in the latest riveting installment in this national bestselling series.

Scotland 1832. After enjoying a delightful holiday with her family, Lady Kiera Darby is looking forward to finishing her new friend, the Duchess of Bowmont's portrait, as well as attending the duchess' annual Twelfth Night party. Though she normally avoids such fashionable events, Kiera trusts the attention will not be focused on her, but rather her notorious hostess and her family. But upon their arrival at the opulent Scottish estate, Kiera and her husband and fellow investigative partner, Sebastian Gage, swiftly deduce that all is not merry in the duke's household. The family appears to be under a great strain, and someone seems determined to cause mayhem among the guests with a series of forged notes.

However, matters swiftly turn from irksome to downright deadly when the merrymakers stumble upon a decomposing body in the castle's crypt. This corpse is certainly no laughing matter, especially when it is identified as the duchess' son-in-law, the Earl of Helmsdale, who had purportedly traveled to Paris more than a month earlier. It is evident the man met with foul play, and Kiera and Gage step in to investigate, at the duchess' insistence. Kiera and Gage must swiftly reexamine the facts, for a ruthless murderer walks among them and may well be a member of the duchess' own family. Kiera soon discovers just how deep the killer is willing to dig to keep their secrets from ever seeing the light of day.
Intelligent and talented outcast solves mysteries with the help of handsome sidekick.  It's a plot device that appeals to my puzzle-loving brain and non-conformist heart.  Add the escapism of a different time period and I'm completely sold.  Anna Lee Huber elegantly blends historical romance with suspense in A Stroke of Malice, the 8th installment of the Lady Darby Mystery series.  A Twelfth Night party takes a deadly turn when the body of an unknown man is discovered in the crypt of a gothic castle.  Kiera, Lady Darby, and her husband Gage find themselves embroiled in a murder investigation, sifting through the secrets and lies that haunt a family's past as well as their present.
A Stroke of Malice is a well-plotted mystery that kept me guessing until the final pages.  Ms. Huber seems to be able to craft interesting mysteries without making them too obvious.  She is gifted at providing context clues throughout the text that support the uncovering of the villain and engage the reader in helping solve the crime.  There is beauty in her writing and how she describes the essentials of a scene without the flowery prose common in historical romance.  I feel a connection to Kiera by use of the first person narration, which I don't find as frequently in this genre.  I was disappointed to not get as much about the reoccurring secondary characters, such as Marsdale, Anderley, or Bree as I expected, considering the amount of page time dedicated to them in prior installments.
A Stroke of Malice is set in 1832, smack dab at the convergence of economic, moral, and scientific change in Western Europe.  It is the close of the Industrial Revolution, but the beginning of a scientific revolution, which seems to be the door through which Kiera has been able to earn a spot in the traditional male hierarchy.  I am not sure if I like to read historically-based literature to stir myself up.  There is always some injustice that gets my blood boiling.  Where I can say 'that is not fair' then appreciate how mavericks over time have managed to change aspects of our society for the better.   When it comes down to it, Lady Darby is a maverick.
This book could be read on its own for the mystery aspect; however I really recommend reading the series from the beginning to truly appreciate Kiera's character development. Kiera has evolved significantly since the first book in the series, and seeing her confidence and ability to negotiate the intricacies of society contributed to my enjoyment of A Stroke of Malice.   There is much to admire about her, and how she took something negative from her life and turned it into a positive.  She is an advocate for truth, while at the same time; she is able to diplomatically negotiate the blind ignorance and conceit of those around her.
I enjoyed A Stroke of Malice for more than its plot.  A new reader to the series might not have the same sense of loyalty.  I am invested in these characters and eager to see how their lives play out.  Ms. Huber always concludes her books with a vague teaser, which means I only have to wait until the next installment.
Narration:
I enjoyed the narration and find Heather Wilds voice to be very soothing which enhances Kiera's calm demeanor.   I have a little trouble differentiating between the different character's voices, especially when there is a very large cast with fewer lines each.  The pacing and dictation was perfect for me to listen at normal time, although I would be able to listen at 1.25x without any trouble.
Listen to a clip: HERE
Rating Breakdown
Plot
Writing
Characters
Dialogue
Narration (Audio)
Overall:
Related Posts