Review copy was received from NetGalley. This does not affect my opinion of the book or the content of my review.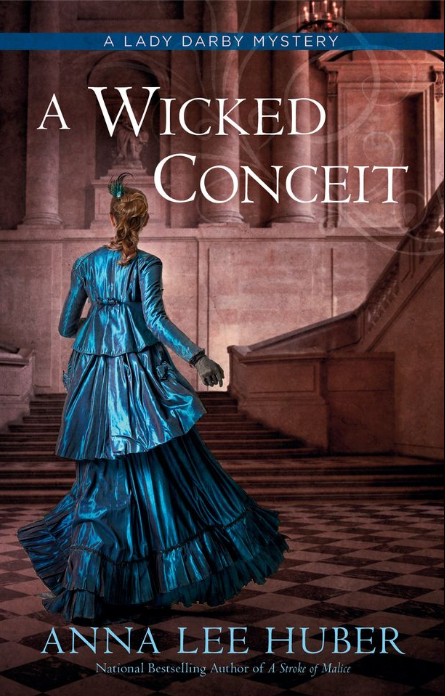 A Wicked Deceit
by
Anna Lee Huber
Series:
Lady Darby Mystery #9
Published by
Berkley
on April 6, 2021
Genres:
Historical Fiction
,
Mystery
Pages:
384
Format:
eARC
Source:
NetGalley
Goodreads
Amazon
, 
Audible
, 
Audiobook
, 
Barnes & Noble
, 
Apple




Edinburgh, Scotland. March 1832. Kiera and Gage have been eagerly awaiting their bundle of joy, but trouble has been brewing in the form of the roguish criminal, Bonnie Brock Kincaid. A new book and subsequent play features some of Kincaid's daringly heinous exploits, although he swears he had nothing to do with it or the characters which are obvious representations of Kiera and Gage. While the scoundrel's fury seems genuine, as well as his determined quest to uncover the real identity of the author, the Gages still hold doubts about his innocence.

A rash of crimes break out across the city, seemingly inspired by the play and book. When the publisher is found brutally murdered—in an imitation of a gruesome scene—the finger not only points to Bonnie Brock as the possible culprit, but also the Gages, who have been outspoken in their condemnation of the tale. Now, the Gages are on a hunt to unmask the killer. Between the infamy garnered by the play, the cholera outbreak still wreaking havoc throughout the city, and the impending birth of their child, they will need all the resources they can garner.

But family quarrels and the revelation of a secret Kiera has been keeping from Sebastian threaten to undermine everything they have overcome. When they find themselves in the crosshairs of the killer, trapped in the squalid underground vaults of the city, they will soon discover that the truth does not always set you free, and death can lurk around any corner.
Edinburgh is whispering behind their hands about Kiera once again, but this time it because her name is tied to the town's most infamous criminal, Bonnie Brock Kincaid. This is a series I eagerly jump on each new installment for the colorful characters, the riveting plot, and the well-drawn historical backdrops.
A Wicked Conceit is the ninth in a series that works best read in order. In fact, it references earlier books and even the most recent novella, so readers get a better experience when they have already read the scenes that were being addressed.
Only three weeks before she is due, Kiera doesn't need the added stress of an unauthorized book about "Bonnie" Brock Kincaid and featuring her and Gage in a bad light taking Edinburgh by storm, even as cholera is still raging strong. Her sister is bugging her to leave the mystery-solving and her artwork behind now that she is to be a mother and the secret she is keeping from Gage is churning inside her.
But, Kiera has come a long way and is hurt by Alana's lack of understanding that, detective work with Gage and her art, are part of who she is and being a mother will add to that and not replace it. Gage doesn't expect her to suddenly turn into the little woman who stays at home. He does expect complete honesty, but she still can't bring herself to tell him the truth she discovered over the Christmas holiday about Lord Henry.
The mystery in this one took a bit to get underway because much of this book was focused on Kiera's life. I'm not a big fan of people keeping secrets from those they are in relationships with so I was not well pleased with that aspect of the story. I also found myself barely tolerating Kiera and Alana's sisterly squabbling. It was starting out rocky for me, but then the mystery side finally kicked into high gear and my usual pleasure in the Lady Darby mysteries was back.
I shouldn't complain about all the personal plot developments because the blend of character, relationship-building, and mystery plots are what drew me to the series and was a strong part of this book.
The author wrote a note that she did not write the cholera epidemic in because she was writing during our own pandemic. It was always going to be part of whatever book happened at this time, but it did have greater significance to me as a reader as a result.
The murder mystery was not very challenging to me. I figured out swiftly who was behind the author learning about Brock's life, how a certain gambling aristocrat fit in, and it wasn't long after the murder that I knew who did it and a little of why. But, the deeper motive was what surprised me later in the book. That said, I loved trotting along with Kiera and Gage as they worked it all out.
It ended on a high note and left me eager for the next book. There was one confrontation after a certain secret was revealed that didn't happen in this book and I'm curious how that will go. And, naturally, I can't wait to see what mystery will come their way next. Those who love historical mystery with solid historical background and engaging characters really need to try this book/series.
Related Posts