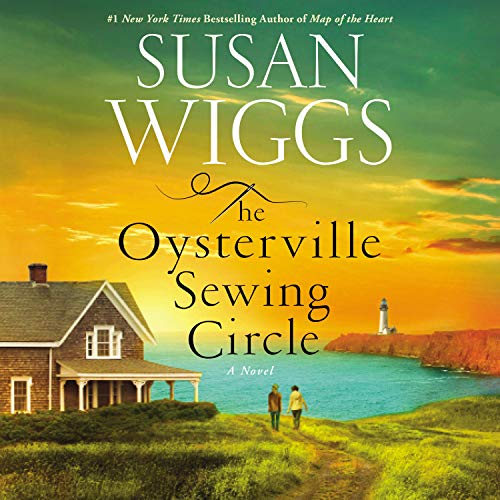 The Oysterville Sewing Circle
by
Susan Wiggs
Narrator:
Khristine Hvam
Published by
HarperAudio
on August 13, 2019
Genres:
Life Fiction
Length:
12 hours, 23 minutes
Format:
Audiobook
Source:
Library
,
Giveaway
Goodreads
Amazon
, 
Audible
, 
Audiobook
, 
Barnes & Noble
, 
Apple






The number one New York Times best-selling author brings us her most ambitious and provocative work yet - a searing and timely novel that explores the most volatile issue of our time - domestic violence.

At the break of dawn, Caroline Shelby rolls into Oysterville, Washington, a tiny hamlet at the edge of the raging Pacific.

She's come home.

Home to a place she thought she'd left forever, home of her heart and memories, but not her future. Ten years ago, Caroline launched a career in the glamorous fashion world of Manhattan. But her success in New York imploded on a wave of scandal and tragedy, forcing her to flee to the only safe place she knows.

And in the backseat of Caroline's car are two children who were orphaned in a single chilling moment - five-year-old Addie and six-year-old Flick. She's now their legal guardian - a role she's not sure she's ready for.

But the Oysterville she left behind has changed. Her siblings have their own complicated lives and her aging parents are hoping to pass on their thriving seafood restaurant to the next generation. And there's Will Jensen, a decorated Navy SEAL who's also returned home after being wounded overseas. Will and Caroline were forever friends as children, with the promise of something more...until he fell in love with Sierra, Caroline's best friend and the most beautiful girl in town. With her modeling jobs drying up, Sierra, too, is on the cusp of reinventing herself.

Caroline returns to her favorite place: the sewing shop owned by Mrs. Lindy Bloom, the woman who inspired her and taught her to sew. There she discovers that even in an idyllic beach town, there are women living with the deepest of secrets. Thus begins the Oysterville Sewing Circle - where women can join forces to support each other through the troubles they keep hidden.

Yet just as Caroline regains her creativity and fighting spirit, and the children begin to heal from their loss, an unexpected challenge tests her courage and her heart. This time, though, Caroline is not going to run away. She's going to stand and fight for everything - and everyone - she loves.
The Oysterville Sewing Circle came to my attention in a review. I'm sorry I can't remember where. So I entered a Goodreads giveaway for a paperback copy.  Because of my personal rules, this meant I needed to read it and write a review.  What a gift it was to me!
I couldn't remember if this was historical fiction or romance or what genre.  It is what I call life fiction.  The story weaves a bit back and forth from Caroline's childhood to her present life.  Caroline is what every child should be with the parents every child should have.  Her parents run a restaurant in a small town in Washington.  She is the middle child of five children.  She plays outdoors, swims at the beach and rides her bike.  It recalled me to my own childhood in some ways.
Caroline, also like me, learns to sew and loves it. She is more talented than me, and got to work at the local fabric store. She designs and sews garments with style and imagination.  After high school, she leaves for New York City to a prestigious fashion school and then working for design houses.
After 10 years, some things change drastically. Her personal designs are stolen by the designer where she worked. And one of her best friends, Angelique dies of a drug overdose, leaving her with two children. Caroline had once suspected she was abused because of some bruises but had never noticed the drugs.  Caroline heads back to Oysterville with the children to catch her breath and regroup with her family.
Caroline in her quest to understand what happened to her friend and preserve her memory for her children, ends up creating a group for women who have been abused.  In her efforts to make a new and special life for the children, she makes them some clothes.  The combination opens a whole new world and is inspiring.
Yes, there is also a romance, which is a bit heartbreaking. But the dreams and choices we make during high school may not be what we end up needing or wanting 10 years later.  Caroline is amazing and she makes a difference for her children and the Oysterville Sewing Circle.  Her passion and kindness are not to be missed.
Narration:
I own several audiobooks with this narrator but I think this is the first time I have listened to her.  Caroline is the heart and soul of this story and she brought her to life.  I didn't find the male voices particularly male, but since it felt like Caroline was telling the story, it didn't matter to me.  I was completely absorbed in the story and the emotions the narrator infused.  I was able to listen at my usual 1.5x speed.
Listen to a clip:

Giveaway:
Enter to win a paperback copy.  I won this in a Goodreads giveaway but since I listened to the audio version from the library, it is brand new.
Rating Breakdown
Plot
Writing
Characters
Narration (Audio)
Overall:
Latest posts by Anne - Books of My Heart
(see all)
Related Posts