Like a River Glorious
by
Rae Carson
Narrator:
Erin Mallon
on September 27, 2016
Genres:
Young Adult
,
Fantasy
Length:
10 hours, 27 minutes
Format:
Audiobook
Source:
Library
Goodreads
Amazon
, 
Audible
, 
Audiobook
, 
Barnes & Noble
, 
iTunes





After a harrowing journey across the country, Leah Westfall and her friends have finally arrived in California and are ready to make their fortunes in the Gold Rush. Lee has a special advantage over the other new arrivals in California—she has the ability to sense gold, a secret known only by her handsome best friend Jefferson and her murdering uncle Hiram.

Lee and her friends have the chance to be the most prosperous settlers in California, but Hiram hasn't given up trying to control Lee and her power. Sabotage and kidnapping are the least of what he'll do to make sure Lee is his own. His mine is the deepest and darkest in the territory, and there Lee learns the full extent of her magical gift, the worst of her uncle, and the true strength of her friendships. To save everyone, she vows to destroy her uncle and the empire he is building—even at the cost of her own freedom.
A girl with a bit of magic to her and friends made along the trail on the way to California during the gold rush set up a homestead and start to pan for gold. There is plenty of danger in the untamed lands of California and Leah's uncle has some other plans for the girl who can sense gold, he will even keep a few friend's hostage to make sure she complies.
Another great story set during the time of the gold rush to show just how poorly some peoples were treated and how life was full of surprises for the people who thought to press their luck and start brand new lives. Rae Carson is an underrated YA author who can deliver a great story.
Narration:
Erin Mallon did a good job with the character voices and the general feel of the story. I really liked how she chose to perform different aspects of the narration.  I listened at my usual 1.5x speed
Listen to the clip: HERE
---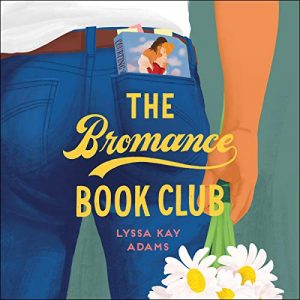 The Bromance Book Club
by
Lyssa Kay Adams
Narrator:
Andrew Eiden
Series:
Bromance Book Club #1
Published by
Penguin Audio
on November 5, 2019
Genres:
Contemporary Romance
Length:
9 hours, 9 minutes
Format:
Audiobook
Source:
Library
Goodreads
Amazon
, 
Audible
, 
Audiobook
, 
Barnes & Noble
, 
iTunes






The first rule of book club:
You don't talk about book club.

Nashville Legends second baseman Gavin Scott's marriage is in major league trouble. He's recently discovered a humiliating secret: his wife Thea has always faked the Big O. When he loses his cool at the revelation, it's the final straw on their already strained relationship. Thea asks for a divorce, and Gavin realizes he's let his pride and fear get the better of him.

Welcome to the Bromance Book Club.

Distraught and desperate, Gavin finds help from an unlikely source: a secret romance book club made up of Nashville's top alpha men. With the help of their current read, a steamy Regency titled Courting the Countess, the guys coach Gavin on saving his marriage. But it'll take a lot more than flowery words and grand gestures for this hapless Romeo to find his inner hero and win back the trust of his wife.
I really connected with the story of a man trying to win back his family after a falling out with his wife. With the help of some romance novels and group of guys who like to read them, he might just have a chance.
Are you going to like this book? I think that depends on your life situation. Parts of this book really resonated with me. I mean if you have been with the same person for any length of time you know that sometimes things can get bad in your relationship and you have to do the work, pick up the pieces and examine the things that went wrong. If you've ever gone through that and come out the other side stronger, I think parts of this book will definitely resonate with you too.
Narration:
Andrew Eiden made the story very enjoyable and I liked his performance overall.  I listened at my usual 1.5x speed
Listen to the clip:

---
This book may be unsuitable for people under 17 years of age due to its use of sexual content, drug and alcohol use, and/or violence.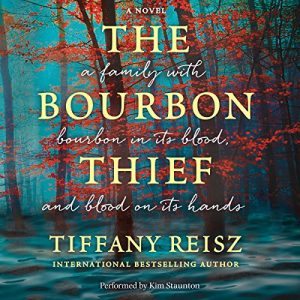 The Bourbon Thief
by
Tiffany Reisz
Published by
Harlequin Audio
on June 28, 2016
Genres:
Historical Romance
,
Mystery
Length:
11 hours, 49 minutes
Format:
Audiobook
Source:
Library
Goodreads
Amazon
, 
Audible
, 
Audiobook
, 
Barnes & Noble
, 
iTunes

Betrayal, revenge, and a family scandal that bore a one-hundred-fifty-year-old mysteryWhen Cooper McQueen wakes up from a night with a beautiful stranger, it's to discover he's been robbed. The only item stolen--a million-dollar bottle of bourbon. The thief, a mysterious woman named Paris, claims the bottle is rightfully hers. After all, the label itself says it's property of the Maddox family who owned and operated Red Thread Bourbon distillery since the last days of the Civil War, until the company went out of business for reasons no one knows. No one except Paris. In the small hours of a Louisville morning, Paris unspools the lurid tale of Tamara Maddox, heiress to the distillery that became an empire. Theirs is a legacy of wealth and power, but also of lies, secrets, and sins of omission. Why Paris wants the bottle of Red Thread remains a secret until the truth of her identity is at last revealed, and the century-old vengeance Tamara vowed against her family can finally be completed.
I didn't finish this story, I made it about a third of the way though and decided it wasn't for me. I mention this because, had I bought this book I probably would have forced myself to finish it once started, but since I got it from the library, I didn't feel bad about it at all and returned it early.
I normally love Tiffany Reisz and she can spin a tale, but the character was an over privileged sixteen-year-old gild and within the first 33% she almost has sex with a man around 26-28 and then was molested by a family member with her mother's knowledge. After that I was out, it was taking a while to get anywhere since the story kept jumping from present day to the past and I really wasn't in the mood for something involving the sexing up of a child. The beginning though did show a lot of promise however I just couldn't bring myself to finish and so guilt free since I didn't purchase this I decided to move on.
Narration:
Kim Staunton did a very southern slow role narration of this that fit the style of the book but just wasn't for me overall.  That could still have just been the story content coloring it though.  Not my favorite narration, I listened at my usual 1.5x speed.
Listen to the clip:

---
The Girl of Fire and Thorns Stories
by
Rae Carson
Series:
Fire and Thorns
on August 26, 2014
Genres:
Young Adult
,
Fantasy
Length:
6 hours, 58 minutes
Format:
Audiobook
Source:
Library
Goodreads
Audible
, 
Audiobook





Get swept away in the world of Rae Carson's acclaimed, epic, New York Times best-selling Girl of Fire and Thorns series with these three novellas. Before Hector was Commander of the Royal Guard and Elisa's true love, he was a young new recruit. In The King's Guard, watch him prove himself—and uncover a secret that he must keep forever. In The Shadow Cats, discover how Elisa's rivalry with her older sister looks from Alodia's point of view, and why Alodia agrees to marry her sister off to King Alejandro. And in The Shattered Mountain, learn how Mara survived her village's destruction before she became Elisa's best friend and handmaiden.

A must-have for every fan of Rae Carson's stunning fantasy trilogy!
I loved the Girl of Fire and Thorns the first time I read it about six years ago. I recently retook my journey though this world and was able to get the audio compilation of three short stories from the Library. They add to a few of the side characters that we didn't get to see any PoVs from until the final book.
That Shadow Cats – Alodia is Elisa's sister and both her biggest rival and supporter. They have a tense relationship so it was good to see a story through Alodia's eyes to know that she isn't as cold and indifferent to her Godstone bearing sister as she seems. Also, it is nice to see she has a lot of smarts and is just as cunning as her sister
The Shattered Mountain – Mara is Elisa's most trusted ladies' companion now but once she was just a girl who lost her lover but saved a bunch of children after war came to their lands. This is the story of her trek to the rebel camp with a bunch of children and how it changed her.
The King's Guard – How can you not adore Hector? He is everything that a hero should be stoic, sweet, honorable, trustworthy, loyal and honest. It seems that he has been that way his whole life. Hector is trying to join the royal guard to do that he must leave everything behind from his life except three personal items. He must also endure some hazing as the Kings friend and the youngest recruit. The Queen is pregnant and ill, in desperation Hector is sent on a mission that will help the King and Kingdom in case she doesn't make it.
Narration:
Jennifer Ikeda and Luis Moreno did a fantastic job for all of the books in the series.  I especially like Luis's narration of Hector it seemed to fit his character perfectly in my mind.  I listened at my usual 1.5x speed.
Listen to a clip: HERE
---
A Madness of Sunshine
by
Nalini Singh
Narrator:
Saskia Maarleveld
Published by
Penguin Audio
on December 3, 2019
Genres:
Romantic Suspense
Length:
10 hours, 59 minutes
Format:
Audiobook
Source:
Library
Goodreads
Amazon
, 
Audible
, 
Audiobook
, 
Barnes & Noble
, 
iTunes





On the rugged West Coast of New Zealand, Golden Cove is more than just a town where people live. The adults are more than neighbors; the children, more than schoolmates.

That is until one fateful summer—and several vanished bodies—shatters the trust holding Golden Cove together. All that's left are whispers behind closed doors, broken friendships, and a silent agreement not to look back. But they can't run from the past forever.

Eight years later, a beautiful young woman disappears without a trace, and the residents of Golden Cove wonder if their home shelters something far more dangerous than an unforgiving landscape.

It's not long before the dark past collides with the haunting present and deadly secrets come to light.
In a big departure from her normal writing in UF, Nalini Singh takes us into a small community in New Zealand to try and discover who has taken one of the towns cherished young women.
Part of the charm of this book is that it is set in a small town in New Zealand where everyone knows everyone else and all of their history. It is an extremely character driven story with alternating PoVs between two of the main characters for the most part with a few interludes with the victim and the killer. It is a slow burning story building for most of the book until the last quarter when everything seems to happen.
Narration:
Saskia Maarleveld is a new to me narrator.  She seemed to fit the location of the story perfectly.  I listened at my usual 1.5x speed.
Listen to the clip:

---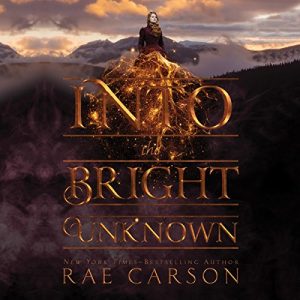 Into the Bright Unknown
by
Rae Carson
Narrator:
Erin Mallon
on October 10, 2017
Genres:
Young Adult
,
Fantasy
Length:
8 hours, 59 minutes
Format:
Audiobook
Source:
Library
Goodreads
Amazon
, 
Audible
, 
Audiobook
, 
Barnes & Noble
, 
iTunes





Leah Westfall, her fiancé Jefferson, and her friends have become rich in the California Territory, thanks to Lee's magical ability to sense precious gold. But their fortune has made them a target, and when a dangerous billionaire sets out to destroy them, Lee and her friends decide they've had enough—they will fight back with all their power and talents. Lee's magic is continuing to strengthen and grow, but someone is on to her—someone who might have a bit of magic herself. The stakes are higher than ever as Lee and her friends hatch a daring scheme that could alter the California landscape forever. With a distinctive young heroine and a unique interpretation of American history, Into the Bright Unknown strikes a rich vein of romance, magic, and adventure, bringing the Gold Seer Trilogy to its epic conclusion. Includes a map and an author's note.
This book definitely had a different feel from the first two in the series. Into the Bright Unknown is more like a heist and revenge plot of sorts instead of the hard drudgery of getting across the United States and then trying to set up your claim.
Rae Carson paints a vivid portrait of what San Francisco was like in those days and how there were plenty of ways to get rich or lose everything you have.
Narration:
Erin Mallon  again did the series justice.  I listened at my usual 1.5x speed.
Listen to the clip:  HERE
---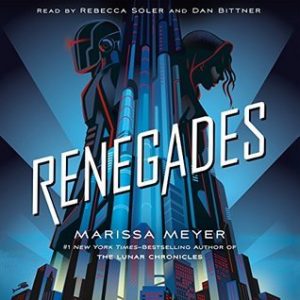 Renegades
Published by
MacMillan Audio
on November 7, 2017
Genres:
Young Adult
,
Science Fiction
Length:
16 hours, 58 minutes
Format:
Audiobook
Source:
Library
Goodreads
Amazon
, 
Audible
, 
Audiobook
, 
Barnes & Noble
, 
iTunes





The Renegades are a syndicate of prodigies—humans with extraordinary abilities—who emerged from the ruins of a crumbled society and established peace and order where chaos reigned. As champions of justice, they remain a symbol of hope and courage to everyone...except the villains they once overthrew.

Nova has a reason to hate the Renegades, and she is on a mission for vengeance. As she gets closer to her target, she meets Adrian, a Renegade boy who believes in justice—and in Nova. But Nova's allegiance is to a villain who has the power to end them both.
Heroes and Villains isn't always clear cut and Nova is about to learn that sometimes it is hard to hate the enemy when you are living with them.  Nova has been raised by Villains, she blames the Renegades (team hero) for the death of her family and wants revenge.  When she goes undercover to become a member of the Renegades, she has to remind herself constantly why she needs to take them down and what her end game goals are.
Her new team leader, Adrian, is also living a double life.  He is Sketch for the Renegade team but when he tried to break out from the shadow of his dream team superhero dads he makes himself a suit that can do some pretty amazing stuff.  Thing is after an accident, he can't really come forward and say he is also the Sentinel.  This has star crossed lovers/west-side story written all over it.  I can't wait until Nova and Adrian find out their Arch-Nemesis is actually the person they are starting to have feelings for.
Narration:
Rebecca Soler performed all the Lunar Chronicles books and did another fantastic job bringing all the characters to life. Dan Bittner I got to know originally in the Shiver series by Maggie Steifvater and was perfect as the voice of Adrian's PoV
Listen to the clip: 
<
---
Reading this book contributed to these challenges:
Robin Audio20
Robin LIbrary-Love